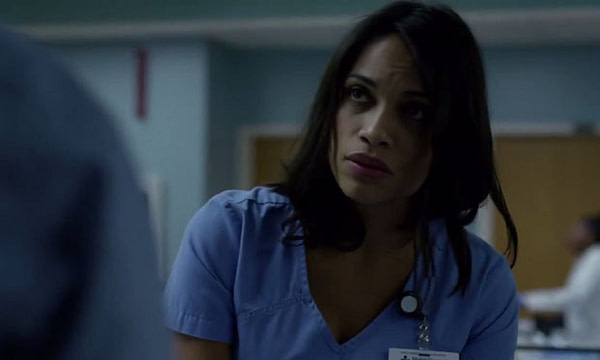 Rosario Dawson is in talks with Fox to join the cast of New Mutants as Dr. Cecilia Reyes, according to a report from THR. Dawson, who has long been a part of Marvel's superhero cinematic universe through her role as Claire Temple in the Defenders series of Netflix shows and also played a role in the Sin City franchise and Men in Black II, and voiced Batgirl in the Lego Batman Movie and Wonder Woman in several DC Animated flicks, is now looking to stake her claim to the X-Men cinematic universe. Is there any comic book based franchise Dawson won't star in? Valiant, now's your chance to snack a big star for your cinematic debut!
As Reyes, Dawson would play a mentor to the young class of mutant students, including Maisie Williams as Wolfsbane and Anya Taylor-Joy as Magik, in the Josh Boone directed movie. Previous rumors have had James McAvoy returning to the film as Professor Charles Xavier in a similar role, but those rumors were recently debunked along with one claiming Nat Wolff would join the production as well. Additionally, THR's report says that Alexandra Shipp will not reprise her role as Storm in New Mutants either.
New Mutants is set to hit theaters in April, 2018.