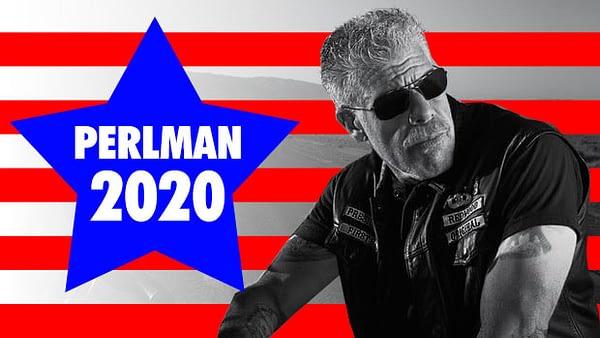 Big Red in 2020!  Running on a platform of "Hey I've BEEN to Hell, let's not do that here,"…
The fans and followers of actor Ron Perlman are familiar with his increasing bent towards making sure everyone knows his position on political views. And lately those have included a push towards the Hellboy star actually running for office.  No telling WHAT office, but the overwhelming assumption is for POTUS.
After the outcome of today's House of Representatives vote about repealing and replacing Obamacare (which the Republicans won by a vote of 217 yea to 213 nay), Pearlman posted this tweet:
To all my devoted Twitter pals Worldwide…today my 2020 Candidacy became a good deal realer!

— Ron Perlman (@perlmutations) May 4, 2017
And a short time later he followed up with:
— Ron Perlman (@perlmutations) May 4, 2017
Stranger things have happened in regards to celebrities running successfully for elected office: President Ronald Reagan was a well known Hollywood actor before he was the 40th President of the United States, wrestling icon Jesse "The Body" Ventura had a long career hitting people with chairs in the roped ring of the WWF before he was elected 38th Governor of Minnesota, California even elected Conan/Terminator star (and Austrian native) Arnold Schwarzenegger as their 38th Governor.
So who's to say Ron COULDN'T do well if he ever ran?  Only time (and Twitter, apparently) will tell.
Enjoyed this article? Share it!