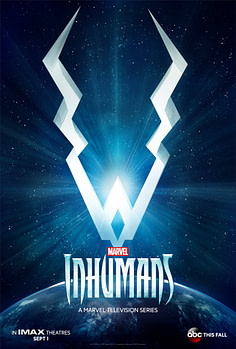 Marvel's Inhumans is turning into quite an interesting project. Originally planned as a Phase Three or Four movie, the title has moved to the small screen in the form of an ABC show co-financed by IMAX.
Entertainment Weekly revealed the first image of the royal family today, but also offered extensive interview with showrunner Scott Buck about bringing some of the strangest characters in the Marvel Universe to life.
"We approach these [characters] all as real people who just happen to have these abilities, so they're all very grounded."
Buck said that while the show isn't based on any definitive story from the comics, he did do his research to get an idea of what the characters were like in the beginning.
"I was so curious to see what their origins were, so I started at the very beginning. … I have not read all of them, but I continue to look through some of them. … Going back and then reading the whole backstory of them all was very helpful, but from that, we just pretty much moved forward."
It's also shaping up to be a story more about family than just heroes. Buck mentioned the show's producers "want their powers to seem like a very natural part of their personality."
Buck was understandably vague when asked to describe the show's plot, but did give us a general idea of what to expect.
"Basically we're telling a story about a family at a very critical juncture in their lives. When we meet up with them, we're going to find that pretty much everything they've ever known is at risk."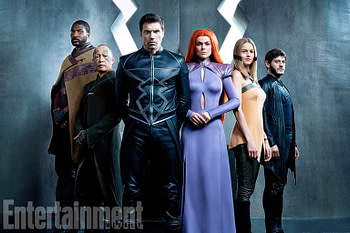 Buck revealed that while the show is set on Earth, the Inhuman city of Attilan (which is often located on the moon in the comics) will not be on Earth. While it shares a universe with Marvel's Agents of S.H.I.E.L.D. and happenings in S.H.I.E.L.D. might affect the Inhumans, there aren't any plans for a crossover at the moment.
Buck also talked about the character of Maximus — played by Game of Thrones alumni Iwan Rheon — and how he might subvert what we expect from a villain-like character.
"I think our Maximus is a different, more complicated, more real, more compelling version of Maximus that has been seen in most of the comics, and it's just because we have the opportunity to do so much more on the screen than you would in a comic book."
Fans are itching to see the Inhumans show off their powers — Medusa's wild locks being a major talking point. Her long, red mane is essentially a weapon that can perform a variety of frightening feats, and Buck confirmed bringing it to life was quite the challenge.
"It is very difficult. Even now, it's still a process. It takes quite a long time in post to make that effect work. We have some of the best visual effects people available working on our show. We still haven't seen the final version of it; it's very much a work in process."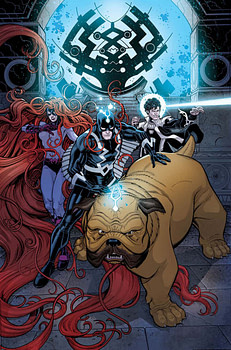 Of course, maybe the most important thing Inhumans fans are wondering about is Lockjaw, — the giant teleporting pug with a tuning fork on his head — and Buck is confident that he's going to be an audience favorite.
"Lockjaw is probably going to end up being the audience's favorite character. We certainly enjoy working with him. He's fun to write, he's fun to shoot. There's not too much more detail than that that I can give, but he is going to be a standout on the show."
Buck was also the showrunner on Marvel's Iron Fist and admitted he was a little nervous taking on another property so soon after Iron Fist wrapped.
"It's big. I'm used to writing — and what I'm best at — slightly smaller character dramas. This is a show that I have to stretch myself and think a little bit bigger at times, so that's been the biggest challenge for me."
The idea of approaching these characters personality-first and crazy powers-second is the angle Buck and his team wanted right from the beginning.
"I always approach these things through the characters — what's the story we can tell about Black Bolt, about Medusa and each one of these members of the Royal Family? It may have been daunting, but I think I was, more than anything, just excited about jumping in."
Marvel's Inhumans will release its first two weekly episodes in IMAX starting September 1st. Catch the rest of the series this fall on ABC.