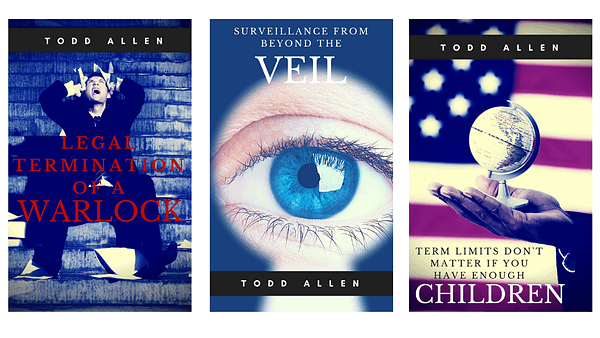 By Todd Allen
Ever get tired of decompressed storytelling and comics that can be read in 5 minutes that barely move the plot forward? Me, too. So I decided to do something about it.
I'm Todd Allen and you might know me from covering comics over The Beat and Publishers Weekly… or if you're old enough, Comic Book Resources back when Rich was Lying in the Gutters (the column that is, not the aftermath of a trip to the pub). I've dabbled in comics and got my Mystery Writers of America membership card writing a comic strip for one the old Tribune Media Group's websites.
One of the problems that sometimes prevents getting a big chunk of story every month is you usually only have 20-24 pages to do it in. And that's hoping nobody decides to pare it back down to 17 in a desperate attempt to scale back costs. Otherwise, you're looking at $5.99 and up for a larger page count and nobody's really looking for higher cover prices.
So I decided to take the comics out of comics and write prose from the perspective I'd approach a comic with.
John Foster, the Dean of the late, lamented Beer School podcast describes it like this:
Some people would call these short stories. But these are not that. It takes a little while longer to read. But not as long as the often misaligned thing called a novella. Which is defined as a "long short story or a short novel."
Todd's stories are like comic books. Without the art. They read like that to me anyway. And I like this style.
From a formalist standpoint, this format seems to settle around 7500 words. Right around the border between a short story and what's called a novelette when they assign titles by length. When you're not writing to appease a page count and a trade paperback schedule, the exact length is a little more dependent on the story, but you can tell a full story each month and there's no need to tread water until the next event happens or jack the price if you nee more pages.
I'm writing a series of satirical urban fantasy/horror detective stories and I'm looking to do a trial run of six-month stories. The mysterious Mister Lewis has a business card that says "physics consultant," but he really consults on things that defy the laws of physics. Hire him to find out if there's a supernatural reason why all the musicians are suddenly dying, to contain the curse on a baseball stadium that's leaking into the neighborhood or assist Human Resources with finding just cause to fire that warlock you probably shouldn't have hired.
Putting it in the context of where comics and prose overlap, it's a snarkier installment in the sub-genre continuum for which The Dresden Files and Hellblazer are the usual touchpoints. A new eBook comes each month, just like you used to get your comics.
Sound like something you might like? I'm using Kickstarter as my subscription agent. Follow the link and you'll see descriptions for the six monthly installments and free links to read the two stories I wrote to test the format.
Enjoyed this article? Share it!