We saw Titan's Doctor Who July 2017 solicits last week. Here's a bunch more for the TV/Movie lines. But it begins with Robotech and the English edition of the graphic novel that inspired Armando Iannucci's new movie.
ROBOTECH #1
Writer: Brian Wood
Artist: Marco Turini
FC • 32pp • $3.99 • On Sale July 26, 2017
Harmony Gold's cult '80s TV series, ROBOTECH returns for all-new adventures!
Comic written by BRIAN WOOD (DMZ, BRIGGS LAND, NORTHLANDERS) and illustrated by MARCO TURINI!
Comic features classic characters RICK, LISA, MINMEI, ROY, CLAUDIA AND GLOVAL!
New comic series will delight original fans and newcomers alike!
COVER A: STANLEY 'ARTGERM' LAU

COVER B: KARL KERSCHL
COVER C: BLAIR SHEDD ACTION FIGURE VARIANT
COVER D: MICHAEL DIALYNAS
COVER E: WALTRIP BROS. RETRO VARIANT
COVER F: BLUE LINE VERITECH SKETCH VARIANT
COVER G: 1:10 VARIANT – KARL KERSCHL (MINMEI)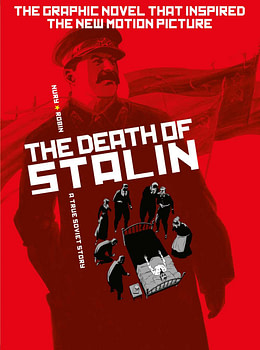 THE DEATH OF STALIN
Writer: Fabien Nury
Artist: Thierry Robin
HC, 120pp, $24.99
On Sale: June 28, 2017
ISBN: 9781785863400
The graphic novel that inspired the new Armando Iannucci movie which includes an all-star cast – Steve Buscemi, Simon Russell Beale, Jason Isaacs, Michael Palin, and Jeffrey Tambor.
Fear, corruption and treachery abound in this political satire set in the aftermath of Stalin's death in the Soviet Union in 1953.

When the leader of the Soviet Union, Joseph Stalin, has a stroke – the political gears begin to turn, plunging the super-state into darkness, uncertainty and near civil war. The struggle for supreme power will determine the fate of the nation and of the world. And it all really happened.
SHERLOCK: THE BLIND BANKER TPB
Writer Steve Thompson
Artist Jay.
Co-creators Mark Gatiss and Steven Moffat
SC • 224pp • $12.99
On Sale Sept 13, 2017
ISBN 9781785856167
Collection of the brilliant manga adaptation of the fanatically followed TV show, starring Benedict Cumberbatch (Doctor Strange) and Martin Freeman (The Hobbit). 
PENNY DREADFUL #4
PART 4 (OF 4)
Writer Chris King
Artist Jesús Hervás
FC • 32pp • $3.99
On Sale July 5, 2017
Written by Penny Dreadful TV series Co-Executive Producer Chris King, with art by Jesús Hervás (Sons of Anarchy). 
Concluding the story directly after the shocking events of Penny Dreadful's Season Three TV finale! 
COVER A: ELENORA CARLINI
COVER B: PHOTO
COVER C: ABIGAIL HARDING
ANNO DRACULA #5
PART 5 (OF 5)
Writer Kim Newman
Artist Paul McCaffrey
FC • 32pp • $3.99
On Sale July 26, 2017
Conclusion to the all-new comic series based on the best selling ANNO DRACULA novels by Kim Newman!
Written by creator Kim Newman with art by Paul McCaffrey (THE THIRD DOCTOR).
COVER A: PAUL MCCAFFREY
COVER B: JEFF ZORNOW
COVER C: TOM MANDRAKE