 José Hingá writes,
"Queen Karma has been kidnapped! King has been cursed! If they don't touch each other again in the following 100 pages, the universe as they know it disappears. With the fate of the universe on their shoulders, follow the mind-bending misadventures of King, Uniggorn and F46607 to the craziest and sickest corners of the galaxy on their way to save King's love."
How was King King born?
My name is José Hingá and 3 years ago I wasn't really living up the childhood high expectations that I had set for my dear future self. Being slave of my obligations to survive and pay bills, I was a slave disguised as a night duty manager in a hotel. Since I was young that I want to follow storytelling and that's what makes me get out of bed every day!
On one of the everyday routinary night shifts I started writing a graphic novel that soon took over my life; it turned into a full time job really. It was growing day by day and I couldn't stop myself from working on it, creating, and thinking about this world as I was being immersed and really achieving what I wanted out of each arc. Whenever I shared a scene with a friend or even a coo worker I was majorly getting positive reactions. Even if it was that "smirk" of someone who portraits himself as an individual too old for comic books and silly stories. I bet everyone knows that kind of guy!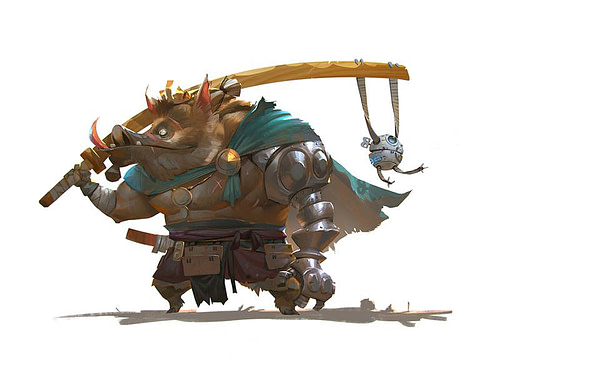 Every type of creative content that I was consuming: from YouTube videos, videogames and adverts to tv shows, animated series and movies. Every little thing served as inspiration for what I was creating, it was the first time I thought I was enjoying each step of the process, steps that were feeling so natural.
It was time to make the jump or drop "King King", against my family and friends advises I left the hotel and for the last two years I've been pouring my life into it. A lot has changed! The project quickly gained credibility and established character, inspiring a creative powerhouse of talented individuals to work by my side on telling this story, what felt overwhelming at first was pushing me to raise my game and improve.
Who is behind King King? José Hingá – Derek Dow – Ricardo Tercio – Bruno Oliveira – Daniel Nikoi Djanie – David Noren – Emanuele Arnaldi – Eric Pfeiffer – Even Amundsen – Hicham Habchi – Igor Wolski – Ivan Shavrin – Jason Nguyen – Jonatan Cantero – Luis Figueiredo – Marek Jarocki – Mike Redman – Nikolai Lockertsen – Noel Rodriguez – Oriol Hernández – Philippe Lozinski – Radit Juli – Robert Sammelin – Rudy Siswanto – Sebastian Piriz – Shanen Pae – Tan ZhiHui – The Duke Of Flies – Timofey Stepanov – Tristan Brard – Vincent Nghiem – Wesley Lin
I feel the luckiest person in the world to be able to say this, but I've got my favourite artists working with me on King King! Working with me on it for the last 2 years, I've got more than 30 comic creators that have worked for companies like Ubisoft, Marvel and Blizzard. With different cultures, being a team of artists from all over the world really comes to reinforce the philosophy behind it! We had the art changing in every four pages of this adult visual anthology in the shape of a graphic novel. Starting from scratch, on the "writer's room", our main objective was planning it with both an engaging and eye catching design while being able to maintain a certain level of creative fluidity and originality. When a chapter changes we always wanted the characters to have the same identity and the story to proceed from the same point but shown and told with the next artist different and personal style. Without wanting to spoil too much, the new dynamic between crazy and funny ideas is what King King is bringing of new to the table! F46607 the robot from the future, being an extinct and discontinued module, he's unable to change style on the end of each chapter as easily and quickly as the other guys do, leading to weird and extremely funny situations as you can imagine. Either King or Uniggorn end up having to get their hands dirty manually changing F46607's style so they can continue their adventure.
All-Or-Nothing
With still 26 days day to go our team has to raise £36,000 for King King's copies to be in everyone's hands by next year! As we're always thinking of innovative ways to invite people in, we've just launched an amazing challenge where you get to design one of King King's main characters for the chance of wining £1,000! "Alice is a true fighter that can't control her own size! On her original form she's a white-haired stubborn little girl that is always carrying a sketchbook in which she draws things that are said to foretell future events. This brat never gives up nor backs down. Sometimes a giant, sometimes so tiny that can fit in the palm of your hand. There's even times when her members have completely different proportions leading up to some funny and intriguing situations."
Read the rules for the challenge on our campaign page and please don't forget to contribute and share it if you want to make King King a reality!
BC readers get a free set of stickers and button badges! Pledge above "Paperless" and message quoting 'BC TB STICKER' to get your 2 free packs when we're funded (see reward pictures on the page)!
The King King's team is keeping you updated through:
Are you a comics retailer looking to stock our books? Get in contact: kingking2confirmed@gmail.com