BOOM! Studios that there will be more of everyone's favorite San Dimas based time-travelers in Bill & Ted Save The Universe. The new series brings back the creative team from Bill & Ted Go To Hell, writer Brian Joines (Imagine Agents) and artist Bachan (Mighty Morphin Power Rangers). Jughead artist Derek Charm will be doing covers.
"In 'Bill & Ted's Excellent Adventure,' the duo was tasked with creating a song to save the universe. While they never got around to that, fast forward a couple centuries, and their music is now something galaxies fight over. In Bill & Ted Save the Universe, Bill & Ted's music is supposed to bring peace to the cosmos, but peace doesn't just happen overnight—there's always resistance to anything that rattles the status quo," says Joines, who helped guide Bill & Ted through the underworld in 2016's Bill & Ted Go to Hell. "It's such a broad, fun, goofy tale that as long as you maintain those levels, there's really nothing that's off the table in terms of where you take the story and the characters. They've already time-traveled and visited the afterlife—why NOT send them on some big intergalactic adventure next?"
This will be Joines and Bachan's fourth project together at BOOM! Studios. The pair first worked together on BOOM!'s Imagine Agents back in 2013, which has subsequently been optioned as a feature film by 20th Century Fox with Michael Keaton attached to star and produce the film.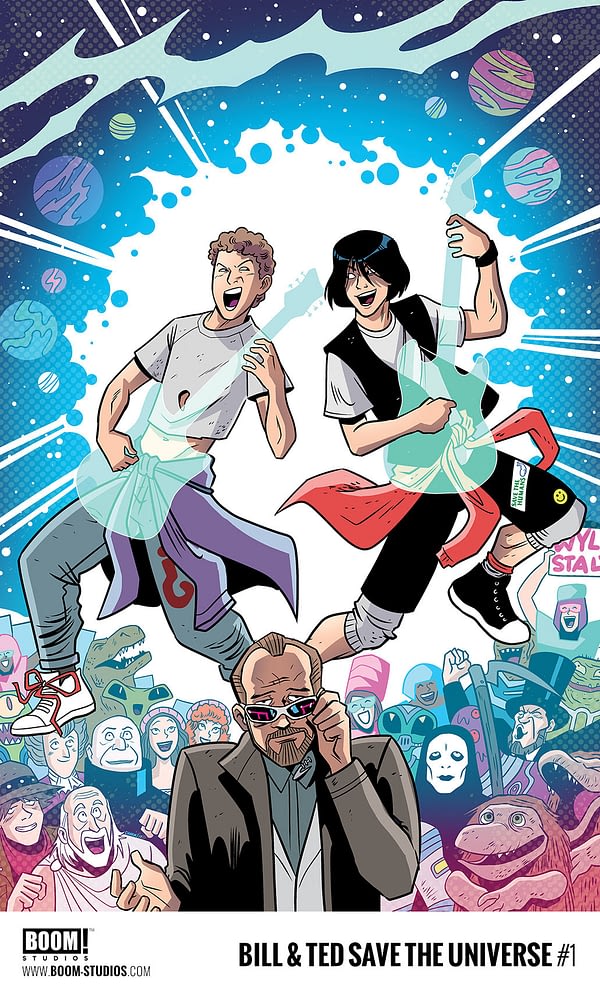 Enjoyed this article? Share it!