This article contains spoilers for the Marvel's Agents of SHIELD episode – What If?
.
.
.
.
.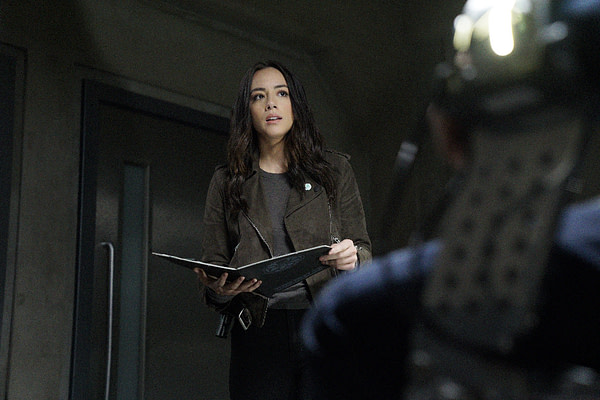 Here's a good question… would you rather suddenly wake up to discover that your ex-boyfriend who turned out to be evil and then be possessed by a hideous creature is alive and in your bed… or to wake up to find yourself buried in a mass grave? I mean, that's what happened to Daisy Johnson and Jemma Simmons at the start of the newest episode of Agents of SHIELD. The series returned from their winter break with a very good episode that showed the entire MCU would change if only one things was different… if Melinda May had saved the little girl in Beirut. Yup, the whole HYDRA in charge thing is all because May saved the kids and then she later went and caused a massacre in Cambridge. In the fall out of that, HYDRA rose and took over, stomping out the Inhumans and turning the world into a police state.
The episode is basically Daisy… scratch that, she's Skye in the Framework… and Jemma running around trying to find their teammates while awkwardly trying not to blow their cover. Skye has to deal with being back with Grant Ward, working for May who is working for Leo Fitz who is working for Madam Hydra who happens to be Aida. A corporate hierarchy chart might help here. Jemma on the other hand has to deal with being dead and not having I.D., which is a huge deal in this new world. We also get to look in on Mr. Coulson, a teacher who indoctrinates kids with the Hydra teachings and allows kids to just be taking away because they might be Inhumans.
Skye also discovers that there is a mole in Hydra who is helping Inhumans get documentation. That's important, because it turns out that the mole is Ward who is really working for SHIELD. How's THAT for a twist? And he helps rescue Skye and Jemma from Hydra. Jemma's trip to see Coulson is unsuccessful, though she does shake him a bit when calling Tahiti a magical place. It's Skye / Daisy who looks like she gets through to him at the end of the episode.
The episode is filled with tension and a lot of interesting twists. They've set things up very well to pit friend vs friend and it's pretty amazing how much the world changed just because of the one regret May wanted changed. The fact the show has not been renewed yet might make the writer's pull out all the stops and that is what looks to be happening. I think the series has been getting better and better as the season has progressed and looks to close out the season (or series) on a high not.e
Now that the new world is all set up, they can now shake things up by bringing in the Patriot, SHIELD… and maybe a few other surprises.