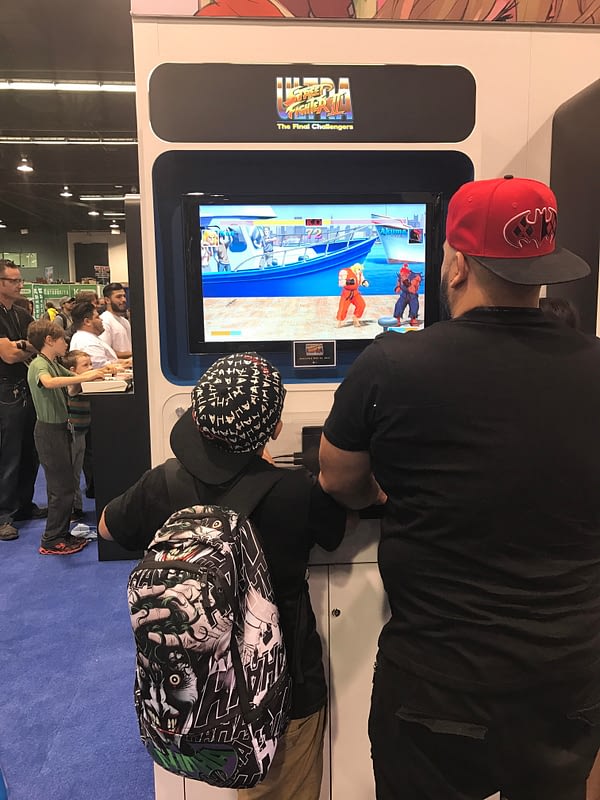 Emilie Badaboom writes from WonderCon,
The Capcom booth, with lines spilling into the hallways on all four sides, was a must-do on my list of Wondercon stops. With a wall of Disney afternoon NES and Sega games ranging from Chip N Dale Rescue Rangers to Talespin, the wait was worth it. Nestled in a 3-walled space, you are surrounded with visual 90s treats such as a light-wallpapered room, a Wheaties box on proud display, and even a 49ers helmet (sorry 49er fans but I wish it was a Packers helmet!). On the edge of the area was the Nintendo Switch gameplay of Streetfighter V. With great graphics, simple to learn controls on the pro controller, I would recommend Streetfighter fans make the investment in the controller, the gameplay was simple and quick to pick up.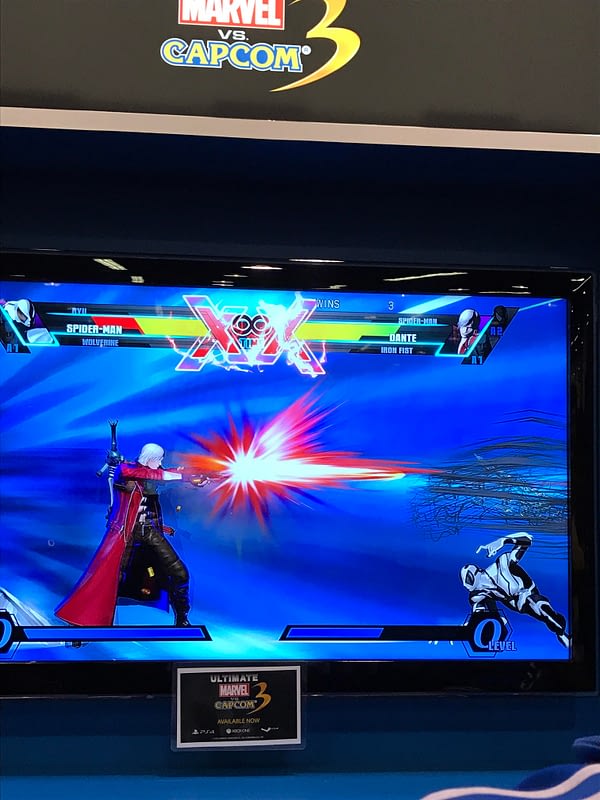 The back end of the booth was reserved for Ultimate Marvel vs Capcom 3. With the booths hosting the hand-held exclusive controls and the center hosting a large-broadcast screen, it took a bit to figure out which side of the screen you were on. The booth I played on had the controllers switched, so I was on the left of the TV but player 2. With characters such as Storm, Deadpool, Dr. Doom, Chun Li, and Morrigan you have a great selection of classic and updated characters to build your team with. I got my butt kicked by a Jean Grey and Wolverine combo-wielding 12 year old girl dressed as Katana.
On the final edge was the store, complete with must-have Megaman headphones. While looking at the store, you can also join the short but long-wait line for Resident Evil 7 on the classic arcade set up. The wait for most lines was very bearable, with fellow gamers being polite enough to play a round and let others in while jumping back in the end of the line to take on the next challenge.
The booth was nestled in the middle of the floor, yet despite the lines was not cramped even while in a somewhat bulky cosplay. There was ample room for strollers and families to stop and watch some gameplay or simply gain their bearings while traversing the aisles and plenty of competition waiting for the next challenge.
Enjoyed this article? Share it!