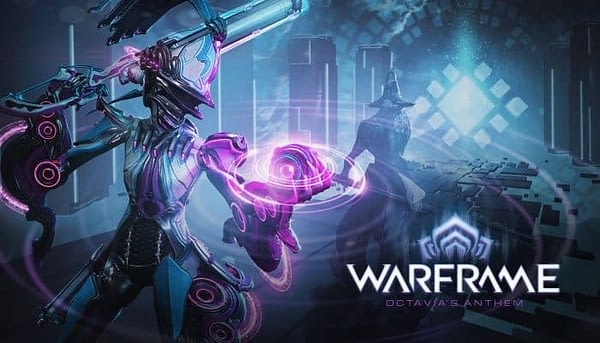 Indie dev and publisher Digital Extremes today announced the first major Warframe update of 2017, Octavia's Anthem, which also marks the game's four-year anniversary.
Digital Extremes calls the update an "inventive new PC update that expands musical boundaries like none before it. Octavia's Anthem has Warframe players journeying through an original, lore-driven quest in search of the musically enchanted Octavia Warframe." Which sounds great, but I have to wonder if it's actually all that inventive. The update focuses on the use of a "simple-to-use" musical instrument that allows players to compose songs and synchronize them to their weapons, since music is now going to be an integral part to the mechanics of Warframe. It'll affect damage and you can write songs in cooperation with Tenno and Trade songs to some affect, though they did not go into detail.
This could be cool, I guess, if it didn't seem completely out of left field. I wouldn't be hopping on a sci-fi game to sit there and get my bard on, you know? But hey, she's got awesome dance moves.
Groove on over and read the full prelude to the new Quest – Octavia's Anthem: https://t.co/lb8zXpWprg pic.twitter.com/M56AcKkgRi

— WARFRAME (@PlayWarframe) March 24, 2017
For story buffs and lore fans, they've also started a web comic, called What Remains which "explores material well in advance of Octavia's Anthem." So I guess it goes into why music is now such a major part of Warframe. You can check out the web comic's first teaser cells here.
The last bit is possibly the sillies addition to this update for me. "Additionally, players can capture, edit and share their customized Warframes using the robust Captura photo capture tool. The result is stunning Warframe images to use as wallpaper, screenshots and art." Please, like we don't have capture tools already, Warframe.
The key features in the Octavia's Anthem update are as follows:
New Warframe:  Octavia's abilities are powered by the Mandachord, which mixes Melody, Bass, and Percussion into a "harmony of destruction."
The Captura feature: which is basically Warframe Instagram.
New quest: The Octavia's Anthem Quest  will focus on finding out what happened to Cephalon Suda in the Relay and recovering her information.
New weapons: Two new weapons have been added to work alongside the new Octavia Warframe.
The Digital Extremes development team is also marking Warframe's four-year anniversary by offering four anniversary gifts. On Tuesday, March 28, players will receive a free Dex Nouchali Syandana in their Landing Craft Inbox, while the Dex Sybaris, Dex Dakra, and Dex Furis – previous Warframe anniversary gifts – are available to earn in Alerts from Friday, March 24 to Monday, March 27 at 11 am PST/2 p.m. ET/6 p.m. GMT.