Simon Amadeus Pillario writes for Bleeding Cool:
We have just launched our third Kickstarter, our first two were among to top 10% most highly funded Kickstarter comics ever and we are hoping this one is gonna be even bigger. We create the Word for Word Bible Comic, a series of graphic novels presenting the books of the Bible word for word. Our next instalment will be like Frank Millers 300 meets Mel Gibson's "The Passion of The Christ". It is called the Gospel of Mark and while it's faithful to the text, it's not for kids.
Do you like to see Easter Eggs in films and comic books? Those subtle references to other genres or fandoms. I do, I think they are great as it adds something extra for some readers without taking anything away from those that don't spot them. I guess, that's why they are so popular now and with so many fandoms all under Disney's big roof we are seeing more and more.
Now, I'll let you into a little secret. I have actually put in several geeky Easter eggs into the Word for Word Bible Comic series. They are always visual only as we do not adjust the text at all, of course. And I only do it where noticing the easter egg will add to the meaning within the comic or not conflict with it in any way.
In our first book, Judges, we had over a dozen, some references to geeky stuff and one or two to classical artworks. Below I've added three examples. The first is easy, the second is quite easy, the third is hard. Can you guess what they are? (You can contact me through the Kickstarter Page).

In a way, it always feels like I'm adding Easter Eggs though, because all the historically accurate items that are squeezed into the pages are little famous 'faces' from their own sphere of geekery, history and archaeology. I am someone who does live roleplay and re-enactment, so being passionate and nerdy about the right type of shoe or the correct pot for the period is all part of the fun.

The thing with details like Easter eggs and archaeological features, is they are not something that can be added in later. One of the reasons Star Wars was so successful back in the day, was they made a "lived-in universe", things had scratches, dirt and were worn out, but you have to add this in at the creation stage. We try and do this with our work, giving the world a natural but 'used' feel. When I started out I wanted to draw exactly like Mike Mignola, (can you tell?), but aside from the fact 'that's not gonna happen', Mignola's style is actually too abstracted for my purposes, as I needed dust clouds and shines and other soft-edged effects that he masterfully avoids or captures in other ways. In the end, my figures were how I naturally drew them but I 'spot the blacks' in a similar heavy-handed way as Mignola. But the point is, even this was a sort of Easter egg or reference. I wanted my type of graphic novel to put people in mind of Hellboy, 300, Walking Dead and Age of Bronze, not Marvel and DC the way the Action Bible has already done for the younger audiences. This would give them a visual clue that it's not aimed at kids.
We are just now embarking on our third Kickstarter and in this instalment, we will take on the life of Christ, and like Mel Gibbon's The Passion of The Christ, we won't be sugar-coating the Crucifixion or anything else. Aside from the violence, there is actually a lot of talk about money, prostitutes, corruption and death which are things that normally get glossed over to appeal to kids but this graphic novel takes those adult themes, faithfully, as they were intended and creates a graphic novel that results as an advisory rating of 15+.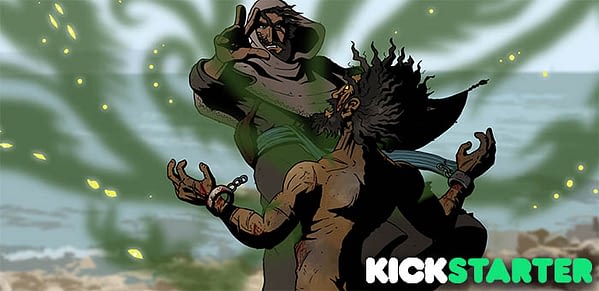 With the life of Jesus, there are probably going to be a lot of opportunities to reference other stories, not least because there are so many narratives which echo his story but whether it's Potter, Ang, Neo, Hope Summers or John Connors they are all just a shadow and a retelling of the original. That's what's really great about doing a graphic novel of the Bible, these are the original stories which other narratives draw from, not the other way around.
To find out more, check out our Kickstarter, the "historically accurate, unabridged and untamed" Gospel of Mark: Word for Word Bible Comic.

Back The Word for Word Bible Comic before the April 9th.
Bleeding Cool readers can get their copy of Judges upgraded to a signed copy for free by messaging the creator with this code: BCSIGNED or they can add a copy of Judges to their rewards for just £10 instead of £20 with the code BCUPG10 (Limited to pledges already over £20+postage). For this weekend only you can even use both together!
Enjoyed this article? Share it!