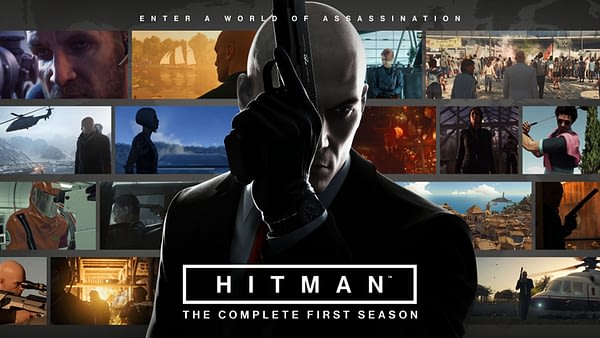 Hitman: The Complete First Season
{{ reviewsOverall }} / 10
(1 vote)
Users
Summary
Publisher: Square Enix Developer: IO Interactive Platform: Xbox One, PlayStation 4 Release Date: January 31, 2017
Hitman: The Complete First Season is a great way for Hitman fans who were worried about the episodic format to get on board with the new game. While you can still feel the places where individual episodes were cut, playing the game the whole way through as a collected edition feels much more like a traditional Hitman game.
Sure, you could re-play episodes, but if you forgot to purchase one, there wasn't really an option for you. Or if you hate the episodic format, now here's your chance.
Personally, I find that playing the game all the way through is ideal for people who like to binge watch shows. The Collected edition is the Netflix option for gamers, whereas the episodic format was perfect for people who like to watch a show when it first airs, same time every week. I'm terrible at doing that, so I tend to wait for a show to hit Netflix and then watch it while doing some work. Yes, I am terrible at watching TV – that's why I write for the games side of the site.
All that aside, Hitman Season One should feel familiar. Many of the old standbys have been brought in and story takes a back seat to the murder sandbox feel of Blood Money. You've got endless opportunities to kill your marks: you can walk right in, shoot them, and then run; you can disguise yourself as a security guard to have near unlimited access, get close, and garrote them; you can pose as a waiter or server and poison their drinks or their food; you can even stalk them and drown them in the toilet. Playing as 47, it is definitely to your advantage to be as subtle as possible in your kills and escape with none the wiser. Disguises certainly make things interesting, rather than have some arbitrary system by which you can be discovered, there are certain NPCs of the type you're disguised as who can notice you, and your instinct mode lets you search them out quickly in a crowd.
You can also disrupt your targets routine, sometimes in a fatal way by tracking specific opportunities which would let you lead your target straight to their own "accidental" death. Oh yes, you can arrange an accident for each and every one of your targets- if you're into that sort of thing.
The story itself is told in snatched pieces of dialogue, mission briefs, after-mission reports, and small cutscenes. It could be easy to miss in the episodic version of the game, playing it all straight through gives you a much better chance to track it. That said, no one plays Hitman for the story.
The learning curve of being 47 is pretty steep. The beginning tutorial is easy, as you replay that first level to try out different tactics, the difficulty steps itself up in proportion to how many challenges you complete. Your last tutorial mission is briefed to you as "almost impossible" and some players may find that it does feel that way. Hitman isn't Assassin's Creed. There are no cheap tricks to survive combat and outright confrontation will quickly get you killed. 47 is a true assassin, not a tank.
That said, the challenges provide several reasons for replaying levels. There are achievements you can get by bringing new equipment into an old level and replaying it. The challenges also offer hints to different tactics you can take from poisoning, to hiding in coat closets, to dressing up as the man your mark is supposed to meet with.
The collected edition merely enhances that by putting the whole game together rather than parceling it out over a season. That said, very little has changed from the episodes to the collected edition. The UI is still ridiculously customizable, the missions are exactly the same, the online functionality is still very clumsy. You can't take an offline challenge online or vice versa, none of the online modes are available offline: the community-created Contracts mode, nor the one-time only Elusive Targets, and you can't use your unlocked alternate starting points or weapons while offline. The soundtrack is still incredibly limited, and the same few voice actors return again and again in different settings which can be quite annoying. Those last two were less noticeable when you only had a few hours of content to play every few months. In the collected edition, they're impossible to ignore.
The Steelbook version of the collected edition gives you 6 new DLC side missions to play around with, each one is definitely a fun little sandbox to get into. Again, the same pros and cons of the base game still apply.
There is no real reason for anyone who bought each episode of Hitman to get the collected edition. This is just for people who want to get that traditional video game feel, instead of those content with getting a game in small doses. So, bingers, now is your time.
What people say... Leave your rating
Order by:
Be the first to leave a review.
Show more