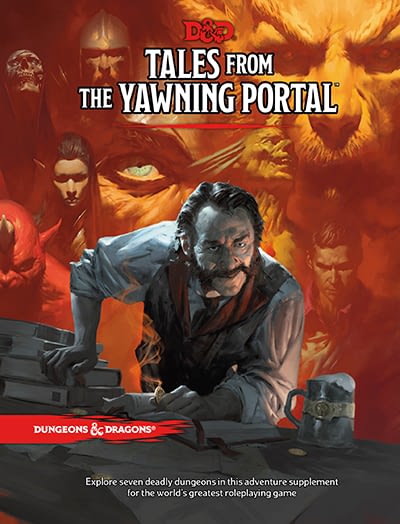 With the fact that Dungeons & Dragons has been around for 43 years, there would have to be a certain number of early adventures that current players have never gone through. With that in mind, the company is releasing Tales from the Yawning Portal. The new 248-page book features seven full adventures mixing some timeless classics with a few more recent best sellers. Some of the adventures include trips to the Tomb of Horrors, the White Plume Mountains and the Hidden Shrine of Tamoachan plus adventures like Against the Giants, Forge of Fury and Dead in Thay. All of which have been updated for current rules.
The cover of Tales from the Yawning Portal was illustrated by Tyler Jacobsen. It depicts Durnan the Wanderer, the longtime owner and barkeep of Waterdeep's most famous tavern.
Adventurers from all over the Forgotten Realms gather in the taproom at the Yawning Portal to trade stories of their exploits and rumors of far-off treasures, some even from other worlds in the D&D multiverse. The Yawning Portal is the one place you'd expect to hear tales of the seven dungeons in this book.
Look for Tales from the Yawning Portal in your local game store on March 24th. Otherwise, you can pick it up on everywhere April 4th. For more information on Dungeons & Dragons and Tales from the Yawning Portal, please visit www.dungeonsanddragons.com.
Enjoyed this article? Share it!