The most prestigious comic book award nominations in the world have been announced.  The 2017 Angoulême Official Lists has been released, chosen from comics published in French, and from which the Angoulême Grand Prix will be chosen. The Youth, Archive and Crime lists have also been published as well as 12 taken from the Official List which the public will be able to vote on.
It is also a record year for nominations for titles that were English speaking publishers include Jupiter's Legacy, with Mark Millar's first Angoulême nomination with Frank Quitely, as well as Patience from Dan Clowes, Lazarus from Greg Rucka and Michael Lark, Saga by Brian K Vaughan and Fiona Staples, Bitch Planet by Kelly Sue Deconnick and Valentine De Landro, Alison Bechdel's Dykes To Watch Out For, Hip-Hop Family Tree by Ed Piskor, Moon Cop by Tom Gauld, Rat God by Richard Corben and The Amazing Remarkable Monsieur Leotard by Daniel Best and Eddie Campbell. 
The Youth awards also include Hagar The Horrible and Roller Grrl by Victoria Jamieson while Saga, Patience and Jupiter's Legacy are included on the Popular list.
There are no Marvel or DC titles published this year though the Mickey Mouse book by Tebo licensed from Disney appears. Three titles were originally published by Image Comics.
Official Selection 2017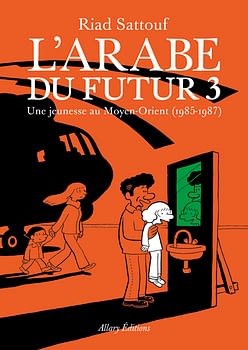 L'ARABE DU FUTUR 3 – UNE JEUNESSE AU MOYEN-ORIENT (1985-1987)
Riad Sattouf
Ed. Allary BITCH PLANET TOME 1 – EXTRAORDINARY MACHINE
Valentine De Landro
Kelly Sue Deconnick
Ed. Glénat CE QU'IL FAUT DE TERRE À L'HOMME
Martin Veyron
Ed. Dargaud CHIISAKOBE TOME 4
Minetaro Mochizuki
Ed. Le Lézard Noir CHRONOSQUAD TOME 1
Giorgio Albertini
Gregory Panaccione
Ed. Delcourt
CHROQUETTES
Jean-Christophe Menu
Ed. Fluide Glacial COQUELICOTS D'IRAK
Brigitte Findakly
Lewis Trondheim
Ed. L'Association
CUL DE SAC TOME 1
Richard Thompson
Ed. Urban Comics / Dargaud
LE DERNIER ASSAUT
Dominique Grange
Tardi
Ed. Casterman
DRESSING
Michael DeForge
Ed. Atrabile
L'ESSENTIEL DES GOUINES À SUIVRE -1987-1998
Alison Bechdel
Ed. Meme pas mal LA FAMILLE FUN
Benjamin Frisch
Ed. ça et là
THE GROCERY, TOME 4
Aurélien Ducoudray
Guilaume Singelin
Ed. Ankama HIP HOP FAMILY TREE TOME 1 – 1970S-1981
Ed Piskor
Ed. PAPA GUEDE HISTOIRES CROÛTES
Antoine Marchalot
Ed. Les Requins Marteaux L'HOMME QUI TUA LUCKY LUKE
Matthieu Bonhomme
Ed. Dargaud JUPITER'S LEGACY TOME 1 : LUTTE DE POUVOIRS
Peter Doherty
Mark Millar
Frank Quitely
Ed. Panini Comics KOBANE CALLING
Zerocalcare
Ed. Cambourakis LAST HERO INUYASHIKI TOME 6
Hiroya OKU
Ed. Ki-oon LAZARUS TOME 4 – POISON
Michael Lark
Greg Rucka
Ed. Glénat LA LÉGÈRETÉ
Catherine Meurisse
Ed. Dargaud LE MARI DE MON FRÈRE TOME 1
Gengoroh Tagame
Ed. Akata MARTHA & ALAN
Emmanuel Guibert
Ed. L'Association MAUVAISES FILLES
Ancco
Ed. Cornélius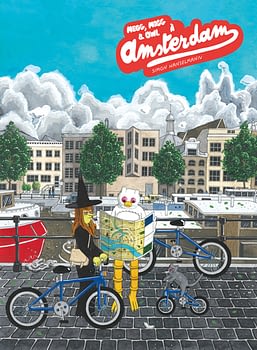 MEGG, MOGG & OWL À AMSTERDAM
Simon Hanselmann
Ed. Misma LES OGRES DIEUX TOME 2 – DEMI-SANG
Bertrand Gatignol
Hubert
Ed. Soleil OTTO, L'HOMME RÉÉCRIT
Marc-Antoine Mathieu
Ed. Delcourt
PATIENCE
Daniel Clowes
Ed. Cornélius
PAYSAGE APRÈS LA BATAILLE
Philippe de Pierpont
Eric Lambé
Ed. Actes Sud BD PELOTE DANS LA FUMÉE TOME 2
Miroslav Sekulic-Struja
Ed. Actes Sud BD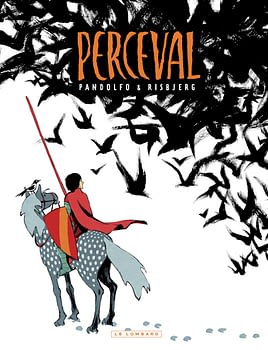 PERCEVAL
Anne-Caroline Pandolfo
Terkel Risbjerg
Ed. Le Lombard POLICE LUNAIRE
Tom Gauld
Ed. Editions 2024 RATGOD
Richard Corben
Ed. Delirium
LE REMARQUABLE ET STUPÉFIANT MONSIEUR LÉOTARD
Daniel Best
Eddie Campbell
Ed. ça et là
ROCCO ET LA TOISON
Vincent Vanoli
Ed. L'Association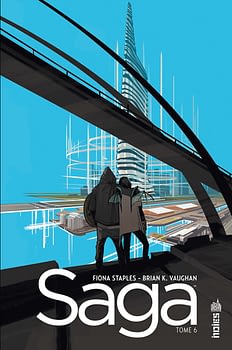 SAGA TOME 6
Fiona Staples
Brian K. Vaughan
Ed. Urban Comics / Dargaud
SHANGRI-LA
Mathieu Bablet
Ed. Ankama STUPOR MUNDI
Nejib
Ed. Gallimard

SUNNY TOME 6
Taiyou Matsumoto
Ed. Kana LES TROIS FANTÔMES DE TESLA
Guilhem
Richard Marazano
Ed. Le Lombard TULIPE
Sophie Guerrive
Ed. Editions 2024 VIVRE À FRANDISCO
Marcel Schmitz
Thierry Van Hasselt
Ed. Frémok
YOUTH ANDERS ET LA COMÈTE
Gregory Mackay
Gregory Mackay
Ed. The Hoochie Coochie ARIOL TOME 11 – LA FÊTE À LA GRENOUILLE
Marc Boutavant
Emmanuel Guibert
Ed. BD Kids / Bayard DANS LA FORÊT SOMBRE ET MYSTÉRIEUSE
Winshluss
Ed. Gallimard HÄGAR DÜNOR TOME 1 – 1973-1974
Dik Browne
Ed. Urban Comics / Dargaud ICHIKO ET NIKO TOME 1
Lunlun Yamamoto
Ed. Kana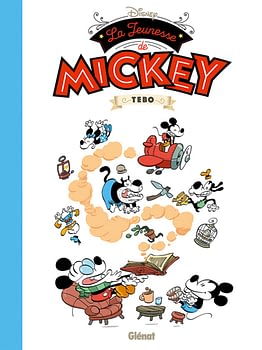 LA JEUNESSE DE MICKEY
Tebo
Ed. Glénat KANERVA SUR LE PONT
Petteri Tikkanen
Ed. Les Requins Marteaux LOUIS PARMI LES SPECTRES
Isabelle Arsenault
Fanny Britt
Ed. La Pastèque MUSNET TOME 1 – LA SOURIS DE MONET
Kickliy
Ed. Dargaud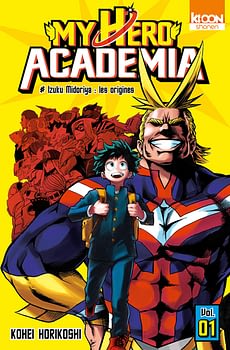 MY HERO ACADEMIA TOME 1
Kohei HORIKOSHI
Ed. Ki-oon QUATRE SœURS – TOME 3.BETTINA
Cati Baur
Malika Ferdjouk
Ed. Rue de Sèvres ROLLER GIRL
Victoria Jamieson
Ed. 404 Editions
HERITAGE
LES AVENTURES DE RED RAT 1
Johannes van de Weert
Ed. Le monde à l'envers & Black-star (s)éditions LE CLUB DES DIVORCÉS T2
Kazuo Kamimura
Ed. Kana
FAUNE
Aristophane
Ed. Frémok
HARRY MICKSON & CO.
Florence Cestac
Ed. Dargaud MORT CINDER
Alberto Breccia
Héctor Oesterheld
Ed. Rackham
TIME IS MONEY
Alexis
Fred
Ed. Dargaud LE TRIBUT
Benjamin Legrand
Jean-Marc Rochette
Ed. Cornélius
CRIME (POLAR) APACHE
Alex W. Inker
Ed. Sarbacane L'ETÉ DIABOLIK
Alexandre Clérisse
Thierry Smolderen
Ed. Dargaud MAGGY GARRISON TOME 3 – JE NE VOULAIS PAS QUE ÇA FINISSE COMME ÇA
Stéphane Oiry
Lewis Trondheim
Ed. Dupuis
PROF. FALL
Ivan Brun
Tristan Perreton
Ed. Tanibis
RIO TOME 2 – LES YEUX DE LA FAVELA
Louise Garcia
Corentin Rouge
Ed. Glénat
Prix du Public Cultura
The selection is composed of 12 albums selected by a committee from the 42 albums in the Official Selection.
L'Arabe du futur Vol 3
Chiisakobé Vol 4
Chronosquad Vol 1
L'homme qui tua Lucky Luke
Jupiter's Legacy Vol 1
Last Hero Inuyashiki Vol 6
Les Ogres Dieux Vol 2 – Demi-sang
Patience by Daniel Clowes
Saga Vol 6 by Brian K Vaughan and Fiona Staples
Shangri-La
Stupr Mundi
Les trois fantômes de Tesla Tome Vol 1 – Le mystère Chtokavien
Enjoyed this article? Share it!