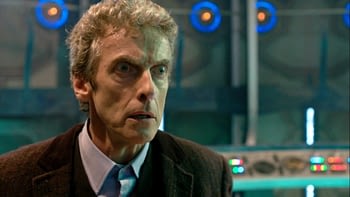 In what is probably the least shocking news of the week, U.K. newspaper The Mirror, which specializes in publishing articles claiming that Peter Capaldi will leave Doctor Who, is reporting that Capaldi will leave Doctor Who in 2018. The Mirror, whose obsession with Peter Capaldi leaving Doctor Who is rivaled only by Bleeding Cool's obsession with publishing clickbait articles about the antics of Frank Cho, says that producers are looking to "shake up" the show when Broadchurch writer Chris "Chinball" Chibnall takes over as showrunner following Stephen "Steven" Moffat's last season next year. Prior to the announcement of Moffat's impending departure, rumors that Moffat would leave Doctor Who were the second most published stories by The Mirror.
The paper reports that Pearl Mackie, who will debut as the new companion during this year's Christmas special, is signed to a one year contract and will leave with Capaldi. A source for The Mirror says: "BBC management wants a return to the format from the David Tennant era, when you had a dashing male lead and young female companion. Merchandising has dropped off sharply in recent years and there is a strong desire to boost the show's popularity among kids."
It all seems pretty silly. If Doctor Who wants to appeal to kids more, they should hire a fifty year old writer like Mark Waid, following Marvel's example with The Champions comic book. That would be totally on fleek. Netflix and chill, sis.
The Mirror also offers some spoilers for next season, though we caution that they are about as reliable as all of The Mirror's other articles.
Our spoiler-sport source whispers: "Episode three of the new series features the snake monster that lives under the Thames.

"Then in episode four, we find out why our floorboards squeak – there are giant woodlice in there. Another episode features killer robots that have emoji faces. They like to give hugs, then reduce their victims to skeletons."
It's unclear who the source could be, but based on further comments made by the source – "EXTERMINATE! EXTERMINATE!" – we can probably wager a pretty good guess.
Doctor Who returns with a Christmas special, and then the new season will air in the Spring. Chibnall takes over with the following season, to air in 2018. If The Mirror's rumors are to be believed (they aren't), the 2017 Christmas special will be the last for both Capaldi and Mackie.
While anything coming from The Mirror should be taken with a grain of salt, they appear to be subscribing to the theory that if you keep saying something is going to happen, eventually it will happen, and then you can take credit for being right. Now we see where Rich Johnston gets it from.
Enjoyed this article? Share it!