by Jason Borelli
On Thursday, I interviewed Kristen Cumings, an artist who had done a portrait of Wonder Woman, and would spend her New York Comic Con covering it in jelly beans at the Jelly Belly booth. This is how it looked on Friday.
Saturday was a hectic day for me, so I didn't check on Ms. Cumings' efforts. By Sunday, the portrait was on the verge of completion.
With an hour's worth of show left, I caught up to Ms. Cumings as she was finishing up her latest work.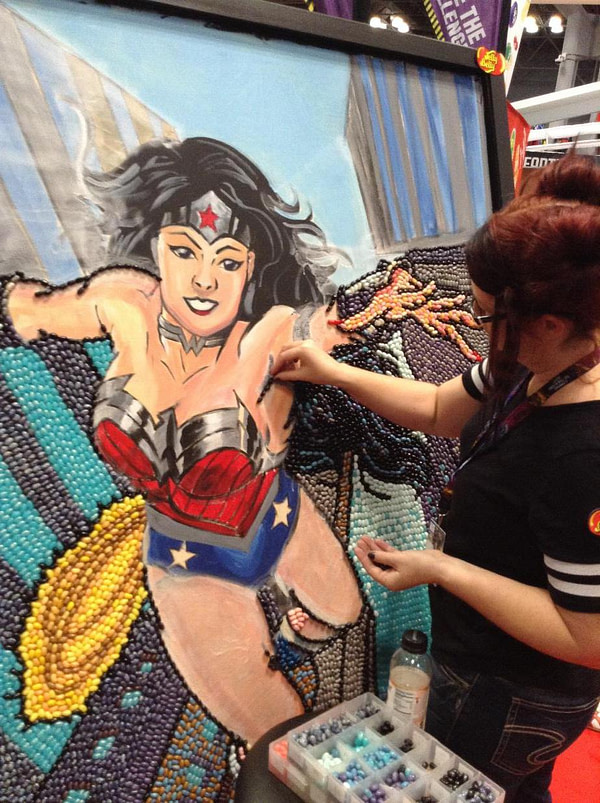 Bleeding Cool: How much time did you need?
Kristen Cumings: It usually takes about a hundred hours. I'm trying to finish it up by 5 [p.m.] This time was a little different because I've been scheduled to talk to so many press people. [laughs] It's amusing for me to do it at the same time as I work. I'm pretty happy with how much I got done.
BC: Have there been any other major distractions?
KC: Not really, no. I've been pretty focused the whole time. It's fun to see the costumes. I like that distraction. Nothing too much.
BC: Have there been any memorable moments for you this weekend?
KC: Mostly just cute little kids and their questions. I really enjoy the kids.
BC: Do you get burned out on jelly beans?
KC: I don't really eat them anymore. I kind of did that the first few of these that I did, but I got out of the habit of it. I got four other pieces at home that I need to get home before Christmas.
BC: What happens to this portrait of Wonder Woman?
KC: It will go back to my place so I can put the final resin on it. If I need to finish a square inch up, if I don't exactly finish it, then I'll finish it.
For more about Kristen Cumings, visit her website and on Facebook.