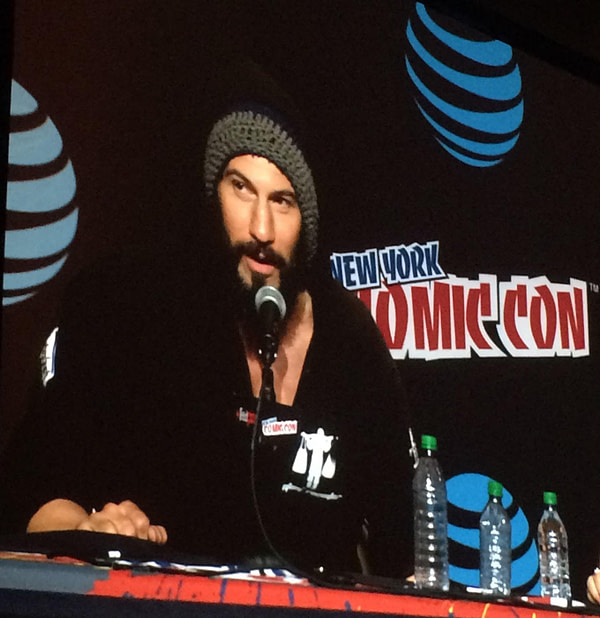 Amanda Gurrall writes,
You probably know that Jon Bernthal has had a very busy career starring as Shane on The Walking Dead and the Punisher on Daredevil and in the upcoming Punisher series on Netflix.
Jon sat and answered questions from our moderator and lots of fans. He was casual, funny and charming. He started by honoring military and police to whom Punisher means a lot, and he wanted to honor them in his performance in Punisher.
About shooting Daredevil and Punisher in New York he said..
 "I believe you don't bark, you just bite. We are doing our best and NYC has the finest crews in the world and we are working our asses off and will do our best."
You just started production on Punisher.  There are so many great 70's movies that use NYC as a character. Do you feel you guys are doing that?
"Yeah I do it's the greatest city in the world. Look, we are so fortunate to be able to shoot here. It was an unbelievable gift to shoot The Walking Dead in Georgia. The setting and the set is is a huge part and colors the show. One thing about NY is everyone who works on that show…you've got the best of the best in this city. I am very fortunate to stay in this environment while we shoot."
What inspires your work?
"I couldn't play this part if I wasn't a father and a husband because my kids and old lady are everything to me."
What do you think about the Punisher comics and did you study them?
"There is so much to gain from every iteration of the comics. Just being here there are so many great artists at NYCC! People are coming by I got to meet so many awesome fans this weekend. There is so much you can get from the heart and I benefit from that a lot."
An audience member said he liked Jon's beard.
"Agh I hate this f…beard so much. My wife hates it, agh."
When you got role did you watch the old movies?
"I love dirty laundry, you know look man after you go through that whole thing..this isn't Inside the Actor's Studio but once you research as much as you can then you have to try and make it as personal as possible and make it my own, I think they all influence you in different ways. It was a great pleasure to watch."
You studied acting in Russia?
"Shit man, yeah I just moved to Moscow when I wanted to be an actor, I had gone to college to play sports. I met a wonderful acting teacher who awoke something in me. Alma Becker. She was one of the most important people in my life. She gave me this gift to find my path when I was getting in all different sorts of trouble.  She suggested Moscow. It changed my life and made me approach the art -I probably sound like such a douchebag- but it was very rigorous and disciplined. Alma ended up marrying my wife and she passed a few years back when was doing the movie Fury. Before I went to her services me and Brad Pitt shot a scene and it was my way to say goodbye. We put a picture of her up in the tank during the scene. Now a shit bag kid like me has a family and a career and I am extraordinary grateful. Man shit got personal."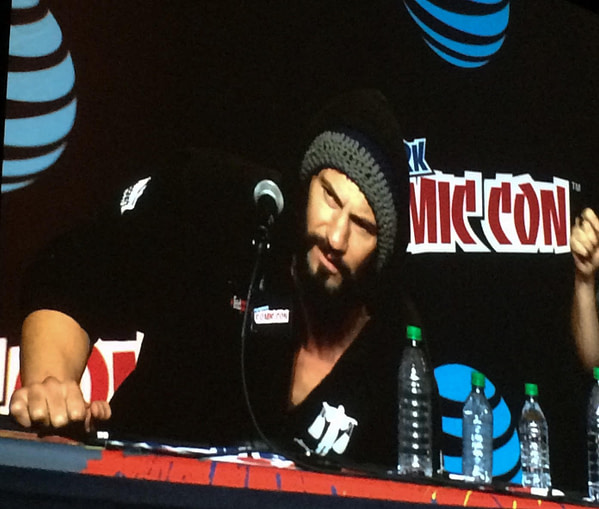 What was it like shooting The Walking Dead?
"When we started it was just a few of us out in the woods pretending there were zombies. We didn't have trailers, it was a group of real badass people who believed in this. Last night I went straight to meet the cast after their panel because they will always be my family and in my heart. That show was started on the backs of real hard work and belief. Also grateful I get to go do other stuff. With Marvel at first I didn't understand the way it worked. I am so grateful to be a part of it they do such good work and the people I've worked with have such an unbelievable level of talent."
Can you suddenly set aside character and move on to a new role or is it hard to do?
"Sometimes you have to go jump right in. The best thing for me is my dogs. I got pit bull dogs and my man Voss the dog has been my right hand man forever, he comes on every set with me. It's that ride home with him from the job where I get to come back to being me, there's nothing like a dog."
How would Frank handle zombies? 
"That's a WHOLE different story man, Frank Castle, man."
Is Judith Shane's baby?
"Yes, I think she will have a giant nose and huge ears."
I loved Frank and Karen's relationship. What's your favorite thing about it?
"I love working with her she's brilliant and so smart, a bold actor and courageous. I can't say shit, dude, (about upcoming show) I really dig her and I think…..the days I know I am working with her are good ass days. Karen Page is a fascinating character." What three movies do you watch to decompress?
"A big part of a lot of these guys I've played…the job is not to decompress. The job is to get away all the bullshit and I want to stay in it. I don't want to be the kind of guy in the nightclub. If I were going to chill when not working I like Dazed and Confused I could watch that over and over again. True Romance I feel the same way about and Goodfellas, Cape Fear, any of those."
What are you reading right now?
"The book I think everybody should read is All Involved by Ryan Gattis. It will blow your minds. It takes place in the days of the LA riots it's so good, man it's such a bad ass book."
Bernthal has no less than 10 projects in the works over the next 18 months.