By Danielle Mick
"If Chief Hopper dies, I'm suing Netflix."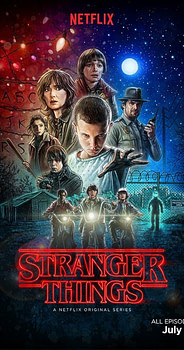 New York City Comic Con has no shortage of Stranger Things cosplays. In fact, the panel began with the a parade of cosplayers and Justice for Barb signs.
Alright, I'm going to cut to the chase: Millie Bobby Brown is absolutely adorable. (There was a brave fan that asked if she could adopt her, which is something that I'm pretty sure we were all thinking.) David Harbour, in true Hopper fashion, was a late. The crowd welcomed him just the same however. He seemed genuinely ecstatic to be there, all smiles when his coffee arrived, with big hugs for his castmate. Until he arrived, it was all about Millie Bobby Brown and her audition for Eleven.
"I just lived in London and you know, I was a very weird child. I sang a lot and danced a lot, but I'm not very good at it. When we moved to America, I just kind of embraced that, and then I got here." Here being the breakout star of Stranger Things, of course. When asked about the audition process, she was giggles galore. She explained how they first introduced the character to her, "You have to cut your hair off. Your name is Eleven. You must relate yourself to E.T." She was questioned what the process was like in general, if scenes were required ("Eleven talking? No."), but she quickly stated that her audition consisted of a lot of tears. David's audition for Hopper was different: "I wore a hat to the audition, which I never do, because I felt like the character was one to hide."
The interactions between David and Millie were seriously too much to handle. Unfortunately, I can't write down every single moment between the pair of them because this article will end up being three pages long, but I will share a few of my personal favorites.
[about Millie's audition]
David: "It was a pretty good audition."
Millie: "It was okay."
[about Eggos]
Millie: "Okay. I like them, I do. I do not like how many I eat. I actually have a spit bucket. They do taste really nice, but not like fifty times."
David: "I will say, though, that I did like every single cigarette that I smoked."
[about the time period]
Millie: "I really want to live in the eighties!!"
David: "It wasn't as good as Stranger Things. I lived it, I lived it! You used to have to show up on time. I don't know how I survived it."
Millie: "I love everything, except the lack of the Internet. What am I supposed to do without the Internet!?"
[about the original airing of the Cosby Show finale]
Millie: "That's how I felt when Vampire Diaries ended-"
David: "Millie, I didn't know you watched Vampire Diaries."
Millie: "Oh, don't start."
David: "You know I know Paul, right?"
Millie: "NO."
[on who falls asleep the most]
Millie points to David, who laughs.
Millie: "What drink actually wakes you up, then?"
David: "Uhhhhhh tequila."
[about who they'd cosplay as]
Millie: "I might dress up as Hopper."
David: "I wanna be Barb."
The audience was fortunate to hear a few stories from behind the scenes. My personal favorite piece of information revolved around the mysterious Demogorgon. It turns out our monster is actually a man named Mark Steger, covered in these green dots, with a puppet. Apparently, he can't hear when he's in the costume which resulted in a lot of screaming and a professional foot pincher. We were also informed that the original set for the show was actually Long Island Beach.
Millie had the opportunity to play direction and call "action" during telekinetic sequences because she could feel when the nosebleed was coming on. In fact, the action sequences were her favorite part about filming. Every time she was questioned about Eleven's abilities, she would bounce in her chair and claim that it "was just really fun!!" Millie was asked about the characterization of Eleven quite a bit. She spent a lot of time thinking on set about how she could find her character's posture or reaction, noting that most of it came quite naturally to her, but the "Eleven Face" received the most attention. "Well uh, I don't really know how I got the face. I just you know, have to be crazy. I have to look like a child. But scary. And I was just like I know what to do! And everyone was like that's it! That's the Eleven face!"
The questions that were asked to David held more weight and darkness. One of the first questions he was asked pertained to his own characterization. "For me, I mean I don't do the Jared Leto stuff, but I do have a brand and method to what I do. I like the experience that I have to be authentic and personal and for me, that can't happen if I don't carry it with me.  Hopper is kind of sad and lonely, And Atlanta is an easy place to be sad and lonely. I would go home by myself and smoke cigarettes by myself and dread the day, which was good for the character. It's like training for a marathon, if you don't do it full out, what's the point?" He went on to explain specific characters, Jack Nicholson in Five Easy Pieces and Harrison Ford as Indiana Jones, that he was inspired by.
A fan asked what it was like to work with the children and Harbour mentioned that he tried the old "fear and intimidation" technique. He kept his chair away from them and avoiding speaking to them, making the child actors believe that he was mean and weird. However, all of that dissolved rather quickly according to the pair. "There should be a movie about making a show, like, David Harbor: this sad lonely guy who turns out to be this lovable person who has a bunch of friends who are kids."
Many adorable moments followed, but no spoilers were given out. If you were not able to attend the panel, you missed David Harbour's Dungeons & Dragons rant (he's a cleric, folks), Millie's "you can have short hair and you can still rock it" monologue, and a surplus of cavity inducing questions, comments, and expressions.
David Harbour did give us the answer to one very important question, however: "Will we ever get justice for Barb?"
"For all of you thinking that she's magically going to come back to life, Barb is very much dead."
So, let's have an official moment of silence for Barbara Holland.