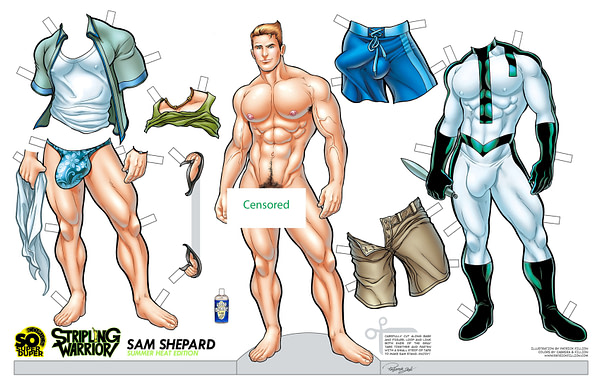 The only gay Mormon Superhero comic book that certainly we know of, Stripling Warrior from SoSuperDuper Comics, is extending its scope with new stories and characters that include Lesbian, Bi, Trans and Asexual heroes to the mix.
The creators they are signing up include…
TANA FORD – Writer/creator/artist on creator owned comic series Duck and artist on Marvel Comics Silk. More on Tana's art here: 
HECTOR BARROS – Artist with a sensational portfolio of the geeky and the erotic, artist on indie queer comic series The Pride. Geek art here and erotic art here. More on The Pride here.
REY ARZENO – An artist with an eye for the viral geeky mash-up. More of Rey's art here.
JOE PHILLIPS – Creator of the popular JoeBoys calendars, Joe has worked for both Marvel and DC Comics. More of Joe's work here.
DIEGO GOMEZ – Artist with a love of all things mutant and geeky. More of Diego's artwork here.
EVA CABRERA And CLAUDIA AGUIRRE – Art team creating indie comics and mainstream work. Fresh off the critical hit comic Kim & Kim for Black Mask comics.
DAVID CANTERO: Artist and writer on the all ages series Little David and artist behind many Class Comics series. More on Little David here, more on the latest Class Comics by David here, NSFW.
Funded last year by a successful Kickstarter campaign, Stripling Warrior takes a look at what a hero can be within the bounds of the Mormon Faith.
The story began with Sam Shepard, a happily out and newly married gay man, who is visited by an Angel from Heaven on his wedding night and called to be the hand of God on earth. Now, with the upcoming trade paperback collection entitled Stripling Warrior Vol. 1: The Law of Adoption, which will include 58 pages of all new story, Stripling Warrior has proudly given a voice to the wide spectrum of the LGBT Community by including lesbian, bi, trans and asexual characters as superhero missionaries. Together our heroes will discover how their queerness impacts their roles as servants of the divine.
A sex-positive comic book series, it's a blend of action, humor, romance, super villains and an exploration into the mythology of the LDS Church.
Created and written by Brian Andersen, a Mormon convert, former Missionary, Brigham Young University Provo graduate, and married father to a daughter born via surrogacy, Andersen seeks to give a voice to the LGBT Community. He hopes to provide a queer positive story against the Mormon faith's many anti-LGBT teachings and to show being queer does not take away from a person's worthiness, but rather it only enhances it.
The entire first three issues are out and available now. More preview pages of Stripling Warrior can be accessed here.