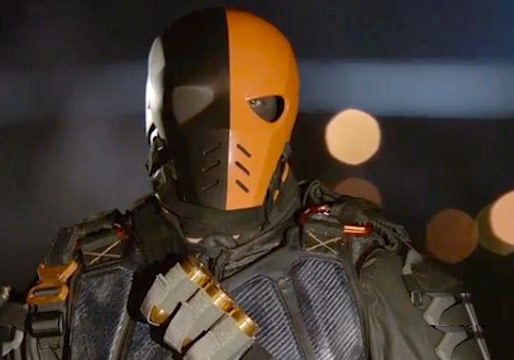 The story that Arrow was forced to remove both Deathstroke and the Suicide Squad from their show by Warner Bros. Pictures is now the stuff of legend among those close-watchers of the emerging DC film and TV universes. It is looked upon as the key moment in a struggle between the two divisions, with characters locked into long term deals and questionable availability. Even as recently as Arrow's fourth season, fans were repeatedly told the appearance by Matt Ryan's John Constantine was a one-time thing.
But in the case of Deathstroke — the likely antagonist of Ben Affleck's solo Batman movie — Arrow star Stephen Amell believes it is possible to usher the character back to television in some form.
According to Comic Book Movie, Amell told an audience at Salt Lake City Comic-Con that the reported sharp divide between DC Films and the various television shows is "not how that works."
"Diane Nelson and Geoff Johns – the people at Warner Bros. on the feature side, the people at Warner Bros. on the television side – are all in the business of making the best products for fans," he continued. "Just because there may or may not be a Deathstroke in the DC Extended Universe doesn't mean Manu Bennett can't exist on our show."
Certainly, it's possible the undeclared ban on characters headed for feature films has changed since Arrow's production team was reportedly forced to abandon its season four plans for Task Force X. But it's just as equally possible that the ban did exist until quite recently. Unfortunately, it is unlikely we'll know the real story for sometime.
Meanwhile, Arrow returns for its fifth season on October 5th.