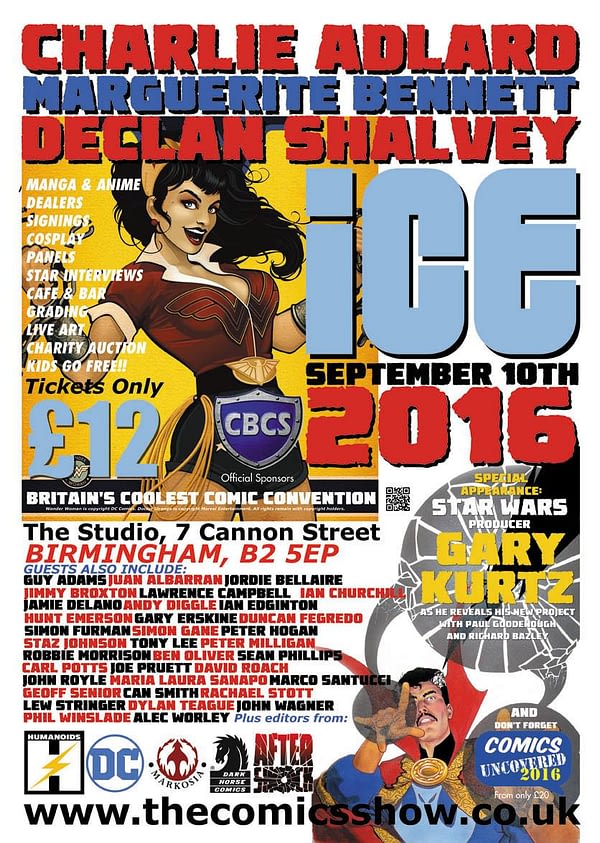 By Olly MacNamee
Alongside Star Wars Producer, Gary Kurtz's already announced appearance at ICE, hot off the presses comes the news that Suicide Squad scribe Rob Williams will also be attending. Rob is a last minute announcement and whatever you thought of the film, there are a lot of fans of the comic who will lap this up. I'm already scrambling to dig out my Rebirth issue as soon as I finish writing this.
Alongside their appearances, you can also find the likes of Mike Marts, back after a very successful year for Aftershock who initially launched with four titles and now offer over a dozen titles by top draw talent series, The Walking Dead's Charlie Adlard, All-Star Batman's Declan Shavley and InSEXTs writer, Marguerite Bennet. Of course, you can read the full line-up for yourselves here and get tickets through the same site, here. As you'll see, there are a fair few guests as you would hope for a comic-con.
This is ICE's third year, but it very nearly didn't happen thanks to the ever decreasing funding for the Arts in this country, that has shrunk so quickly over the last few years. Since 2010 actually. Can't think what happened then that would have scrapped supporting the Arts, can you? After all, who would want to limit an area of our cultural life that encourages you to be creative and think freely and express yourself freely?
Thankfully, Shane Chebsey, the organiser, was helped out by some last minute sponsorship courtesy of comic slabbing firm CBCS UK.
"When we at CBCS heard that funding for ICE 2016 was pulled, we were extremely disappointed," stated Michael Bornstein, CBCS CEO. "Comics are such a great hobby with so many wonderful fans, we knew CBCS had to help out." 
And, like previous years, while Saturday's comic con is very much that and that alone, for a few extra bucks aspiring comic book creators can opt in for the Comics Uncovered events that run throughout the Sunday, which offers tips from the likes of Dave Gibbons, Jim Chadwick, Carl Potts and other alumni from the world of comics.
As usual, I'll be there scooting around and attempting to grab the odd interview or two, so if you do come along for either the Saturday, Sunday, or both days, say hi!
Both ICE and Comics Uncovered take place at The Studio Venue Company, 7 Cannon Street, Birmingham.
Price of admission: ICE, £12 with kids in for free, while the Comics Uncovered events cost either a tenner a session or #65 for a full delegate's pass.
Enjoyed this article? Share it!