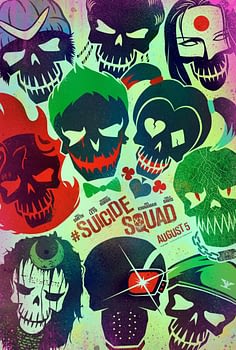 If you're Warner Bros, you can look at the fact that Suicide Squad is likely to hold on to the #1 spot for a third weekend in a row as a positive thing. Or you can look at it as no film is really doing well. The DC property is looking to bring in only $20 million this weekend to keep it on top.
Both Sausage Party and War Dogs are looking to bring in roughly $15 million each. Which is really good for the second weekend of the Seth Rogen adult animated comedy, but only a decent showing for the Jonah Hill and Miles Tellar gun-running comedy.
Two other new films for this weekend are looking very different though their numbers are similar. Making an estimated $12 million is Kubo and the Two Strings, a stop-motion animated film starring the voice talents of Matthew McConaughey, Charlize Theron and Ralph Fiennes. The film cost $55 million.
On the other hand, Paramount continues their down year with the release of Ben-Hur. The $100 million budgeted film is on track right now to bring in $11 million for the opening weekend. About $9 million below the estimate and what the studio hoped for. The studio's other releases included Star Trek Beyond which under-performed and poor showings for both Zoolander 2 and Teenage Mutant Ninja Turtles: Out of the Shadows.
Enjoyed this article? Share it!