So everyone loved Stranger Things, right? Are we agreed on that? Well, we always hurt the ones we love. So let's not pick it apart and find anachronisms for this 1983-set show.
There are a few anachronistic vehicles and vehicles designs throughout the show, such as the yellow Ford Festiva in the school parking lot that didn't come out till 1986, a more modern design for the school bus,  a 1985-88 Chevy Nova and the back end of an early '90s Dodge Van. The BMX Bikes ridden are a more modern style using a 26t / 9t gear set rather than 44t / 18t.
Some music is used on the soundtrack that comes after the show, such as The Bangles, but that's soundtrack, it doesn't really count. However when Corey Hart's I Wear My Sunglasses At Night plays on the radio a year before release, that counts. At does listening to the song "Go Nowhere" by the band Reagan Youth, recorded and released in 1984. Also it was at least six months before the Smiths released their first single, that Jonathan was able to give a song on a mix tape to his little brother in America in 1982.
They did a damn fine job stocking that supermarket. But Trident White gum wasn't introduced until 2001.
When Hopper is administering CPR to Will in the upside down he is using the new CPR system as it was changed in 2010; 30 chest compressions to 1 breath. In 1983 CPR was 1 breath to 5 chest compressions. This change could have been to maintain accurate CPR as is taught today.
Talking of vehicles, the toy Millennium Falcon,  had clear plastic engines…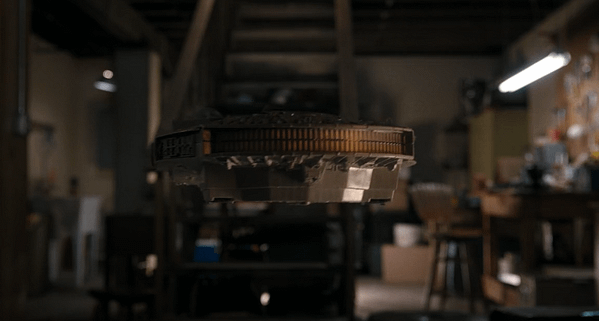 …whereas the original version from the seventies/eighties had orange stickers for engines.
And when Nancy had a Tom Cruise poster on her wall, it was two years before Top Gun and All the Right Moves was playing at the cinema. He wasn't the heartthrob yet.
The PEZ dispenser Dustin dumps out of his backpack is a Jack in the Box clown, which was only made in 1999.
A black Dish Network satellite dish can be seen on the corner of a roof, not available until 1994. And roofs are missing TV antennas, common back then. The Chief's radio is a modern Motorola digital radio from ten years ago.
The APL logo is a modern day image, in 1983 the words American President Lines were on the containers with no logo.
A copy of the periodic table is seen with elements that were discovered after 1983.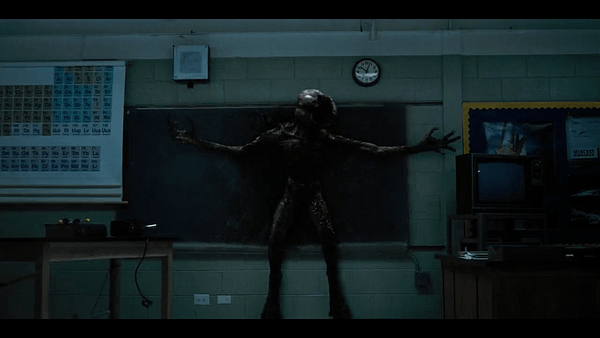 The Jack in the Box PEZ dispenser Dustin dumps out of his backpack was not released until 1999.
Will dials 911. In 1983, small towns were not yet part of this system. And when Joyce seeks to replace her telephone, the clerk attempts to charge her. However back then all telephones were owned by AT&T and customers leased them. She would have just needed to bring her damaged phone in for exchange.
The skis that are in the background in the garage when the kids ride away on the bikes have the wrong shape and tip for the 80's these would have been late 90's skis.
A copy of American paranormal researcher Hanz Holzer's 1990 book Great American Ghost Stories is on the shelf.
And the newspaper clipping at the very end on the billboard is text from a real newspaper story from 1994.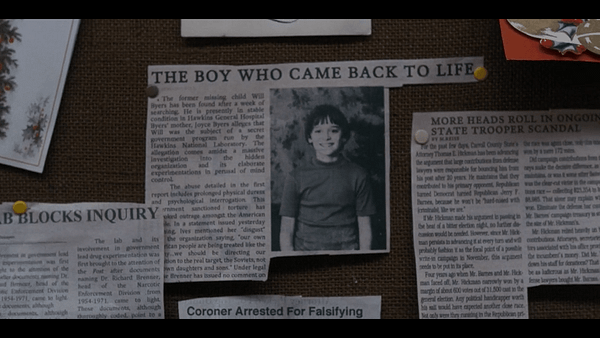 Any more?
Enjoyed this article? Share it!