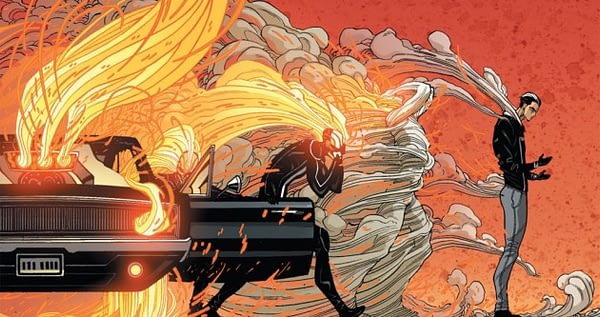 Season Four of Agents of S.H.I.E.L.D. will see the team facing off against Robbie Reyes and his Ghost Rider persona. And as actor Gabriel Luna told The Hollywood Reporter, he is "excited to bring him to life for the first time."
Luna admitted he was surprised that the Ghost Rider he auditioned for was not Johnny Blaze or Danny Ketch, the Spirits of Vengeance he remembered from his childhood. But now that he has absorbed the Robbie Reyes stories by Felipe Smith and Tradd Moore, he's looking forward to seeing where the character will go on the show.
"I'm excited to get to show how he's able to exist with this spirit of vengeance and not only harness it but own it," Luna explained. "That's always been central to the Ghost Rider story. Sometimes the Rider totally takes over and that's a terrifying process. It's always this push and pull between the two characters."
With only one episode completed, Luna is unsure when Robbie's little brother Gabe will show up. But he hopes to approach the character from that caretaker role as well.
Agents of S.H.I.E.L.D. returns on September 20th.
Enjoyed this article? Share it!