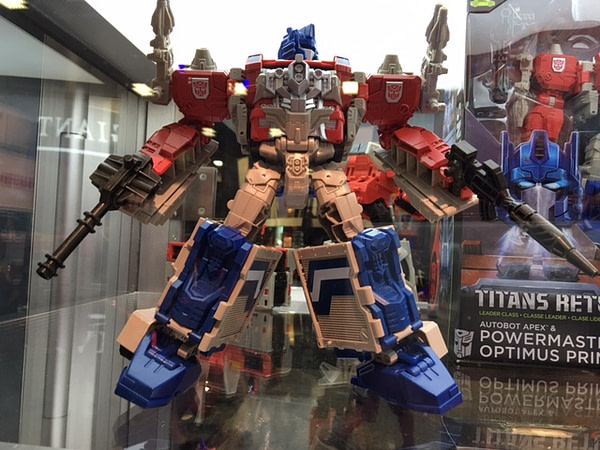 By Jeremy Konrad
Of all the various properties Hasbro creates figures for; the most popular has to be Transformers. Always a huge presence at SDCC every year, they continue to not only produce quality figures, but also take tremendous strides into fan interaction and diverse offerings in the line. I was fortunate enough at this years convention to have a little chat with John Warden, a senior design manager at Hasbro who works on the Transformers Generation brand:
Bleeding Cool: You are bringing this back in a big way this year, care to tell us a little about your plans?
JW: Yeah, well Titans Return is the next chapter in the Prime Wars Trilogy, and it is exciting; the product is going to be hitting shelves next month. The early reception we got has been fantastic, not only from the fans of the late 80's with great characters like Blur and Scurge or Hardhead, but they are coming to life in a brand new way with cool articulation and cool design elements you may remember from when you were a kid and now capturing the imagination of new fans and kids. I am seeing more and more kids come into our booth today getting excited about something like a transforming crocodile, it is pretty awesome.
We also have really great characters like Galvatron coming to life, finally and turning into that space weapon he transforms into. Characters like Powermaster Prime, and the biggest guy of all, the Titan-sized Fortress Maximus. Here at San Diego Comic Con we've got an exclusive Maximus that actually comes with a Master Sword. So it really is pretty incredible to be a part of Transformers at this point in its lifespan. It is so fun!
BC: Speaking of SDCC exclusives, can you talk about the Soundwave that turns into a tablet?
JW: This kind of surprised everybody. This is an exclusive for SDCC, Soundwave that changes into a tablet. And if you look at this thing, it has one of the more intricate transformations that we have done in recent history. The detail on the tablet is so well done, with such fine details; it actually almost passes for a cracked tablet (laughs). It doesn't work [as a tablet], but it does work in the sense that it transforms and converts into an incredible looking robot. The way it puzzles together, it is a very elegant design, very fun to play with.
BC: When designing something like this or others, how closely are you working with Takara?
JW: We work with Takara almost literally every single day. My designer Aaron Gray and I will get together with marketing and engineering about a year in advance; so we have been working on all of this Titans Return stuff since about this time last year. We come to SDCC and other fans events; we talk to the fans and read the pulse of what characters we think are going to be relevant and exciting. We started to hear more and more that fans really love those Headmaster Era characters. So we started to shape the line, when we start to decide what characters we want to do, we brought in Takara Tomy and their expertise.
Takara Tomy are incredible. They are the original creators of the Transformers and they bring so much magic to the party; they are able to figure out these incredible transformations. And then Aaron and I will sort of design the vehicles and the robots and try to figure out how some of those intricate pieces really fit together. It really is a lot of back and forth, and it is an incredible relationship. BC: How closely are you guys working with IDW right now? They have the Revolution series ramping up over there combining M.A.S.K. and ROM and Transformers into one universe. Can we expect any figures based on that comic?
JW: Well, I think fans are going to have to stay tuned on Revolution stuff for now. But when it comes to IDW, our partnership has never been stronger. We try to meet with them a year in advance to try to understand where their storylines are going. We introduce a bunch of characters to them that we have in line for the toys.
A character like Sentinel Prime is a great example. I really love the Megatron origin story where that great design is featured at the very end, and we were trying to bring some magic back to Titans Return. These little Titan Masters have the ability to do all sorts of enhancements to the Transformers when they swap heads.
When we shared the idea of Sentinel Prime with IDW, they got really excited that it would work really well with their storyline. And the idea of him resurrecting and coming back to a world where maybe he doesn't fit is an exciting place for them and their continuity in the universe. We feed off the fans of theirs, too. If you look at their comic book series, you have great female characters like Victorion and Nautica and I think as fans look forward to the future of Titans Return, they can expect more and more of these characters from the IDW universe to be brought to the line in a really interesting way.
BC: Of all the Hasbro properties, it seems like the Transformers brand pays very close attention to what the fans want. How can they get in contact with you to let you know what they do in fact want?
JW: We are very much dialed in, in terms of listening to the fans online. We read the fan blogs. I always listen to different reports. Like when a [new] product comes out, we read the message boards and comments on the most popular sites. And at events just like [Comic-Con]. SDCC is not only an opportunity to share what we have on the horizon; we also have the opportunity to meet with fans one-on-one and it's a huge benefit for us. Our fans have a lot to contribute and it's always exciting to talk to them, not just about where we are now, but where we can go in the future.
BC: Diversity is a really big issue in fandom right now, can you talk a little about how you are addressing that with this line, especially with female characters?
JW: We have a fantastic fan-built character in Victorion. Last year, fans voted on what characters were going to form the next Combiner that was going to be in the first chapter of the Prime Wars Trilogy. And they brought to life Victorion. They decided it was going to be a group of female Transformers coming together in a unique way. They decided on her color scheme, they decided she is going to be from the Sea of Rust. We shared this information with IDW and it is really incredible to see how something created by the fans is taking on a new life. Even a character like Winblade, she has become a big star in the Machinima Combiner Wars series and we understand her motivations. If you look at characters in the IDW series, Nautica is a great example. Transformers fans are young and old, men and women, and it is a really exciting time with to be a fan with these great characters coming to the forefront, both male and female. We try to bring these things to the forefront in the toy lines as much as we can.
BC: OK, last question: What's your favorite Transformer, and do you prefer to keep them in their robot form or their transformation?
JW: My favorite Transformer is … I would say a tie between Whirl and Roadbuster, who never really appeared in the cartoon series as a kid. Also the Wreckers in the comic books, which were cool.I appreciated them as toys more than anything. I would go off and create my own stories. I would use sugar cubes as Energon and other things around the house. Have the Autobots and Decepticons racing to battle each other. But I have always liked Whirl and Roadbuster. It was really exciting a couple years ago to get a chance to redesign those guys and bring them to life in the 30 line.
In terms of how do I keep them posed, I think it would depend on which Transformer, but generally I keep them in robot mode, and then repose them every couple of days. And then eventually I will take them down and I will put the new ones up. You have to understand: as a Transformers designer you get a lot of product, so you end up cycling through your shelf quite a bit and it's exciting, really it is a ton of fun. Takara and Hasbro have done an incredible job bringing to life some more articulated figures in recent history. You can strike some pretty incredible poses and with the new system you can actually customize the heads and sometimes I will do that too. It is just fun.
Enjoy many pictures from the Hasbro booth at SDCC below:
Enjoyed this article? Share it!