Wonder Woman was created by the writer William Moulton Marston, while he was living in a polyamorous relationship with his wife and girlfriend. The portrayal of a female superhero, who came from a land without men was enough for the author of Seduction Of The Innocent, Dr. Frederic Wertham to describe her as  "the lesbian counterpart of Batman".
In the fifties, this wasn't meant to be a good thing. '
And certainly, relationships between Amazons on a female-only Paradise Island, specifically Wonder Woman, has been alluded to during her 75-year history. Such as this moment from Justice League Task Force a couple of decades ago.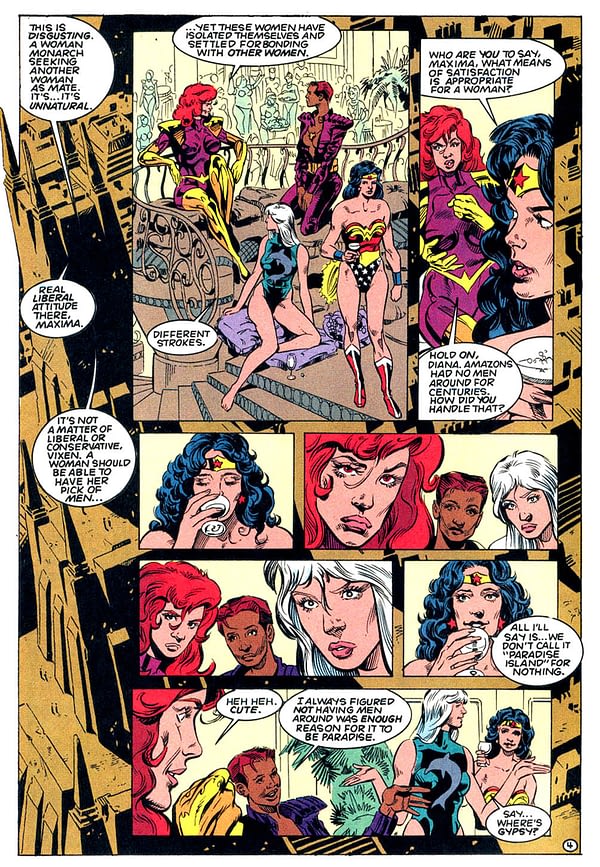 Or more recently in Sensational Comics.
And then there was Wonder Woman Earth One, a non-canon graphic novel by Grant Morrison and Yanick Paquette.
Wonder Woman has had a long-standing appeal in the gay community. Comic creator Phil Jiminez, who has written and drawn the character for DC was quoted as saying "I think Wonder Woman is, in political or philosophical terms, the perfect representation of 'The Other,' not one's self and somehow different… I actually call her the perfect queer character, and I use 'queer' in the larger, cultural sense here, not simply gay….  she's not made for straight men. She's anti-assimilationist, anti-patriarchy, and definitely just not normal. Over the decades, I think one of the reasons she appealed to women and so many minorities, and yes, to gay men, is because she's thede facto representative of that queerness."
This month saw the relaunch of the Wonder Woman comic from DC Comics, from writer Greg Rucka and artists Nicola Scott and Liam Sharp. Rejecting much recent continuity, in the belief that her history has been broken, in Wonder Woman #2, we get a retelling of her origin story, and the first time she encountered her sometime-boyfriend Steve Trevor, the first man she'd ever met.
But, as Wonder Woman #2 suggests, not the first relationship she's been in.
This is Kaisa.
There is certainly an intimacy between them.


 How far does it go? Well, we don't see more on panel. But on Paradise Island, they do like to gossip…
Kaisa may not have even been her first…
Wonder Woman #2 by Greg Rucka and Nicola Scott is published by DC Comics today.
Enjoyed this article? Share it!