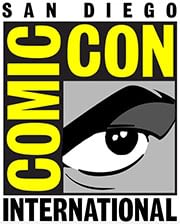 Well… this should keep you busy. San Diego, the Wednesday and the Thursday in panel form…
Right, I'm off down the pub.
Wednesday, July 20
4:00pm
Teaching with Comics: An Interactive Workshop for Educators
Peter Carlson (Green Dot Public Schools), Antero Garcia (Colorado State University), and Susan Kirtley (Portland State University) lead this hands-on workshop integrating comic books in your K-12 classrooms. Open to teachers of all subjects, this session includes awesome interactive activities, approaches for aligning comic books within curriculum, and resources for you to use. Current classroom educators Samantha Diego, James Kelley, and Jenn Anya Prosser will spotlight specific ways they address the learning needs of students in their classrooms.
Wednesday July 20, 2016 4:00pm – 6:00pm
Shiley Special Events, San Diego Central Library
6:00pm
Special Sneak Peek Pilot Screenings
Comic-Con and Warner Bros. Television proudly continue their annual Preview Night tradition, with exclusive world premiere screenings of the pilot episodes of five of the most highly anticipated series of the 2016-17 television season-Riverdale, Powerless, People of Earth, Frequency, and Time After Time-as well as a new episode of Teen Titans Go!
Riverdale – Things aren't always what you expect in Riverdale. Based on the iconic characters from Archie Comics and produced by Berlanti Productions (The Flash, Supergirl, Blindspot, Everwood), this one-hour drama is a bold, subversive take on the surreality of small-town life. As a new school year begins, the town of Riverdale is reeling from the recent, tragic death of high school golden boy Jason Blossom, and nothing feels the same. Archie Andrews (KJ Apa) is still the all-American teen, but the summer's events made him realize that he wants to pursue a career in music and not follow in his dad's footsteps, despite the sudden end of his forbidden relationship with Riverdale's young music teacher, Ms. Grundy (Sarah Habel). Which means Archie doesn't have anyone who will mentor him-certainly not singer Josie McCoy (Ashleigh Murray). who is only focused on her band, the soon-to-be-world-famous Pussycats. It's all weighing heavily on Archie's mind, as is his fractured friendship with budding writer and fellow classmate Jughead Jones (Cole Sprouse). Meanwhile, girl-next-door Betty Cooper (Lili Reinhart) is anxious to see her crush, Archie, after being away all summer, but she's not quite ready to reveal her true feelings to him. And Betty's nerves, which are hardly soothed by her overbearing mother, Alice (Mädchen Amick), aren't the only thing holding her back. When a new student, Veronica Lodge (Camila Mendes), arrives in town from New York with her mother Hermione (Marisol Nichols), there's an undeniable spark between her and Archie, even though Veronica doesn't want to risk her new friendship with Betty by making a play for Archie. And then there's Cheryl Blossom (Madelaine Petsch), Riverdale's Queen Bee is happy to stir up trouble among Archie, Betty, and Veronica, but Cheryl is keeping secrets of her own. What, exactly, is she hiding about the mysterious death of her twin brother, Jason? Riverdale may look like a quiet, sleepy town, but there are dangers in the shadows. Riverdale is from Berlanti Productions in association with Warner Bros. Television and CBS Television Studios, with executive producers Greg Berlanti (Arrow, The Flash, Supergirl, DC's Legends of Tomorrow), Roberto Aguirre-Sacasa (Supergirl, Glee), Sarah Schechter (Arrow, The Flash, Supergirl, DC's Legends of Tomorrow), and Jon Goldwater (Archie Comics). Riverdale premieres midseason on The CW.
Powerless – It's a superhero's world. As the first comedy series set in the DC Universe, Powerless is the story of Emily (Vanessa Hudgens, High School Musical), a young insurance adjuster specializing in regular-people coverage against damage caused when superheroes and supervillains treat the city like their own personal battleground. Taking care of insurance needs one by one, Emily and her team of co-workers might not have any superpowers, but they are out to make a difference in people's lives and prove that you don't need to have powers to be powerful! From Warner Bros. Television and executive producer Ben Queen (Cars 2), Powerless premieres midseason on NBC.
People of Earth – From Emmy winners Conan O'Brien (Conan), and Greg Daniels (The Office, Parks and Recreation), and creator David Jenkins comes People of Earth, a half-hour single-camera comedy series about a support group for alien abductees. People of Earth centers on skeptical journalist Ozzie Graham (Wyatt Cenac, The Daily Show), who investigates a support group to write about the members' supposed alien encounters. The more he digs into their oddball claims, however, the more he realizes a semblance of truth to their stories and possibly even signs that point to his own alien abduction. The onetime outsider now finds himself a part of this eclectic group of misfits, all the while struggling with the idea of knowing that life could exist beyond this world. The series is executive produced by O'Brien, Daniels, Norm Hiscock (King of the Hill), Jeff Ross (Conan), David Kissinger (Eagleheart), and Larry Sullivan; Jenkins is co-executive producer. Produced by Conaco LLC in association with Warner Horizon Television, People of Earth is coming this fall to TBS.
Frequency – Based on the New Line feature film, Frequency is the story of a father and daughter who are supernaturally reunited two decades after his suspicious and untimely death. New York detective Raimy Sullivan was only 7 when her father, undercover cop Frank Sullivan, abandoned his family in pursuit of a case that led not only to his family's breakup, but also his eventual death undercover. Always believing her dad died in disgrace as a corrupt cop, Raimy set forth to surpass him in law enforcement, rising through the ranks to detective. But everything she knows changes when somehow Raimy and Frank connect, across two decades, over Frank's vintage ham radio in the garage. Where once Frank was lost in the shadows of his undercover work in 1996, he has now miraculously been found by his now-grown daughter in 2016. As they forge a new relationship while working together in two time periods to close an unsolved serial murder investigation, their emotional connection transcends time to not only repair the broken bonds of their family but also defy fate and change the course of destiny. From Lin Pictures in association with Warner Bros. Television, Frequency premieres Wednesdays at 9/8c this fall on The CW. Jeremy Carver (Supernatural), Toby Emmerich (Frequency film), John Rickard (Horrible Bosses), Dan Lin (Sherlock Holmes films), Jennifer Gwartz (Veronica Mars), and Brad Anderson (Fringe) are executive producers.
Time After Time – Using the 1979 novel and movie as a launching point, Time After Time chronicles the epic adventures of a young H. G. Wells. At the age of 28, the 19th-century scholar has yet to publish any of his landmark science fiction novels, but his idealistic thinking and radical ideas have led him to actually create a time machine. When his longtime friend, the charismatic (and secretly psychopathic) Dr. John Stevenson, a.k.a. Jack the Ripper, finds himself cornered by the authorities at Wells' London home, he escapes to present-day New York City using the time machine. Naturally, Wells follows, but instead of the Utopian society he imagined would be in the future, he finds a world more aligned to Stevenson's temperament. Fortunately, Wells meets up with Jane Walker, an assistant curator at a museum staging an exhibition on Wells. As Wells and Jane come together, they will not only play a dangerous endgame with Stevenson but also find themselves involved with the incredible characters and scenarios that inspired Wells'sWar of the Worlds, The Invisible Man, The Island of Dr. Moreau, and more. An epic love story charged with danger and adventure, Time After Time gives an unpredictable spin on the mythology of H. G. Wells by looking at the world of today through the eyes of yesterday. Based on the novel written by Karl Alexander and produced by Outerbanks Entertainment in association with Warner Bros. Television, Time After Time premieres midseason on ABC. Kevin Williamson (The Vampire Diaries) and Marcos Siega (The Vampire Diaries) are executive producers.
Teen Titans Go! – The Teen Titans are back at it again, in Teen Titans Go!, with all new comedic adventures both in and out of Titans Tower, and they'll have you covered by screening a brand new episode. Based on DC characters and produced by Warner Bros. Animation, Teen Titans Go! airs Thursdays at 6/5c on Cartoon Network.
Wednesday July 20, 2016 6:00pm – 10:00pm
Ballroom 20
Thursday, July 21
10:00am
Becoming Nerdstrong
Incorporate your love of sci-fi, fantasy, superheroes, and games to begin your fitness adventure. Despite age-old nerd stereotypes, fitness belongs to all of us, including those of us in the geek community. Andrew Deutsch (Nerdstrong Gym founder), David Nett (Nerdstrong Gym partner), Christy Black (Nerdstrong Gym partner), Andrew Seely (Nerdstrong Gym partner), and Blair Herter (Nerdstrong Gym partner, Attack of the Show) discuss body image and confidence in a geek world, their fitness journeys, and the simple ways you can mix your fandom, passions, and gamification into a new, leveled-up life.
Thursday July 21, 2016 10:00am – 11:00am
Pacific 24, North Tower, Marriott Marquis & Marina
Fan Culture Programs
10:00am
CW3PR's 3rd Annual Behind-The-Music: Crime, Death and Resurrection
Television's top composers discuss how their music elevates the high drama, mystery and mayhem in some of your favorite shows. These magicians of the screen will reveal the scoring processes that enliven some of TV's most popular and thrilling programs. The panel will highlight the music of fan-favorite shows including Mr. Robot, Fargo, The People v. O.J. Simpson, American Horror Story, South Park, Dominion, CSI: NY, Scream Queens, Power, Legion, Manhattan, Tut, and more.
Thursday July 21, 2016 10:00am – 11:00am
Room 25ABC
10:00am
DC Collectibles
Action figures, statues, busts, PVC figures-DC Collectibles has them all and more! Join the DC Collectibles crew, including VP creative services Kevin Kiniry, director creative services Jim Fletcher and a few surprise panelists, to hear how they come up with so many great products, and what's coming up from comics' top makers of awesome collectibles!
Thursday July 21, 2016 10:00am – 11:00am
Room 9
10:00am
Feed Your Head: The VFX of Alice Through the Looking Glass
Leap into the journey through the VFX process of Alice Through the Looking Glass. Alice's esteemed VFX team leads HALON Entertainment's Tefft Smith II and VFX editor Ed W. Marsh will take the audience through scene building, shooting, and the final VFX process by breaking down some of Underland's most complex sequences. This panel will debut exclusive footage not seen in the theater.
Thursday July 21, 2016 10:00am – 11:00am
Room 6A
10:00am
From Fan to Creator: Goal-Setting for Creative Types
Which side of the convention table do you want to be on: fan or creator? And what's keeping you from getting there? What's holding you back? If you're having trouble starting or finishing your creative projects, you need to attend this fun and informative workshop, designed specifically for the Comic-Con crowd and back for its ninth year. Douglas Neff (Epic Win! The Geek's Guide to the Journey from Fan to Creator) will give you simple and proven techniques for setting, working on, and achieving your goals. Whether you want to write your first novel, draw your own comic, or shoot your documentary film, tyou'll walk away from this workshop with the energy and tools you need to bring your dream to life.
Thursday July 21, 2016 10:00am – 11:00am
Room 23ABC
10:00am
Little Fish Comic Book Studio: Building The Artistic Tomorrow
San Diego's own, local Little Fish Comic Book Studio is proud to present a group of emerging San Diego talent discussing the unique comic work they've created under the mentorship of Klaus Janson (Dark Knight Returns, Superman). Join this exciting all-ages, all-abilities comic and manga art studio for this session moderated by Alonso Nunez (executive director, Little Fish Comic Book Studio) and featuring the brightest new talent around.
Thursday July 21, 2016 10:00am – 11:00am
Room 32AB
10:00am
Spotlight on Kieron Gillen
Writer Kieron Gillen talks about his career, from Phonogram, through Marvel and on to The Wicked + The Divine. And who better to interrogate him than his mostly platonic life partner, Jamie McKelvie? No one, that's who.
Thursday July 21, 2016 10:00am – 11:00am
Room 7AB
10:00am
The Dynamic World of Disney Comics
Disney Comics experts give you a sneak peek into how Disney's beloved movies and TV shows are transformed into digital and print comic books. Daron Nefcy (creator and executive producer, Star vs. the Forces of Evil), Gianfranco Cordara (vice president, global magazines & new IP, Disney Publishing Worldwide), Roberto Santillo (director, art development & academia Disney), Mike Siglain (creative director, Lucasfilm Publishing), and other panelists will share new comics based on Zootopia, Finding Dory, Frozen, Star Wars, Star vs. the Forces of Evil, Mickey Mouse, Donald Duck, and more.
Thursday July 21, 2016 10:00am – 11:00am
Room 28DE
10:00am
The Graphic Novel Medium
What makes a book a graphic novel? The unique combination of text and art, word balloons, text boxes, and more makes comics a unique format. Authors Derf Backderf (Trashed), Peter Kuper (Ruins), Hope Larson (Compass South), Sydney Padua (The Thrilling Adventures of Lovelace and Babbage), and Maximilian Uriarte (The White Donkey) discuss the medium and their own recent work. Moderated by Evan Narcisse (io9).
Thursday July 21, 2016 10:00am – 11:00am
Room 29AB
10:00am
Weekly Shonen Jump Podcast Panel
The U.S. editors of Weekly Shonen Jump will be making announcements, discussing SJ manga, and probably making fun of each other. And they'll be asking you what you think about various SJ topics. It'll all be recorded for the famous SJ Podcast! Plus, trivia and cool prizes!
Thursday July 21, 2016 10:00am – 11:00am
Room 5AB
10:00am
Comic-Con Film School 101
Comic-Con Film School is back for another four-day, nuts-and-bolts course on how to make a movie for very little money using available video technology and desktop postproduction software. Whether you're shooting your first Overwatch fan film or that story about the leather-clad girl who hunts cyborgs, this course will take you from script to final product so that you, too, can enter your own movie into the CCI: IFF. This first class covers the specifics of preproduction on the cheap, including screenwriting, scheduling, location scouting, crewing-up, and getting equipment for nothing. Panelists include Valerie Perez (producer/star, Paula Peril series), Jack Conway (producer, Machinima ETC), Vera Vanguard (producer, The Building of Good and Evil), Nick Murphy (writer/director, Pizza and Bullets), and Sean Rourke (writer of Ballistica).
Thursday July 21, 2016 10:00am – 11:00am
Pacific 23, North Tower, Marriott Marquis San Diego Marina
4: CCI-IFF, CCI-IFF and Film School, Marriott Programs, Movies, Seminars and Workshops, Writing
CCI-IFF and Film School, Marriott Programs, Movies, Seminars and Workshops, Writing
10:00am
Dreamworks Animation Theatrical
DreamWorks Animation invites you to find your happy place with a special Trolls presentation featuring filmmakers, voice talent, and a few very colorful friends.
Thursday July 21, 2016 10:00am – 11:30am
Hall H
10:15am
Teen Titans Go! Video Presentation and Q&A
When there's trouble, you know who to call: Teen Titans! When you want an awesome time at Comic-Con, you also know who to call: Teen Titans! A Titan-sized panel features producers Aaron Horvath (MAD) and Pete Michail (Space Racers) along with voice cast members Greg Cipes, Scott Menville, Khary Payton and Tara Strong for a screening and Q&A covering your favorite animated series. Produced by Warner Bros. Animation, Teen Titans Go! airs Thursdays at 6/5c on Cartoon Network. Teen Titans Go!: Season 3 Part 2 will be released on DVD on August 23.
Thursday July 21, 2016 10:15am – 11:15am
Room 6DE
10:30am
Comic-Con How-To: Plot Structure The Philosophy Behind Story Creation
Before you start writing your story, you need a clear idea of where your story is going. Award-winning author Maxwell Alexander Drake gives you insight into the theory of story creation, generating a strong foundation for you to build upon and ensuring that readers will be captivated from the very first page. From why readers read stories, to understanding how stories must be created so readers will read yours, this class will help you understand the psychology of what it means to create stories for others, leaving your readers hungry for more. This is part one of this class.
Thursday July 21, 2016 10:30am – 11:15am
Room 2
10:30am
Comics Arts Conference #1: The Joker: Serious Study of the Clown Prince of Crime
The Joker has menaced Batman for nearly 77 years. Since the Joker's first appearance in Batman #1 in 1940, he has appeared thousands of times in comics, films, video games, television series, toy aisles, and other arenas of mediated and material culture. While a powerful antagonist, the character is nevertheless fascinating to children and adults alike. Join the contributors to the first book-length scholarly study of the Joker as they ask why the Joker has become the most important and interesting supervillain in popular culture and what it is about the Joker that makes the character so iconic. Rob Weiner (Texas Tech University), Robert Peaslee (Texas Tech University), Travis Langley (Henderson State University), Hannah Means-Shannon (Dark Horse Comics), and Ryan Litsey (Texas Tech University) discuss the nature of the Joker, his history, and why Batman refuses to kill a character that causes so much misery to the citizens of Gotham.
Thursday July 21, 2016 10:30am – 11:30am
Room 26AB
10:30am
How to Get News Coverage
Small press publishers: What makes the difference between an item that will get news coverage, previews, and interviews and what doesn't? A lot of publishers have no idea what to submit to the press, how to submit it, and why they are being overlooked for coverage. Comics journalist Rik Offenberger (First Comics News, Archie Comics) moderates this panel on what it takes to get coverage, with the comic journalists themselves telling you what they are looking for. Panelists include Albert Ching (Comic Book Resources), Alex Raymond (Hollywood Gone Geek), Chris Thompson (Pop Culture Hound, Bleeding Cool), Francis Sky (First Comics News, Massacre Twins), Glenn Hauman (Comic Mix), Heidi MacDonald (The Beat), J. C. Vaughn (Gemstone Publishing), Jez Ibelle (First Comics News), Josh Waldrop (Red Gorilla), Tanya Tate (First Comics News, JustaLottaTanya), and Tim Chizmar (Fangoria, First Comics News). Independent comic creators Holly Golightly (Broadsword Comics), Josh Henaman (Bigfoot), and Michael Kingston (Headlock Comics) will explain what worked for them and what to avoid when looking for press coverage.
Thursday July 21, 2016 10:30am – 11:30am
Room 8
10:30am
Relaunching the Battlestar Franchise
Richard Hatch (Tom Zarek, Capt Apollo, Kharn/Axanar, Personal Space, Blade of Honor) hosts a Q&A and fan discussion of Universal's forthcoming relaunch of the Battlestar Galactica franchise. Dr. Kevin Grazier (science consultant for Battlestar Galactica, Ureka, Falling Skies, Defiance), producer Alec Peter (Propworks, Axanar), Rob Burnett (Free Enterprise), and surprise guests present theatrical videos and comic reels.
Thursday July 21, 2016 10:30am – 11:30am
Room 6BCF
10:30am
Sea of Thieves: Art of Adventure
The Sea of Thieves team present an exclusive look at the artistry behind this shared-world pirate adventure. Core members of Rare, the acclaimed developer behind hit titles like Banjo-Kazooie, Viva Piñata, and Battletoads, will discuss the studio's life-long fascination with pirates, how they're crafting a rich fantastical world and evolving a timeless genre. Attendees will be privy to key announcements, never-before-seen artwork, and exclusive insights into Rare's most ambitious project yet.
Thursday July 21, 2016 10:30am – 11:30am
Room 24ABC
10:30am
Spotlight on Peter David
Okay, not literally a spotlight. And by literally we mean "literally" as opposed to "figuratively," which are two opposite words no matter what the stupid dictionary says. What in the world is happening to the English language, anyway? And what about . . . oh. Right. The panel. Peter David will talk about stuff. He wrote this description. Can you tell?
Thursday July 21, 2016 10:30am – 11:30am
Room 4
10:30am
Comic Book Law School 101: Genesis
Getting off on the right foot is key to traveling on the road to success. And this year's Comic Book Law School is designed to help you navigate the best possible route (and provide help in deciphering the map legend). Noted IP attorney Michael Lovitz, author of The Trademark and Copyright Book comic book, offers the first of three interactive and informative programs, which this year will track the trials and tribulations of (fictional) client Fitzgerald Scott, a fledgling comic book writer, as he traverses the many stages involved in the creation, development, protection, and commercialization of his newest comic book creation, "Shylock Homer" a war-weary poet-turned-detective solving crimes and fighting off mythical creatures as he travels the globe with his colleague Dr. Ulysses in search of his long-lost family. This first installment will focus on "The Basics" in an effort to provide the necessary foundation needed for understanding the various intellectual property rights available to creators and business owners and will include insights on how to protect those rights, focusing on how best to safeguard ideas, creative works, characters, brands, and names, from genesis through publication and distribution, and beyond. Attendees are invited to participate in an interactive discussion about the rights provided under U.S. copyright and trademark laws, including a discussion on the protections these laws provide, the benefits of federal registrations for each, tips on working with collaborators, and issues of joint authorship and work-made-for-hire. Along the way, there will be plenty to learn about the protections available, as well as the numerous potential pitfalls, under the U.S. trademark and copyright systems. Please note: The Comic Book Law School seminars are designed to provide relevant information and insights to practicing attorneys, as well as practical tips to creators and other professionals who may wish to attend. [This program is approved for 1.5 credits of California MCLE.]
Thursday July 21, 2016 10:30am – 12:00pm
Room 30CDE
11:00am
Celebrate the Publishing World of Jim Henson's Labyrinth with Archaia
To celebrate the 30th anniversary of Jim Henson's Labyrinth, publisher Archaia (an imprint of BOOM! Studios) has several books set to come out this year! Senior editor Sierra Hahn and artists Eric Powell (The Goon, Big Man Plans), Joëlle Jones (Spider-Woman, Lady Killer), and Jonathan Case (The New Deal, Batman '66) give fans a sneak peek into these titles, which include original comics, a children's storybook, and an artists' tribute collection. Moderated by Nerdist editor-in-chief Rachel Heine.
Thursday July 21, 2016 11:00am – 12:00pm
Room 5AB
11:00am
Cosplaying 101: Bringing Your Dreams to Life
Catherine M. Fisher (award-winning costumer), Bob Mogg (Steampunk expert extraordinaire), and Birda Hussey (historic costumer of all trades) discuss the basics in costuming and go over tips, tricks, and techniques to help a beginner costumer get started in the world of cosplaying. Panelists will show you how you can get in on the all the cosplaying fun even if you've never sewn before in your life. Moderated by Melissa Gene Meyer (department assistant for the Masquerade with Comic-Con International), panelists will show you that you don't need to be an expert to make a great costume!
Thursday July 21, 2016 11:00am – 12:00pm
Pacific 24, North Tower, Marriott Marquis & Marina
11:00am
Free Comic Book Day in the Library
How to run your own FCBD event in a library! This panel will cover the ins and outs of ordering FCBD books, discuss partnering with local stores, offer suggestions for programming and promotion, and discuss how to run this event on a shoestring budget. Free Comic Book Day is an international celebration of comics that has been happening on the first Saturday in May since 2002.
Thursday July 21, 2016 11:00am – 12:00pm
Shiley Special Events, San Diego Central Library
11:00am
Love & Rockets: Past, Present and Future
Love and Rockets by brothers Gilbert and Jaime Hernandez is one of the most influential comic series to ever be published. Rounding on 35 years, the characters and stories within Love and Rockets have inspired countless cartoonists, musicians, and writers with their unique world building and stories. Hear about the series from the very beginning with Gilbert and Jaime, publisher Gary Groth (Fantagraphics), co-creator Mario Hernandez (Love and Rockets), and fans like Matt Fraction (Sex Criminals, Hawkeye), with exclusive art and announcements.
Thursday July 21, 2016 11:00am – 12:00pm
Room 9
11:00am
Masters Of The Web: How We Got Started, How You Can Get Started-
Some of the leading voices in the online film journalism/punditry world discuss the state of Hollywood movies, how they got started, and how you can get started with your own blog/podcast/YouTube channel. Panelists include John Campea (Comic-Con HQ), Tiffany Smith (Fandango, DC All Access), Kristian Harloff (Collider, Fandango), Grae Drake (senior editor, Rotten Tomatoes) Jeremy Jahns (YouTube film critic), and Jon Schnepp (Collider Heroes).
Thursday July 21, 2016 11:00am – 12:00pm
Room 7AB
11:00am
Spotlight on Alex Sinclair
With the help of Scott Williams-yes, that Scott Williams- Alex Sinclair does a quick review of his career, demos his coloring process, and answers any questions you may have along the way. Alex will have his work setup and show how he has incorporated an iPad Pro into his process.
Thursday July 21, 2016 11:00am – 12:00pm
Room 32AB
11:00am
Spotlight on Lisa Hanawalt
Lisa Hanawalt is the author of the acclaimed, devastatingly funny graphic novels Hot Dog Taste Test and My Dirty Dumb Eyes. She is also the producer and series designer for the hit Netflix showBojack Horseman. Tom Spurgeon (The Comics Reporter) leads a wide-ranging conversation with Hanawalt, focusing on her new book, Hot Dog Taste Test.
Thursday July 21, 2016 11:00am – 12:00pm
Room 23ABC
11:00am
Spotlight on Maggie Thompson
Maggie Thompson (Toucan blogger) interviews three other "Nerd Family" kids: Lora Boehm (daughter of John and Bjo Trimble), Sky McLeod (daughter of Scott McCloud and Ivy Ratafia), and Caroline David (daughter of Peter and Kathleen David). Check out what four generations of second-generation fans have to share.
Thursday July 21, 2016 11:00am – 12:00pm
Room 29AB
11:00am
The 4th Annual Musical Anatomy of a Superhero
From the ominous horns of Jaws signaling fear to the inspiring theme for Star Wars, music has always been an important supporting character in movies. This panel offers a behind-the-scenes look at the music of today's biggest superhero film and TV projects with unreleased film clips and never before heard music. Participating composers include Henry Jackman (Captain America: Civil War, Kick Ass 2), Tom "Junkie XL" Holkenborg (Deadpool, Batman v Superman), John Ottman (X-Men: Apocalypse, X-Men: Days of Future Past), and Blake Neely (Supergirl, The Flash). Moderated by George S. Clinton (Mortal Kombat, Austin Powers).
Thursday July 21, 2016 11:00am – 12:00pm
Indigo Ballroom, Hilton San Diego Bayfront
11:00am
This Week in Marvel: Live
Marvel's official weekly flagship podcast comes to Comic-Con for a special episode that may or may not include guests, secrets, news, free stuff, arm wrestling, guitar solos, and more!
Thursday July 21, 2016 11:00am – 12:00pm
Neil Morgan Auditorium, San Diego Central Library
11:00am
Top Shelf Productions: Live!
Now an imprint of IDW Publishing, the tastemakers at Top Shelf are busier than ever bringing you their trademark blend of gorgeous art, storytelling charm, and literary sophistication. Marketing director Leigh Walton and design director Chris Ross offer a tour of Top Shelf's latest and greatest. Benjamin Frisch makes a head-spinning debut with The Fun Family, the Lost Mountain Mechanicals blend history with dieselpunk action-adventure in The Jekyll Island Chronicles, Koren Shadmi explores the dark side of digital dating in Love Addict, and much more! Plus: great news for Alan Moore fans and Korgi lovers.
Thursday July 21, 2016 11:00am – 12:00pm
Room 28DE
11:00am
Transformers Generations: More Than Meets The Eye with Machinima
As the Combiner Wars wage on, this highly anticipated chapter in the Transformers Generations Prime Wars Trilogy will be huge. Join members from the Transformers story and design teams along with talent from Machinima for a sneak peek at the upcoming digital series Combiner Wars! The team will also host a Q&A session to answer your burning questions.
Thursday July 21, 2016 11:00am – 12:00pm
Room 25ABC
11:05am
HOSS
When an earthquake destroys the West Coast, a cowgirl named Burke roams the lawless Malibu hills looking for a friend and her own redemption; what she finds instead is bloody vengeance. Participating panelists include Christine Boylan (Constantine, Once Upon a Time), Alan Smyth (Poor Behavior, Leverage), and Johnny Sneed (Trumbo, Love and Mercy).
Thursday July 21, 2016 11:05am – 11:35am
Pacific 23, North Tower, Marriott Marquis San Diego Marina
11:15am
Happy Happy Joy Joy
For 25 years, Nickelodeon has produced some of the most innovative and memorable animation in the history of television. Nick Animation podcast host Hector Navarro finds out how and why four of the network's most influential creators did what they did: Craig Bartlett (Hey Arnold), Jhonen Vasquez (Invader Zim), Butch Hartman (Fairly OddParents, Danny Phanton) and Arlene Klasky (Rugrats, Wild Thornberrys, Rocket Power), who along with Gabor Csupo and Paul Germain, created Rugrats. Don't miss the chance to see production art from the upcoming Hey Arnold movie, animation from Hartman's new Bunsen Is a Beast, and the world premiere of Don vs Raph, a TMNT animated short written and produced by Jhonen Vasquez.
Thursday July 21, 2016 11:15am – 12:15pm
Room 6A
11:15am
Comic-Con How-To: Graphic Novels from Idea to Finish with Brian Haberlin
Learn how to take your idea and make a graphic novel, using Brian Haberlin's graphic novels Shifter, Anomaly, and Faster Than Light as test cases. Subjects will include idea to script, page format, panel layout, art style considerations, distribution, printing and more.
Thursday July 21, 2016 11:15am – 12:30pm
Room 2
11:30am
DC All Access: No Boundaries
DC Comics is always pushing the envelope. Find out what's new and upcoming from across the Digital spectrum to the world of DC Rebirth with key contributors whose unique voices add to the DC Comics experience!
Thursday July 21, 2016 11:30am – 12:30pm
Room 6DE
11:30am
Spotlight on G. Willow Wilson
G. Willow Wilson (Ms Marvel, Alif the Unseen) discusses the making of the hit teen superhero series Ms Marvel, reads new material, and takes questions from the audience.
Thursday July 21, 2016 11:30am – 12:30pm
Room 4
Comic-Con Special Guest Spotlights & Appearances, Comics, Superheroes
11:30am
Spotlight on Howard Chaykin
Howard Chaykin, the man frequently described as the Randy Newman/Van Morrison/Robert Altman of comics, is on hand for an unmoderated hour of informed and amusingly immoderate conversation. This deeply influential cult figure, a prince of a guy who prefers to be good rather than nice, guarantees at minimum three huge laughs, a slew of informed contrarian opinion, and at least one unaccompanied number from the American popular songbook.
Thursday July 21, 2016 11:30am – 12:30pm
Room 8
11:30am
The Relationship Between Artist and Model
With all the drawing software out there, why do animation studios, video game developers, and comics illustrators still use live action models for character design and development? This panel will discuss how art models contribute to and enhance an artist's vision, how to find the right one for a project, and ways into the business. Panelists include art models Jennifer Fabos Patton (Gallery Girls founder), Stacy E. Walker (Disney, Heavy Metal), and Michael Schmidt (Harry Potter), mo-cap model TJ Storm (Deadpool), and Disney master teacher Mark McDonnell. Moderated by Fast Company's Susan Karlin.
Thursday July 21, 2016 11:30am – 12:30pm
Room 24ABC
11:30am
Comics Arts Conference #2: Comics, Place, and Space
Patricia Ayala (University of Colima) explores how the landscape of comics reflects the author's inner world and the elements that comics creators use to pull readers into each frame of story. Melissa Archibald (California State University, Long Beach) argues that the artistic representation of Metropolis challenges the popular trope of American cities as places of depravity and hopelessness by conceptualizing Metropolis as a place of progress. Chris Murray (University of Dundee) sees commentary on American culture in the works of British pop artists and examines the relationship between their art and comics in terms of content, political critique, and graphic design.
Thursday July 21, 2016 11:30am – 1:00pm
Room 26AB
11:35am
No Touching
When Jackie and Michelle agree to accompany their buddy to a haunted house attraction, they grow concerned when they are required to sign a waiver that allows the performers to touch them but prevents them from touching back. Inside, they discover the performers are far more invasive than they should be, and once they cross the line these ass-kickers remind them how ladies should be treated! Participating panelists include Zoë Bell (The Hateful Eight), Heidi Moneymaker (Captain America: Civil War), and Will Corona Pilgrim and Adam Davis (writer/directors).
Thursday July 21, 2016 11:35am – 12:05pm
Pacific 23, North Tower, Marriott Marquis San Diego Marina
11:45am
Snowden
Open Road Films presents Oliver Stone's Snowden, featuring never-before-seen footage and a live conversation with legendary filmmaker Oliver Stone, in his first visit to Comic-Con, and actor Joseph Gordon-Levitt.
Thursday July 21, 2016 11:45am – 12:45pm
Hall H
11:45am
Street Fighter Nation
Get an exclusive look at the latest news and updates about this iconic video game franchise. Expect sneak peeks at all the licensed goods and collectibles being developed, updates on the Capcom Pro Tour, and a few surprises as well!
Thursday July 21, 2016 11:45am – 12:45pm
Room 6BCF
12:00pm
CBLDF: Navigating The Powers & Perils of Banned Books
Meryl Jaffe, Ph.D., educator and featured CBLDF columnist ("Using Graphic Novels in Education") and Betsy Gomez, CBLDF editorial director lead a panel of librarians, educators, and creators in a lively discussion of how and why graphic novels are attacked by censors. They'll detail how graphic novels can be successfully integrated into classroom curricula, and they'll provide tools that educators can use to counter these attacks. Participants will leave the panel better enabled to advocate for their instructional materials and their students.
Thursday July 21, 2016 12:00pm – 1:00pm
Room 30CDE
12:00pm
Comics are Literacy, Too!
A discussion of tools librarians and educators can use to help overcome resistance to comics in schools, and how to use manga and comics for adult literacy and English language learner programs. Also, explore the wide range of comic genres, get tips for matching readers with comics, and come away with recommendations to satisfy a diversity of interests and reading levels.
Thursday July 21, 2016 12:00pm – 1:00pm
Shiley Special Events, San Diego Central Library
12:00pm
Geek & Sundry at SDCC
Felicia Day and friends chat with you, the audience, about everything you want to know! Join the panel for hilarious discussions on their favorite current and future shows, upcoming projects, and the latest happenings at Geek & Sundry.
Thursday July 21, 2016 12:00pm – 1:00pm
Indigo Ballroom, Hilton San Diego Bayfront
12:00pm
Getting Into Comics and Staying There
"Breaking into comics" panels are among the most popular panels at comic conventions throughout the country. Aspiring writers and artists are as in-demand with publishers as social media wizards and Excel-loving number crunchers. Listen to the origin stories of Jim Zub (Wayward, Thunderbolts), Felipe Smith (Mighty Morphin Power Rangers, All-New Ghost Rider), Caitlin Kittredge (Lucas Stand, Coffin Hill), Dan Mora (Klaus, Hexed), and Kyle Higgins (Mighty Morphin Power Rangers, C.O.W.L.), and the behind-the-scenes professionals they work with to make the comics you love to read! Moderated by BOOM! Studios editor-in-chief Matt Gagnon and editor Dafna Pleban.
Thursday July 21, 2016 12:00pm – 1:00pm
Room 28DE
12:00pm
IDW & The Reuben H. Fleet Science Center Present Crossover: Where Comics & Science Meet
Diehard fans know comics aren't just picture books for children and geeky adults. Comics have a long history of addressing complex issues, from science lab accidents to ethics, moral issues, and social justice. This panel will look at the art, science, and technology featured in some of their favorite comics and answer questions like: How do writers develop the stories? Are they communicating realistic scientific concepts? Could comics writers be predicting in the future of science and technology? A distinguished panel of scientists, entrepreneurs, and artists and writers from IDW Publishing will discuss the true science behind comics and science fiction.
Thursday July 21, 2016 12:00pm – 1:00pm
Room 9
, Education
12:00pm
Jakks Pacific: Insider Fan Panel
Get an exclusive first look at Jakks' lines of action figures, collectibles, and RCs from the company's design and marketing team. Get product development insights and exclusive previews of the JAKKS BIG-FIGS across licenses such as Star Wars, DC, TMNT, and more, and get the latest updates on the whole World of Nintendo line. Following the presentation is a fan Q&A session and prizes for attendees!
Thursday July 21, 2016 12:00pm – 1:00pm
Room 29AB
12:00pm
Justice League Action Video Presentation and Q&A
The world's greatest superheroes return to television in Justice League Action, an all-new quarter-hour animated series. Batman, Superman, and Wonder Woman lead the DC superheroes against their most infamous foes in adventures packed with relentless thrills, fun and action. No need to wait for the good stuff to start; each 11-minute episode jumps in with lightning-paced action and heroics. Whether defending the Earth, facing invaders from space, or battling the bizarre forces of magic, the always-rotating team of Justice League heroes are up to any challenge. Producers Butch Lukic (Justice League) and Alan Burnett (Batman: The Animated Series) and voice cast members Kevin Conroy (Batman: The Animated Series) and Diedrich Bader (Batman The Brave and The Bold) present an exclusive sneak peek and Q&A at this highly anticipated new series. Produced by Warner Bros. Animation, Justice League Action is coming soon to Cartoon Network.
Thursday July 21, 2016 12:00pm – 1:00pm
Room 25ABC
12:00pm
Kareem Abdul-Jabbar's Mycroft
NBA All-Star Kareem Abdul-Jabbar makes a special appearance at Comic-Con to launch his new comic book, Mycroft Holmes and the Apocalypse Handbook, which debuts exclusively at SDCC with a special variant cover. This exciting series is a brand new standalone comic book adventure that uncovers the secrets of the elder Holmes brother. Join series artist Joshua Cassara (The Troop) and Kareem Abdul-Jabbar on stage for an hour of exclusives and insider reveals. Each audience member will receive an exclusive show art card.
Thursday July 21, 2016 12:00pm – 1:00pm
Room 5AB
12:00pm
New Authors Making a Splash in the Literary Pool
Come and meet new authors who are sure to be the next big thing in the literary scene, and you'll forever have bragging rights that you knew them "before they were cool." Alwyn Hamilton, Keira Drake, Sylvain Neuvel, Bob Proehl, Todd Lockwood, and K. S. Merbeth discuss with moderator Maryelizabeth Yturralde the joys, challenges, and insider secrets of being a debut author.
Thursday July 21, 2016 12:00pm – 1:00pm
Room 32AB
12:00pm
Raising Fankids: Teaching Young Geeks to be Self Confident and Successful
Pasquale Piro (Raising Fankids, 8th grade teacher) moderates a panel discussing techniques and experiences that help kids grow up nerdy without the negative connotation. The panel includes Alissa Piro (middle school teacher, mom), Frankie Desmond (Jack of All Trades costumes, dad), Mike Conrad (father of two), and Maia Nilsson (high school student).
Thursday July 21, 2016 12:00pm – 1:00pm
Pacific 24, North Tower, Marriott Marquis & Marina
12:00pm
The Comixologist Traveling Podcast Party
The comiXologist podcast crew Tia Vasiliou and Matt Kolowski are hitting the road to help everyone find their next favorite comic book! They've brought along some surprise guests for this live edition of the show! There's a comic out there for everyone and they have enlisted comics pros Kieron Gillen (The Wicked + The Divine, Young Avengers) and Hope Nicholson (publisher, Bedside Press) to help you find the series that's right for you!
Thursday July 21, 2016 12:00pm – 1:00pm
Neil Morgan Auditorium, San Diego Central Library
12:00pm
The Pitching Hour
Kevin Burke and Chris "Doc" Wyatt (producers, Ultimate Spider-Man), Derek Hoffman (VP, Donner Co.), Jaime Burke, (executive producer, Quantum Break), Lindsay Rostal (VP, The Odd Gentlemen), Carina Schulze (president, Chatrone), Jennie Kong (pr strategist), a surprise guest or two and moderator Dan Evans III (VP, DC Entertainment) will take an idea from conception through production for various media. This process will include creating a pitch document, obtaining agents, and getting a pitch meeting. The panelists will explain, through hypothetical example and humorous stories, the process that new creators should adapt to make their way through the creative battleground of the entertainment industry. Knowing that each project is unique, there will be a Q&A to allow the audience to really hone in on the solutions to obstacles they may encounter. Also on hand will be Brendan McFeely (IP lawyer, Kane Kessler) to give creators insight on protecting their ideas as they navigate Hollywood.
Thursday July 21, 2016 12:00pm – 1:00pm
Room 7AB
12:00pm
The Smitten Word: Romancing the Reader
Bestselling authors Sylvia Day (Crossfire novels), Christina Lauren (Beautiful series), Nalini Singh (Psy-Changling series), Chloe Neil (The Devil's Isle and Chicagoland Vampires series), and Tessa Dare (Castles Ever After series) turn up the heat at SDCC as they discuss the power of romance, the range and voice of the genre, and blush-inducing conversation and have a hilarious battle over movies, TV shows, and Hollywood's hottest. Moderated by HelenKay Dimon (Bad Boys Undercover series).
Thursday July 21, 2016 12:00pm – 1:00pm
Horton Grand Theatre
12:00pm
Welcome to the Whedonverse
Dark Horse's continuations of Joss Whedon's cult favorites (Serenity, Buffy the Vampire Slayer, Angel & Faith) remain some of the most-talked-about comics in the industry. Dark Horse is giving you an exclusive chance to hear all there is to tell about the end of Buffy the Vampire Slayer Season 10 and what's in store for Serenity from the series' top talent, with Buffy Season 10 writer Christos Gage, Buffy the High School Years Kel McDonald, and surprise guests for some big news!
Thursday July 21, 2016 12:00pm – 1:00pm
Room 23ABC
12:00pm
CBS Television Studios Block – including Scorpion, American Gothic and MacGyver
Scorpion – Retrieve the inside scoop on what's happening this fall with Waige, Quintis, and the rest of your favorite band of misfit geniuses. Monday night's top-rated drama series Scorpion returns to SDCC for the third year in a row with the stars and producers giving fans the first intel on plots, story arcs, and romances before anyone else. The series stars Elyes Gabel (World War Z), Robert Patrick (Terminator 2), Katharine McPhee (Smash), Eddie Kaye Thomas (American Pie), Jadyn Wong (Broken Trail), and Ari Stidham (Huge).
American Gothic – See how the other half kills with American Gothic, CBS's new summer series centered on a prominent Boston family reeling after a chilling discovery links someone in their midst to an infamous string of murders. As shocking secrets from the past and present are revealed, the mounting suspicion and paranoia threaten to tear the family apart. Get an exclusive sneak peek at what's behind closed doors at the Hawthorne estate, followed by a panel discussion with the stars and producer. The series stars Juliet Rylance (The Knick), Antony Starr (Banshee), Virginia Madsen (Sideways), Justin Chatwin (Shameless), Megan Ketch (Jane the Virgin), Elliot Knight (Sinbad), Stephanie Leonidas (Defiance), and Gabriel Bateman (Lights Out).
Fan Favorites – It's Throwback Thursday at Comic-Con! Get ready for special surprise guest appearances by some of your favorite CBS stars as they throwback to the early days of their careers and most memorable moments from the sets of their shows. Don't miss the fan Q&A where they will share exclusive teases on what's ahead for their characters in the upcoming season.
Macgyver – Mac is back! The classic action-adventure drama and fan-favorite MacGyver is coming back to CBS this fall. MacGyver creates a clandestine organization within the U.S. government where he uses his extraordinary talent for unconventional problem solving and vast scientific knowledge to save lives. MacGyver and his team take on the responsibility of saving the world, armed to the teeth with resourcefulness and little more than bubble gum and a paper clip. Join series stars Lucas Till (X-Men), and George Eads (CSI), and executive producer Peter Lenkov (Hawaii Five-0) for an exclusive sneak peek of the first season, followed by a panel discussion.
Thursday July 21, 2016 12:00pm – 3:00pm
Ballroom 20
12:05pm
Boxer
A middle-aged contract killer must reconcile her life between her ruthless clients and her young, unquestioning son who wants to be just like her. It's kill or be killed when her clients come after her. Participating panelists include Toy Lei (director/writer/actor), Linda Wong (producer/actor), and Edmund Kwan (director of photography).
Thursday July 21, 2016 12:05pm – 12:25pm
Pacific 23, North Tower, Marriott Marquis San Diego Marina
12:25pm
Forbidden Temple of the Iron-Fisted Oracle
Danger! Action! Kung Fu! The hunt for the Golden Apple is on, and whoever finds it first will attain the power to control all Kung Fu. A heroic hero, a villainous villain, killing killers, and the fate of the realm hanging in the balance. Q&A after with Josh Blake and Cristian Rojas (co-creators) and Dennis Wallon (cinematographer).
Thursday July 21, 2016 12:25pm – 1:15pm
Pacific 23, North Tower, Marriott Marquis San Diego Marina
12:30pm
Comic-Con How-To: Helping Teens Use Their Powers to do Good
The panel will discuss work with at-risk, special needs and incarcerated teenagers that involves the use of sequential and other visual art. The session will include anecdotes, slides of artwork done by Michael Ulrich and his students and present a comic co-created by Michael Ulrich and a student. The panel will center on art as a means of reaching hard-to-reach kids.
Thursday July 21, 2016 12:30pm – 1:30pm
Room 2
12:30pm
Grant Morrison & Graphic India: Myth & Legends
Graphic India welcomes legendary creator Grant Morrison (Batman, All Star Superman, 18 Days, The Multiversity) to discuss storytelling, global mythology, mysticism, the rise of Indian superheroes and his latest groundbreaking, mythic/sci-fi project with Graphic India called Avatarex: Destroyer of Darkness. In Avatarex, the epic world of living myth collides with the mundane realities and cultural upheavals of contemporary India. What happens when an all-powerful super-being awakens to fight the Last War of the Age, only to discover he's been sent too early for the End Days and must somehow learn to exist in a world that's too small and too frail to survive his presence? How does humanity react to the challenges of such a paragon in their midst? Will Avatarex raise everyone to his level, or will everyone drag him down? Can the embodiment of their highest aspirations exist side-by-side with their all-too-human failings or will the gulf between what they wish they could be and what they are destroy them?
Thursday July 21, 2016 12:30pm – 1:30pm
Room 24ABC
12:30pm
Moana: Art of Story
Legendary directors Ron Clements (Little Mermaid, Aladdin, Hercules, Treasure Planet, Princess and the Frog) and John Musker (Little Mermaid, Aladdin, Hercules, Treasure Planet, Princess and the Frog) lead a panel of artists as they give a behind-the-scenes look at Walt Disney Animation Studios' upcoming animated comedy-adventure Moana, a sweeping, CG-animated feature film about an adventurous teenager who sails out on a daring mission to save her people. Once on her journey, Moana meets the once-mighty demigod Maui, who guides her in her quest to become a master wayfinder. Together, they sail across the open ocean on an action-packed voyage, and along the way, Moana fulfills the ancient quest of her ancestors and discovers the one thing she's always sought: her own identity.
Thursday July 21, 2016 12:30pm – 1:30pm
Room 6A
12:30pm
The Business of Creativity: Can Comics Find the Balance?
During his tenure as publisher and president of DC Comics and later as a board member of BOOM! Studios, Paul Levitz oversaw an influx of creator-driven concepts (Watchmen, Sandman, The Dark Knight, Lumberjanes) and imprints (Vertigo, Milestone, WildStorm) within the framework of traditional and untraditional corporate ownership models. Levitz discusses his experience and insights on a range of topics shaping the comics industry in the big media era with Rob Salkowitz (Forbes).
Thursday July 21, 2016 12:30pm – 1:30pm
Room 4
12:30pm
UDON 2016
UDON is celebrating another groundbreaking year of publishing the best of video games, anime, and manga from Japan and around the world. Come meet the artists and editors as they discuss this year's breakout hits and announce upcoming titles, including some big surprises you will definitely want to be the first to hear about! Plus: attendees will have a chance to win some of UDON's hottest new releases!
Thursday July 21, 2016 12:30pm – 1:30pm
Room 8
Anime & Manga, Books, Comics, Movies
12:45pm
Spotlight on Jim Lee
DC Entertainment co-publisher Jim Lee (Superman Unchained, Justice League, Batman, Suicide Squad) talks about his 25+ years in the comics industry and sketches your favorite characters live on the big screen. This is a great opportunity to watch the creative process firsthand and learn the tips of the trade that bring DC Entertainment's characters to life.
Thursday July 21, 2016 12:45pm – 1:45pm
Room 6DE
1:00pm
Adapting Octavia Butler: The Making of Kindred: A Graphic Novel Adaptation
Octavia E. Butler once argued that Kindred was the only one of her novels that wasn't science fiction. She called the time travel tale of slave times a "grim fantasy," because aside from the time travel, everything in the novel is powerfully, painfully real. Join moderator Erika Alexander (Concrete Park) for a conversation with artist John Jennings (The Blacker the Ink) and writer Damian Duffy (Black Comix) about their process translating Butler's fierce prose into the forthcoming graphic adaption, published by Abrams ComicArts.
Thursday July 21, 2016 1:00pm – 2:00pm
Room 9
1:00pm
Call of Duty: Infinite Warfare – Behind the Scenes of the Immersive Narrative
Get a behind-the-scenes look into the bold new world of Call of Duty: Infinite Warfare. Meet Taylor Kurosaki, narrative director at Infinity Ward, and the dynamic cast of actors who will take players on an unforgettable journey as they engage in heroic battles on Earth and beyond our atmosphere. You'll also get an exclusive look at never-before-seen footage from the game. Plus, fans who attend the panel will receive limited edition Call of Duty: Infinite Warfare poster available only at Comic-Con.
Thursday July 21, 2016 1:00pm – 2:00pm
Room 6BCF
1:00pm
CBLDF: She Changed Comics
Meet the women whose work changed what's possible for free expression in comics! From the turn of the 20th century to today, women comics creators have inspired today's landscape of increasingly diverse and empowering comics storytelling. CBLDF editorial director Betsy Gomez and a panel of female comics creators present an examination of the women who changed the format!
Thursday July 21, 2016 1:00pm – 2:00pm
Room 30CDE
1:00pm
From Concepts to Comics: A Conversation About Editing in the Comics Industry
BOOM! Studios managing editor Bryce Carlson and editor Eric Harburn lead a discussion on the roles editors can play in the comics industry with James Tynion IV (Detective Comics, The Backstagers), Mairghread Scott (Toil and Trouble, Transformers: Windblade), Hope Larson (Goldie Vance, Compass South), Simon Spurrier (Weavers, Cry Havoc), Pat McHale (Over the Garden Wall), and Adam Smith (Long Walk to Valhalla). They'll explore the differences between working with and without an editor, working at an indie publisher or at the Big Two, and how editors can partner with talent to put creators' vision to paper.
Thursday July 21, 2016 1:00pm – 2:00pm
Room 28DE
1:00pm
Hey, You Got Science In My Fiction
The best science fiction comes from a kernel of truth, something that makes readers think, "Wait . . . could this actually happen?" From technology to medicine to space travel, distinguished authors J. Patrick Black (Ninth City Burning), Blake Crouch (The Wayward Pines trilogy), Christopher Farnsworth (Killfile), Patrick Hemstreet (God Wave), Leah Thomas (Because You'll Never Meet Me), and Andy Weir (The Martian) will discuss with moderator Brendan Reichs (The Virals series) how they create believable sci-fi stories and just how much fact there truly is in their fiction.
Thursday July 21, 2016 1:00pm – 2:00pm
Room 32AB
1:00pm
Inside the World of Geek Cosmetics
Whether you want to show off your love for Steven Universe through your nail polish or use eye shadow to express your obsession with Fallout, there are more options to fulfill your geeky cosmetics needs now than ever before. This panel will provide an inside look at the state of geek cosmetics. Moderated by Lisa Granshaw, panelists Elizabeth Barrial (Black Phoenix Alchemy Lab), Sami "Dena" Rees (AFK Cosmetics), Anya Kaiser (Lucky 13 Lacquer), and Caitlin Johnstone (Shiro Cosmetics) will discuss how these products are made, how geek cosmetics have evolved over the years, what the future may hold for the industry, and more. Time will be left for Q&A.
Thursday July 21, 2016 1:00pm – 2:00pm
Pacific 24, North Tower, Marriott Marquis & Marina
1:00pm
Marvel: Breaking Into Comics the Marvel Way
Are you a writer or artist? Ever dream of working for Marvel? Do you find yourself thinking, "I could do that if I knew how?" Well, here's your chance! Join talent scout Rickey Purdin and a host of Marvel talent to find out how to get your foot in the door and make your job Marvel.
Thursday July 21, 2016 1:00pm – 2:00pm
Room 25ABC
1:00pm
Mattel & WWE Fan Panel
The New Day (Kofi Kingston, Big E and Xavier Woods), along with AJ Styles and Becky Lynch, offer a fun-filled hour that definitely won't be sour! Get your recommended daily value of positivity, unicorn magic, and action figures in this gluteus-free panel featuring never-before-seen Mattel figure reveals along with a Q&A session moderated by NXT color commentator Corey Graves.
Thursday July 21, 2016 1:00pm – 2:00pm
Room 5AB
1:00pm
On the Mic Podcast Live from San Diego Comic-Con
The popular entertainment and comedy podcast is osted by Tim Drake, award-winning filmmaker, writer, author, and Second City alumni. Tim's jokes/tweets have been featured on The Tonight Show with Jimmy Fallon, Jimmy Kimmel LIVE, The Nightly Show with Larry Wilmore and Larry King Now. Tim will be joined by his production partner, actor, and writer, Austin Grant (Being Charlie, Wind River, 6 Below), as well as a special celebrity guest, talking film, TV, and comedy.
Thursday July 21, 2016 1:00pm – 2:00pm
Neil Morgan Auditorium, San Diego Central Library
1:00pm
Something for Everyone: Indie Comics
Love comics but aren't into superheroes? What about spooky fairy tales, witty comedy, survival stories, social commentary, or love and wrestling? There is something for everyone in the wide world of indie comics. Moderator Andrew Farago (curator, Cartoon Art Museum) leads Comic-Con special guests Emily Carroll (Through the Woods), Lisa Hanawalt (Hot Dog Taste Test), Jennifer Hayden (The Story of My Tits), Keith Knight (The K Chronicles), and Ed Luce (Wuvable Oaf) in a discussion about how they get their unique perspectives across and then out into the world!
Thursday July 21, 2016 1:00pm – 2:00pm
Room 29AB
1:00pm
Spotlight on Sarah J. Maas
Sarah J. Maas, the #1 New York Times bestselling author of the Throne of Glass series and A Court of Thorns and Roses series and YouTube star Christine Riccio of PolandBananasBooks discuss the incredible worlds and beloved characters in Maas's novels that have captured the hearts and imaginations of millions of readers around the world.
Thursday July 21, 2016 1:00pm – 2:00pm
Room 7AB
1:00pm
The Nerdist Panel with Chris Hardwick
It's that time of year again-time to enjoy your burrito with Chris Hardwick (Comedy Central's @Midnight, AMC's Talking Dead) and talk all things Nerdist! Joining Chris will be an all-star panel of your favorite Nerdist personalities, including Jessica Chobot (Nerdist News), Rachel Heine (editor-in-chief), Dan Casey (The Dan Cave), Alicia Lutes (Fangirling), Nerdist president Adam Rymer, and a surprise guest or two. Join the gang for a lively conversation about the big things to come for Nerdist in the near future. Surprises, announcements, and, of course, quemments await!
Thursday July 21, 2016 1:00pm – 2:00pm
Indigo Ballroom, Hilton San Diego Bayfront
1:00pm
The Simpsons and SpongeBob Smile-Time Hour
Creative director Nathan Kane and managing editors Terry Delegeane and Chris Duffy join forces for a tour de farce of the best humor comics in the business. Meet some of the Bongo and United Plankton artists who tickle your four-color funnybone and find out what's in stores in the months to come! Room 23ABC
Thursday July 21, 2016 1:00pm – 2:00pm
Room 23ABC
1:00pm
Valerian and the City of a Thousand Planets
Witness the first public exhibition of footage from acclaimed director/producer/writer Luc Besson's first-ever Hall H presentation, and his latest foray into science fiction. Special operatives Valerian and Laureline embark on a mission to the breathtaking intergalactic city of Alpha, an ever-expanding metropolis made up of thousands of species from all corners of the universe. Alpha's 17 million inhabitants have converged over time, uniting their talents, technology, and resources for the betterment of all. But not everyone on Alpha shares in these same objectives; unseen forces are at work, placing their race in great danger. Luc Besson (The Fifth Element, The Professional), producer Virginie Besson-Silla (Lucy, Revolver), Dane DeHaan (Amazing Spider-Man 2, Chronicle), and Cara Delevingne (Suicide Squad, Paper Towns) join moderator Josh Horowitz (MTV) and special surprise panelists for the first public sneak peek at Valerian and the City of a Thousand Planets, coming to theaters from EuropaCorp in Summer 2017.
Thursday July 21, 2016 1:00pm – 2:00pm
Hall H
1:00pm
Comics Arts Conference #3: Comics and Latin America
Award-winning writer and CAC special guest Trina Robbins (Pretty in Ink: North American Women Cartoonists 1896-2013) looks at how two women, Lily Renee and Tarpe Mills, presented their Brazilian fantasies to the North American public in the form of adventure strips starring capable, glamorous heroines. Braeden Jones (University of Iowa) demonstrates how contemporary artists recontextualize and reappropriate images, motifs, and themes from historical sources, and compares external artistic influence on Latin America to historical conquest. Nicole Larrondo (Brown University) takes this scholarly journey to Chile, where the comic format is a helpful tool for teaching history, and speculates on the challenges of having the state as the primary support for an artistic form.
Thursday July 21, 2016 1:00pm – 2:30pm
Room 26AB
1:15pm
Underground
Omer is providing for his mother and sister by taking part as a fighter in an underground club. While becoming a prominent fighter, he finds out that everything comes at a cost. Participating panelists include Amit Ruderman (creator/lead actor), Chen Sharon (script writer), and Maayan Gutterman (film editor).
Thursday July 21, 2016 1:15pm – 1:55pm
Pacific 23, North Tower, Marriott Marquis San Diego Marina
1:30pm
Comic-Con How-To: Starting a Comic Creator Community
Communities are spaces where ideas flow, networks expand, and friends are made. Los Angeles, New York, and Seattle all have thriving comic creator communities. But what if your city doesn't have one? How do you find like-minded people? The Los Angeles Women's Comic Creators League (The Ladybugs) and the Portland Comic Creator Meetup are teaming up to provide a presentation on starting a creative community and fostering growth and collaboration with creatives in your area.
Thursday July 21, 2016 1:30pm – 2:30pm
Room 2
1:30pm
Fiction vs. Reality: An Investigation of Science in Movies
We love superhero and science fiction movies for their quick pace, fantastic ideas and spectacular action sequences. Cars flip into the air, trains derail and flatten everything in their paths, characters have extraordinary tools and abilities, and storylines travel throughout time and space. But could any of the imaginative scenarios we witness in action blockbusters actually happen? How often do movies reflect accurate science or realistic depictions of future technology and discoveries? How important is it for the science in fictional movies to align with reality? Join Hollywood science advisers, screenwriters, and San Diego scientists as they discuss the fine balance between storytelling, imagination, and realistic science.
Thursday July 21, 2016 1:30pm – 2:30pm
Room 8
1:30pm
First Second Tenth Anniversary Celebration
First Second editorial director Mark Siegel celebrates the tenth anniversary of this award-winning, bestselling publisher in conversation with Ben Hatke (Zita the Spacegirl), Eva Volin (Alameda Public Library), Karen Green (Columbia University), and Maryelizabeth Yturralde (Mysterious Galaxy). They'll explore the success and explosion of graphic novels in the past decade from the perspective of authors, librarians, academics, and retailers. Moderated by Graeme McMillan (Wired).
Thursday July 21, 2016 1:30pm – 2:30pm
Room 4
Books, Comic-Con Special Guest Spotlights & Appearances, Writers & Writing
1:30pm
Nerd Trivia Challenge: Author Edition
Nerd Trivia Challenge is a one-hour ame show featuring three teams of today's biggest authors competing for the chance to be the champions of nerdy knowledge. Authors Patrick Rothfuss (The Kingkiller Chronicle), Pierce Brown (Red Rising), Romina Russell (Zodiac), Chuck Wendig (Invasive), Sam Sykes (The City Stained Red), Cecil Castelucci (Star Wars: Moving Target), V. E. Schwab (A Gathering of Shadows), Camilla D'Errico (Pop Manga, Pop Painting, Pop Manga Coloring Book), and Duane Swierczynski (Revolver) test their knowledge of everything from Marvel Universe characters to Harry Potter. Moderated by Brandon T. Snider (What Would Captain Kirk Do?).
Thursday July 21, 2016 1:30pm – 2:30pm
Horton Grand Theatre
1:30pm
Star Trek: 50th Year Celebration with Roddenberry Entertainment
Eugene "Rod" Roddenberry (executive producer, 2017 Star Trek TV series, son of Gene Roddenberry) and Trevor Roth (executive producer, 2017 Star Trek TV series) will be showing a special 5-minute Star Trek celebration video, releasing some exclusive material from the Roddenberry Vault, and partaking in a Q&A session moderated by Tory Mell (producer, convention director at Roddenberry Entertainment).
Thursday July 21, 2016 1:30pm – 2:30pm
Room 24ABC
1:45pm
USA Network's FALLING WATER: World Premiere Screening
Be the first to see USA Network's highly anticipated new drama series Falling Water, presented by creators Gale Anne Hurd (The Walking Dead) and Blake Masters (Brotherhood). Ever wonder what would happen if someone could control our dreams? This mind-bending new thriller, starring David Ajala, Will Yun Lee, and Lizzie Brochere, explores this question through the lives of three unrelated people who slowly realize they are dreaming separate parts of a single common dream-a dream that just might hold the key to the fate of humanity.
Thursday July 21, 2016 1:45pm – 2:45pm
Room 6A
2:00pm
Comic Book Women: Understanding Coloring and Lettering in Comics
Learn what colorists and letterers do and why they're so important, and walk away with some tips and tricks from pros Kelly Fitzpatrick (Bitch Planet, Neverboy), Maria Victoria Robado (Jem & the Holograms), Christy Sawyer (Dark Horse, Zenescope), Lea Hernandez (Teen Titans Go!, My Little Pony). Moderated by Amy Chu (writer, Poison Ivy, publisher, Alpha Girl Comics).
Thursday July 21, 2016 2:00pm – 3:00pm
Room 28DE
2:00pm
Comics and Animation Story Boards
Lissa Treiman (Giant Day, Zootopia, Big Hero 6, Wreck-It Ralph, Tangled), Natalie Nourigat (Deadpool #250, A Boy & A Girl), Bob Scott (Molly and the Bear, Peanuts, U.S. Acres, Incredibles, Monsters, Inc.), Jeff Ranjo (Where Is Dead Zero?, Poop Jelly, Dark Horse Presents, Moana), Brian Kesinger (Groot, Otto and Victoria, Lil Kylo, Moana, Zootopia), and Manu Arenas (Yaxin the Faun, Moana, Zootopia, The Gruffalo) discuss comics and animation: two visual storytelling artforms that bring the passion and storytelling skills from one medium to the other and attract the same type of creator. Join Walt Disney Animation Studios artists who have made the journey from comics to animation and animation to comics as they share their stories and learn about the crossover skill-sets that have allowed them to dip their hands into both rich, vibrant mediums.
Thursday July 21, 2016 2:00pm – 3:00pm
Room 25ABC
2:00pm
DC: One-On-One with Paul Dini
The superstar bestselling writer and co-creator of Harley Quinn returns to San Diego for an all-access and in-depth discussion. From his early days on the Batman Animated TV show to heart-wrenching Dark Night: A True Batman Story to all things in between, be here for this exclusive panel that will give you insight to one of the genre's most influential people.
Thursday July 21, 2016 2:00pm – 3:00pm
Room 6DE
2:00pm
Digital Color for Comics
Nearly every print and digital comic is in full color, but do you know how your favorite comic books are colored? Learn about the creative art of comic book coloring as Hi-Fi's Brian Miller (Harley Quinn & Her Gang of Harleys) and Kristy Miller (Scooby Apocalypse) demonstrate the step-by-step transformation of a comic book page from black and white to full color. Learn the basics of flatting, rendering, color holds and special effects, along with top digital coloring tips. A Q&A session is included.
Thursday July 21, 2016 2:00pm – 3:00pm
Room 30CDE
2:00pm
Foam Costume/Cosplay Fabrication
Mike Schiffbauer of Dragonfyre Designs, along with Sean Shaw of Shawshank Props, and Malaki Keller of Quantum Creation FX share the exciting secrets of creating your own amazing cosplay props and costumes from foam and other similar media. Make sure you get a front row seat to an hour filled with tips, tricks and a generous Q&A session that will attempt to answer the costume and prop questions you want to have answered. Be sure to stay to the end for the giveaway featuring two amazing ready-to-wear costume helmets!
Thursday July 21, 2016 2:00pm – 3:00pm
Pacific 24, North Tower, Marriott Marquis & Marina
2:00pm
Graphic Novel Collection Development
Not sure how to create or expand your graphic novel collection? No problem! This panel will give you resources on how to evaluate comics for your collections, suggestions for how to increase the diversity of your collection, ideas on how to expand into multiple categories, tips for weeding your collection, and the confidence to navigate the many types of comics that are out there!
Thursday July 21, 2016 2:00pm – 3:00pm
Shiley Special Events, San Diego Central Library
2:00pm
IDW and Hasbro: The Revolution is Now
This fall, Transformers, G.I. JOE, ROM, Micronauts, and M.A.S.K. are drawn together and nothing at IDW will ever be the same! Take a stand with universe-builders Cullen Bunn, Christos Gage, Mairghread Scott, Brandon Easton, Chris Ryall, John Barber, Aubrey Sitterson, David Hedgecock, and Hasbro's Michael Kelly. Get a free Revolution preview comic, just for showing up!
Thursday July 21, 2016 2:00pm – 3:00pm
Room 9
2:00pm
Image Comics: Creating the Zeitgeist
Comics are more popular than ever, and it's all thanks to creators who are bringing their passions, interests, and original ideas to the medium. Chynna Clugston (Blue Monday), Kieron Gillen (The Wicked + The Divine), Marjorie Liu (Monstress), and a few more surprise guests are making comics cooler, story by story.
Thursday July 21, 2016 2:00pm – 3:00pm
Room 23ABC
2:00pm
Meet Comic-Con HQ
Comic-Con HQ is the new streaming video-on-demand destination for the Comic-Con community. Enjoy live-streamed original programming and unbeatable access to SDCC panels, sneak previews, and special features during Comic-Con. Then continue the Comic-Con experience all year round with live events, original series, and daily entertainment news, plus hundreds of handpicked movies and TV shows from your favorite genres. Come meet the family and learn more about what you can expect from Comic-Con HQ, such as Con Man, Kings of Con, Pop Culture Quest, Her Universe Fashion Show, Impossible Science, Film HQ, Mostly Harmless, and What's News?! Surprise guests and sneak peeks abound!
Thursday July 21, 2016 2:00pm – 3:00pm
Indigo Ballroom, Hilton San Diego Bayfront
2:00pm
State of the Holodeck
It's been only a year since these speakers surveyed the VR landscape in their Building the Holodeck panel, but it seems like a lifetime in terms of what virtual and augmented reality are offering consumers, scientists, and media today. In this update, panelists Tony Christopher (CEO, president, Landmark Entertainment Group), Jamie Kelly (co-founder, experience strategies at VRStudios), Julian Reyes (VR producer, Fusion Media Network), and Nonny de la Peña (CEO, Emblematic Group) will discuss how they create immersive environments ranging from zombie-infested castles and Martian landscapes to Syrian refugee camps.
Thursday July 21, 2016 2:00pm – 3:00pm
Room 32AB
2:00pm
The 2000 AD Thrill-Power Hour
The galaxy's greatest comic celebrates its 2,000th issue and the impending 40th anniversary with a special panel. Superstar artists Jock and Lee Garbett, plus Judge Dredd writer Rob Williams, are on hand for an hour of 2000 AD announcements, chat, and laughs!
Thursday July 21, 2016 2:00pm – 3:00pm
Room 29AB
2:00pm
Thunderbirds Are Go
5… 4… 3… 2… 1… Thunderbirds Are Go! Amazon brings you an exciting first look at season 2 of Thunderbirds Are Go, a reinvention of the 1960s Gerry Anderson classic series. Join executive producer Giles Ridge, head writer Rob Hoegee, and members of the cast for an interactive Q&A session and glimpse into the action and cutting-edge technology from season 2. Plus, experience the extensive craftsmanship of a live-action model set and hear from a Weta Workshop team member on what it was like to create the distinctive world of Thunderbirds Are Go while also paying tribute to the legacy of the original series.
Thursday July 21, 2016 2:00pm – 3:00pm
Room 7AB
2:00pm
Transformers Animation: Then and Now
Celebrate the legacy of the Transformers characters and stories that have led you to Robots in Disguise.
Thursday July 21, 2016 2:00pm – 3:00pm
Room 5AB
2:00pm
Two Packs A Week: The Trading Card Comedy Show
It's a special live episode of the hilarious Two Packs a Week podcast, which Geek & Sundry calls "like heaven on earth." Comedians open packs of bizarre retro trading cards and make fun of what's inside. Host Geoffrey Golden (The Devastator) and his guests Mike Levine (The Onion), Joan Ford (Funny or Die), Erika Ishii (Twitch), and Roger Barr (I-Mockery) open a few fan-favorite packs: Rad Dudes, Dinosaurs Attack, and Skeleton Warriors! As they discover what's in the packs, they'll discuss forgotten pop culture, geeky childhood memories, and the human condition. (Or, y'know, Garbage Pail Kids.) A show this funny is ultra rare.
Thursday July 21, 2016 2:00pm – 3:00pm
Neil Morgan Auditorium, San Diego Central Library
2:00pm
PANEL: The Unsung Stuntmen and Women of the Movies
The stuntmen and women from your favorite TV shows and movies discuss and answer your questions about the stunt industry. Featuring Jessie Graff (Supergirl, American Ninja Warrior), Esteban Cueto (Iron Man 2, Jungle Book), Tiger Rudge (Star Wars Episode 8), Patrick Stenberg (Jurassic World), and Brian Danner (Sword Fights Inc). Moderated by Eric Cajiuat (The Hit Girl).
Thursday July 21, 2016 2:00pm – 3:00pm
Pacific 23, North Tower, Marriott Marquis San Diego Marina
2:15pm
Feral Audio Live with Dan Harmon and his Podcast Pals
From Starburns Industries (Animals, Anomalisa,Rick & Morty) comes a Hall H live podcast recording of unparalleled precedent! Podcast pioneer Dan Harmon (Harmontown, Community) brings to the stage some of his best-known pals from the fiercely independent Feral Audio network, including Cameron Esposito (Put Your Hands Together, Take My Wife), Johnny Pemberton (Twisting the Wind, Neighbors 2), Steve Agee (Uhhh…, Adventure Time), My Favorite Murder hosts Georgia Hardstark (Slumber Party) and Karen Kilgariff (Mr. Show), Alie Ward (Slumber Party, Cooking Channel), Doughboys Mike Mitchell (The Birthday Boys), and Nick Wiger (Comedy Bang! Bang!), Jeff B. Davis (Harmontown, Whose Line Is It Anyway?), the smooth men of Beyond Yacht Rock and more, including a special appearance live via phone by Chelsea Peretti (Call Chelsea Peretti, Brooklyn Nine-Nine).
Thursday July 21, 2016 2:15pm – 3:15pm
Hall H
2:15pm
Gears of War 4: Creators, Characters and Cast
Co-creator Rod Fergusson, the cast, and guest panelists present a behind-the-scenes look at Gears of War 4, exploring the characters, and storytelling for the new saga in the acclaimed Gears franchise. They will also have some special announcements and surprises. Moderated by Xbox's Major Nelson.
Thursday July 21, 2016 2:15pm – 3:15pm
Room 6BCF
2:30pm
Comics Arts Conference #4: Latin American Comic Arts: Dialogues and Perspectives from Chilean Artists and Critics
In a series of concise presentations, Chilean comics writers, artists, publishers, and critics will provide insight into one of South America's most effervescent arts, discussing current comics production and how it intersects with topics of race, gender, national (alternative) history, and the international world of comics. Gonzalo Martinez (Road Story), Francisco Ortega (Mocha Dick), Gabriel Rodriguez (Little Nemo: Return to Slumberland), Miguel Angel Ferrada (Arcano IV), Bernadita Labourdette (Varua Rapa Nui), Maria Jose Barros (Corazon de Obsidiana), Carlos Reyes (Los años de Allende), and Rodrigo Elgueta (Los años de Allende) will present multidisciplinary approaches to current comic production in Chile, questioning recurring themes at visual and narrative levels, as well as providing insight into the local Chilean publishing industry and issues relating to artistic styles and the place of female comic creators within the current market. This panel will be presented in Spanish. Handouts will be provided with English translations of each presentation. The Q&A session will be interpreted as needed by panel moderators Sam Cannon (The University of Texas at Austin) and James Staig (The University of Texas at Austin).
Thursday July 21, 2016 2:30pm – 3:30pm
Room 26AB
2:30pm
comiXology Ask Me Anything
ComiXology, Amazon's premier digital comic shopping and reading platform, spills the beans on everything you wanted to know about digital comics, publishing, and more! Want to know about comiXology Unlimited, the new monthly subscription service? Come to this panel. Want to know more about how to get your comic up on comiXology Submit? This is your panel. Featuring comiXology co-founder and CEO David Steinberger, comiXology communications guru Chip Mosher, and the comiXologist podcast crew Tia Vasiliou and Matt Kolowski.
Thursday July 21, 2016 2:30pm – 3:30pm
Room 8
2:30pm
Star Trek: Where Lawyers Boldly Go
California Supreme Court Justice Mariano-Florentino Cuéllar, former judge Paul Grewal (now vice president and general counsel of litigation for Facebook) and attorneys Neel Chatterjee (lead trial counsel for Facebook in the lawsuit depicted in the film The Social Network), Joshua Gilliland (The Legal Geeks), Jessica Mederson (The Legal Geeks), Christine Peek, and Megan Hitchcock will boldly go across the top legal issues in Star Trek. This panel will focus on specific episodes from all of the Star Trek series that highlight the best legal issues, from positively showing women in the practice of law to civil rights, trial advocacy, and due process.
Thursday July 21, 2016 2:30pm – 3:30pm
Room 24ABC
2:30pm
Warhammer 40,000 Panel
This is the world-exclusive first look at Titan's much hyped new Warhammer 40,000 comic book series, based in the staggeringly popular dark science fiction universe from Games Workshop. Join Warhammer 40,000 writer George Mann (Dark Souls, Doctor Who), and editor Andrew James for a jam-packed panel spotlighting the hotly anticipated comic launch in October. Be the first to see exclusive art by Tazio Bettin and Enrica Angiolini from the comic and upcoming plans for the series. Each attendee will receive an exclusive gift!
Thursday July 21, 2016 2:30pm – 3:30pm
Room 4
2:30pm
Comic-Con How-To: Traditional Sculpting with the Shiflett Brothers
The Shiflett Brothers demonstrate their process of traditional sculpting for the collectibles industry, discussing tips, tricks, and industry secrets.
Thursday July 21, 2016 2:30pm – 4:00pm
Room 2
3:00pm
1986: There Can Be Only One
It was "a bad call, Ripley, a bad call," as Mark A. Altman's Algonquin Geek Table twists and shouts to celebrate the 30th anniversary of the glorious moviegoing nirvana of 1986. This panel of professional geeksperts will look back at such now classic films as Aliens, Highlander, Top Gun, Blue Velvet, Manhunter, Stand By Me, Ferris Bueller's Day's Off, Back to School, Big Trouble in Little China, Star Trek IV: The Voyage Home, The Fly, Short Circuit, Labyrinth, 9½ Weeks-and how could we forget (as much as we'd like to) Howard the Duck and Cobra? Starring Ashley E. Miller (writer, Big Trouble in Little China remake), Jose Molina (Firefly, Agent Carter), Steve Melching (Star Wars Rebels, The Clone Wars), Glen C. Oliver (Ain't It Cool News), Robert Meyer Burnett (Agent Cody Banks, ST: TNG Blu-rays), and Charles de Lauzirika (Crave, The Alien Anthology). Moderated by Scott Mantz (Access Hollywood). There be whales here! Presented by the all-new Geek Magazine.
Room 5AB
3:00pm
Department of Defense and the Department of Homeland Security in the Entertainment Industry
Phil Strub (DoD Entertainment Media director), Dave Evans (DoD Unscripted director), Lt. Col. Glen Roberts (U.S. Air Force Entertainment Liaison director), Capt. Russell Coons (U.S. Army Public Affairs-West deputy director), Cmdr. John Pruitt (U.S. Coast Guard MOPIC director), and Lt. Adam Hall (U.S. Navy Info-West deputy director) discuss the requirements to procure DoD and DHS support in the entertainment realm and what assets and services can be provided. A Q&A session will be moderated by Decker Watson (executive producer, Deadliest Catch).
Room 29AB
Education, Seminars & Workshops
3:00pm
Destination: Nerd
Anastasia Washington (Anastationtv, Legion of Leia), CuriousJoi (CuriousJoi, Icon), Brittany Heyden (TenaciousBee Designs), Jasmine Rubero (TheBeheaded), Marlon (Nerd Coolture), Jennifer Kretchmer (producer, actress), Michelle I am Chubby Bunny Bradley (Geek and Sundry, Otaku Movie Anatomy), and Katie Elhoffer (Elhoffer Design) discuss traveling in Nerd style! Moderated by Emily Kelley (GameScribes).
Pacific 24, North Tower, Marriott Marquis & Marina
3:00pm
Dreamworks' Voltron: Legendary Defender
Form Voltron! Executive producer Joaquim Dos Santos, co-executive producer Lauren Montgomery, and head writer Tim Hendrick dive deep into the epic first season of the critically acclaimed Netflix original series Voltron: Legendary Defender. They'll come ready to answer all your burning questions with an extended fan Q&A and even offer a sneak peek of what's next for the Paladins of Voltron. All panel attendees will receive an exclusive limited-edition Voltron lithograph.
Room 7AB
3:00pm
Early History of Comic Book Films
Film buffs and storyboard artists Gabriel Hardman (Dark Knight Rises, Spider-Man 3) Trevor Goring (Watchmen, Thor: The Dark World), and voice actor Susan Eisenberg (Wonder Woman, Justice League Unlimited) discuss the comic strip and comic book inspired films from the Golden Age of Hollywood. Featuring early silent films, parodies of the 1950s comic book juvenile delinquency debates, and more. Moderated by podcaster and pop culture historian John Siuntres (Word Balloon Podcast).
Neil Morgan Auditorium, San Diego Central Library
3:00pm
Fantasy Mixology: The Perfect Literary Cocktail
While the average happy hour involves a bit of gin, rum, or vodka, these authors mix things up with witches, demons, giants, ghosts, Celtic gods, and other magical beings. Top-shelf authors Paul Cornell (Witches of Lychford), Kevin Hearne (The Iron Druid Chronicles), Richard Kadrey (Perdition Score), Paul Krueger (Last Call at the Nightshade Lounge), Drew Magary (The Hike), and Mary Robinette Kowal (Ghost Talkers and The Glamourist series) discuss the ingredients that go into making your favorite fantasy cocktails. Moderated by Petra Mayer from NPR.
Horton Grand Theatre
3:00pm
H.P. Lovecraft & Steam Engines of Oz: Arcana's Animation Slate
Arcana's animation slate continues! Howard Lovecraft & The Frozen Kingdom is being released fall 2016 and features the voices of Ron Perlman, Jane Curtin, and Christopher Plummer, with Steam Engines of Oz currently in production. Get a behind-the-scenes look at this grassroots animation slate that is breaking down barriers into independent filmmaking. They want to hear from you in this very interactive panel. DVDs, comics, plush toys, and shirts will be given away; never-before-seen animated footage and special guests will be on hand. Get your Cthulhu plush toy simply by asking questions and participating. You'll have a R'lyeh good time!
Room 23ABC
3:00pm
Making the Leap to Creator Owned Properties: Tales from the IP Jungle
Moderator John Fleskes (Flesk publications) leads a rousing discussion with Frank Cho (Liberty Meadows, World of Payne, Savage Wolverine), Terry Dodson (Princess Leia, Red One, Uncanny X-Men), Wendy and Richard Pini (Elfquest), and Mark Schultz (Storms at Sea, Xenozoic) about the differences between working for major publishers and shepherding through their personal projects. The pros, the cons, the triumphs, the tears! Plus, panelists share the latest news of upcoming projects.
Room 28DE
Art and Illustration, Books, Comics, Writers & Writing
3:00pm
NBC's The Good Place: World Premiere Screening and Q&A with Ted Danson, Kristen Bell, Michael Schur and Drew Goddard
From executive producer Michael Schur and director Drew Goddard comes a smart, unique new comedy that follows Eleanor Shellstrop (Kristen Bell), an ordinary woman who, through an extraordinary string of events, enters the afterlife where she comes to realize that she hasn't been a very good person. With the help of her wise newfound afterlife mentor (Ted Danson) she's determined to shed her old way of living and discover the awesome (or at least the pretty good) person within.
Indigo Ballroom, Hilton San Diego Bayfront
3:00pm
Snoopy for President: Politics in Peanuts
Explore the world of politics through Charles M. Schulz's Peanuts comic strip. Hear about Charlie Brown, Linus, and Pigpen's humorous and endearing presidential campaigns and Snoopy's short-lived term as Head Beagle. Discover why "happiness is the best policy" through Hallmark's 1968 "Snoopy for President" sales campaign and how Schulz utilized his Peanuts characters to support numerous presidential initiatives.
Room 32AB
3:00pm
The Art Heroines
Learn from this group of veteran female artists working in film/live action, TV, animation, commercials, and toy industries. There will be new announcements of current projects and how you can get involved. They will bring an exclusive look into their work, including displayed props, puppets, and works in progress, and discuss how to maintain a successful career while staying creatively fulfilled. Danelle Vierkant (designer/builder, The Revenant, Comedy Bang Bang), Ivonne Escoto (designer/builder,Tron Legacy, Alien vs Predator, The Creature Shop Challenge), Denise "Dee" Chavez (background designer, Nickelodeon's Sanjay and Craig), Melissa Doss Diwa (designer/builder, The Creature Shop Challenge), Kristin Donner (painter/illustrator, Nickelodeon's The Fairly Odd Parents), and moderator Christine Papalexis (fabricator, Team America: World Police, Alien Resurrection), with special panelist Tracy Black (curator, Unlocking Wonderland and The White Rabbit Project).
Room 25ABC
3:00pm
TNT's The Last Ship: Panel and Exclusive Sneak Peek
The Last Ship is back for its thrilling third season and it's time to re-enlist! This season finds Captain Chandler and the crew of the Nathan James shifting their attention to Asia after hearing rumblings that the Chinese leader has been hoarding the "Scott cure" from the infected people in the region, and the consequences for the world are dire. Cast members Eric Dane, Adam Baldwin, and Bridget Regan and showrunner Steven Kane present an exclusive sneak preview of what's yet to come this season.
Room 6A
3:00pm
We Need Diverse Comics
Authors Nidhi Chanani (Pashmina), Ben Hatke (Mighty Jack), Nilah Magruder (M.F.K.), Raina Telgemeier (Ghosts), and Ron Wimberly (Prince of Cats) discuss the current state of diversity in the comics industry, what's changed over the past decade, and what changes still need to happen. Moderated by Petra Mayer (NPR).
Room 9
3:00pm
Writing 101: What to Think About Before You Start Writing
You have a really cool idea for a new comic or story, but you don't know how to begin plotting it out. Award-winning writer Marv Wolfman (Crisis on Infinite Earths, New Teen Titans, Blade, Black Cat and hundreds more) brings his famed writing seminar to Comic-Con 2016. He will talk about how to create characters, how to put together a story, and most everything you should think about even before you start typing.
Room 30CDE
3:00pm
How to Host a Library Comic Con!
Many libraries are creating their own comic conventions and festivals. This panel will provide you with all the tools you need to do the same! Panelists will discuss organization, partnerships, budgets, programming, and how to bring comic creators into your library.
Thursday July 21, 2016 3:00pm – 4:30pm
Shiley Special Events, San Diego Central Library
3:05pm
The Crystal Crypt
Based on a story by Philip K. Dick, this film is set in a future where Earth and Mars are on the brink of war. As the last flight to leave for Earth is about to depart, Martian officers board in search of three saboteurs, and a story of heroism and deception unfolds. Starring Yuri Lowenthal (Dark Knight Returns) and Tara Platt (Naruto, Final Fantasy). Participating panelists include Shahab Zargari (director, Susannah's Lesson), Heela Naqshband (executive producer),andShahram Zargari (screenwriter, Maul Dogs).
Thursday July 21, 2016 3:05pm – 3:50pm
Pacific 23, North Tower, Marriott Marquis San Diego Marina
3:15pm
DC Rebirth: Young Gotham/ Young Metropolis
Youth is served well as DC Comics' brightest heroes are the focus on this panel. Join the talented DC Rebirth creators of Batgirl (Rafael Albuquerque and Hope Larson), Batman Beyond (Bernard Chang and Dan Jurgens), Supergirl (Steve Orlando), Super-Sons (Jorge Jimenez), and Teen Titans (Jonboy Meyers) as a new generation of DC Comics heroes step into the spotlight.
Thursday July 21, 2016 3:15pm – 4:15pm
Room 6DE
3:15pm
The Strain: Screening and Q&A
The munchers are back! The Strain, FX's action-packed vampire thriller based on the bestselling books from Guillermo del Toro and Chuck Hogan, returns August 28. Get an exclusive sneak peek of the upcoming third season, plus the debut of a Comic-Con exclusive original video that's sure to go viral. Showrunner/executive producer/director/writer Carlton Cuse, co-creator/executive producer/writer Chuck Hogan, and stars Kevin Durand (Vasiliy Fet), Ruta Gedmintas (Dutch Velders), Richard Sammel (Thomas Eichhorst), and Miguel Gomez (Augustin "Gus" Elizalde) discuss the challenges of bringing this chilling world to life.
Thursday July 21, 2016 3:15pm – 4:15pm
Ballroom 20
3:30pm
Make Your Own Story
Kids! Join authors Jeffrey Brown (Lucy and Andy Neanderthal), John Patrick Green (Hippopotamister), Eddie Pittman (Red's Planet), and Judd Winick (Hilo) in an interactive storytelling hour, where you tell the story, and these authors draw it. Bring your most creative storytelling hats! Moderated by Jennifer L. Holm (Sunny Side Up).
Thursday July 21, 2016 3:30pm – 4:30pm
Room 24ABC
3:30pm
The Eisner Effect on American Publishing
Throughout Will Eisner's life he was always thinking about the bigger picture of publishing, comics, and literature. Today his legacy continues through the efforts of editors at traditional houses, distribution companies, the American Library Association, and the Eisner Awards. Members of this panel will discuss the current and future environment of comics and graphic novels in the North American book market. Moderated by John Shableski (VP of sales UDON Entertainment and special projects, manager Will and Ann Eisner Family Foundation). Panelists include Judy Hansen (literary agent), Jim Killen (buyer, Barnes & Noble), Charles Kochman (editor, Abrams ComicArts), and Caitlyn Zaksheske (high school librarian, 2015 ALA Eisner Grant winner).
Thursday July 21, 2016 3:30pm – 4:30pm
Room 26AB
3:30pm
The Mark, Sergio, Stan and Tom Show
This used to be the annual "Sergio and Mark Show" but the name has changed to note that the adventures of Groo the Wanderer are brought to you not just by the award-winning team of Sergio Aragonés and Mark Evanier, but also by Stan Sakai (the creator of Usagi Yojimbo) and the hardest-working man in comics, Tom Luth. They'll be discussing the new Groo miniseries, the first issue of which is debuting even as you read this, and many upcoming projects. Some feature their silly barbarian, some don't. But it's always a treat to hear these brilliant guys, especially the tall one who wrote this panel description.
Thursday July 21, 2016 3:30pm – 4:30pm
Room 8
3:30pm
Under the Radar
An in depth discussion about the best in genre fare from the festival circuit and beyond, moderated by Fandano's Erik Davis and featuring the Los Angeles Times' Marc Bernardin, MTV's Amy Nicholson and The Daily Beast's Jen Yamato. Special guest panelists include Doug Benson and the team behind SXSW teen fanfic hit Slash, including director Clay Liford and star Michael Johnston (Teen Wolf).
Thursday July 21, 2016 3:30pm – 4:30pm
Hall H
3:30pm
Warcraft: The Road to Legion
A team of Blizzard Entertainment's veteran designers, writers, and artists talk about World of Warcraft: Legion, and the exciting content that will be leading up to its launch. The panelists include Alex Afrasiabi (creative director, World of Warcraft), Chris Robinson (senior art director, World of Warcraft), Matt Samia (senior creative director of brand marketing), and James Waugh (director of story & creative development). The panelists will also take part in a Q&A session, where you can ask all your burning questions about the Burning Legion.
Thursday July 21, 2016 3:30pm – 4:30pm
Room 6BCF
3:30pm
What Was Old is New Again: IDW's New Formats for Classic Comics
President of IDW Publishing Greg Goldstein brings together the stalwarts (or culprits) of the boom in archival publishing for details and announcements about the latest classic comic book collections! Joining Greg will be renowned comic book historian and editor Craig Yoe, IDW senior books editor Justin Eisinger, and IDW Artist Edition editor Scott Dunbier and one or two amazing surprise guests . IDW is home to some of the most beloved (and award-winning) collections in comics history, with more on the way. Free book for every attendee, plus other giveaways and prizes.
Thursday July 21, 2016 3:30pm – 4:30pm
Room 4
3:50pm
Heroes of the Realm
In a world where magic reigns, one tyrant is the undisputed ruler. But when magic opens a portal to our world, it's up to a pizza delivery woman to make the most important delivery of her life. Participating panelists include Kyle Roberts (director/producer), Kate Le (lead actress), and Sean Thiessen (writer).
Thursday July 21, 2016 3:50pm – 4:15pm
Pacific 23, North Tower, Marriott Marquis San Diego Marina
4:00pm
Be A Financial Superhero Even If You Aren't Tony Stark or Bruce Wayne
Do you dream about quitting your day job to pursue your passion of being an artist, writer, or professional in the industry? Are you already in the business and need help with figuring out how to budget between paid contracts, deal with taxes, get credit, or determine the best way to raise and save cash for future projects? Join Karen Martin (Force4Creatives, Art FORM), Sean Nisil (Sigdestad Financial), and Eric O'Connor (Land Home Financial Services) for a panel on superhero financial planning and best practices for artists, writers, industry professionals, and all others interested. The discussion will follow with a Q&A of industry guests including Chris Neuhahn (Dreamworks Animation, McSteed TV), Alonso Nunez (Little Fish Comic Book Studio), and Erin Pennell (Rare Hare Studio, Art FORM), who will talk about financial challenges and successes in their fields.
Thursday July 21, 2016 4:00pm – 5:00pm
Pacific 24, North Tower, Marriott Marquis & Marina
4:00pm
CBLDF Podcast Live: Banned Authors Speak Out
Comic Book Legal Defense Fund protects the comics that come under fire, but what is it that makes these comics so dangerous? San Diego music icon Rob Crow interviews Goon creator Eric Powell and special surprise guests for a freewheeling discussion about what makes comics loud, rebellious, and dangerous.
Thursday July 21, 2016 4:00pm – 5:00pm
Neil Morgan Auditorium, San Diego Central Library
CBLDF Events, Comics, Education, Library Programs, Music
CBLDF Events, Comics, Education, Library Programs, Music
4:00pm
Crockett Johnson's Barnaby: What Makes a Great Comic Strip
Before Calvin and Hobbes, Peanuts, and Pogo, there was Barnaby. Crockett Johnson's classic strip combined fantasy and satire, a child's feeling of wonder and an adult's wariness, with highly literate jokes and a keen eye for the ridiculous. Johnson's biographer Philip Nel is joined by Eric Reynolds, co-editor of Fantagraphics's Barnaby series, cartoonist Jeff Smith (Bone), and moderator Thomas Spurgeon (The Comics Reporter). They'll talk about why the strip remains so influential and its place in the history of great American comics.
Thursday July 21, 2016 4:00pm – 5:00pm
Room 29AB
4:00pm
Essential Deserted Island Comics
So you're stranded on a deserted island. But good news: you can pick your favorite comics to get stuck with for the rest of your life! What essential comics will you be reading and rereading? You might know your own picks, but find out what some of comic's most exciting creators and tastemakers like Chris Roberson (co-creator, iZombie, writer,Hellboy and the B.P.R.D.: 1953), Jamal Igle (Molly Danger, Supergirl), Frank J. Barbiere (Avengers World, The Revisionist), and Deb Aoki (Publishers Weekly, Manga Comics Manga) picked as their absolute top favorite deserted island comics they can't live without! Moderated by the comiXologist podcast crew Tia Vasiliou and Matt Kolowski. This is a party game discussion no comics (or deserted island) fan can miss!
Thursday July 21, 2016 4:00pm – 5:00pm
Room 28DE
4:00pm
Geek's More Greatest Movies & TV Never Made: The Threequel
In the panel that wowed Comic-Con last year, take another look back at some of the greatest genre projects that never made it to the silver and small screens, ranging from Star Trek: The Academy Years and The Beginning, two Trek prequels that were never produced to E.T. 2, David Lynch'sRonnie Rocket to James Cameron's Spider-Man, Buckaroo Banzai Vs. The World Crime League, Wolfgang Peterson's Batman Vs. Superman, and many more. The discussion will include filmmakers Ashley E. Miller (writer, Thor, X-Men: First Class), Charles de Lauzirika (Blade Runner Blu-ray, Twin Peaks Blu-ray), Steve Melching (writer, The Clone Wars, Star Wars: Rebels), Christian Gossett (The Red Star), Thomas P. Vitale (movie and TV producer and former Syfy executive), Marc Bernardin (journalist), David E. Williams (Geek magazine), Luke Ryan (Chaotic Good), and moderator Glen C. Oliver (Ain't It Cool News).
Thursday July 21, 2016 4:00pm – 5:00pm
Room 23ABC
4:00pm
Marvel: Death of X
One of the biggest questions coming out of the 8-month gap between Secret Wars and All-New All-Different Marvel has been, "What the heck happened between the X-Men and the Inhumans?" Join this panel for an exclusive look at new series Death of X, plus the latest on all X-Men and Inhumans titles with editor-in-chief Axel Alonso and Marvel talent scout Rickey Purdin, as well as James Asmus (All-New Inhumans) and Cullen Bunn (Uncanny X-Men).
Thursday July 21, 2016 4:00pm – 5:00pm
Room 5AB
4:00pm
Retellings & Remixes
From Cinderella to the Queen of Hearts, these authors know that "happily ever after" isn't always the end of the story. Marissa Meyer (The Lunar Chronicles, Heartless), Renee Ahdieh (The Rose and the Dagger), Colleen Houck (Recreated), Anna Todd (Imagines), Jodi Meadows (My Lady Jane), and Colleen Oakes (Queen of Hearts) dish about how they put a fresh twist on the classic tales we love. Moderated by Sam Maggs (Fangirl's Guide to the Galaxy, Wonder Women).
Thursday July 21, 2016 4:00pm – 5:00pm
Room 32AB
4:00pm
Silicon Valley Panel and Q&A
HBO's Silicon Valley, the Emmy-winning and Golden Globe-nominated series, takes a comic look at the modern-day epicenter of the high-tech gold rush, where the people most qualified to succeed are the least capable of handling success. Silicon Valley concluded its third season in June and will begin production on season 4 later this year. The panel will include co-creator and executive producer Mike Judge, executive producer Alec Berg, and cast members Thomas Middleditch (Richard Hendricks), Zach Woods (Jared Dunn), Kumail Nanjiani (Dinesh Chugtai), Martin Starr (Bertram Gilfoyle), and Amanda Crew (Monica Hall). Moderated by Dan Snierson (Entertainment Weekly).
Thursday July 21, 2016 4:00pm – 5:00pm
Indigo Ballroom, Hilton San Diego Bayfront
4:00pm
Spotlight on Jason Aaron
Comic-Con special guest and Eisner Award-nominated comics writer Jason Aaron (Star Wars, the Mighty Thor, Southern Bastards, Scalped) sits down for an open, unfiltered discussion of his work, the craft of writing and pretty much anything else you feel like asking about.
Thursday July 21, 2016 4:00pm – 5:00pm
Room 25ABC
4:00pm
The Forgotten Trio: Inkers, Letterers, and Colorists
Many people often think of the artist and the writer as the masterminds who bring us our weekly comics. However, much credit should go to the colorists, inkers and letterers who put in hours of work to bring us what we love. A lively discussion with Dave Lanphear (veteran DC and Marvel letterer), Joshua Reed (letterer for Aspen'sSoulfire and Fathom), Beth Sotelo (colorist for IDW, DC Comics, Aspen), Matt "Batt" Banning (DC Rebirth: Batman, Superman/Wonder Woman), and Jessica Tseang (comic book historian) about how the comic book industry can change, the importance of their work, a brief look into their daily lives, and how to break into the career. There will a Q&A for budding colorists, inkers, and letterers.
Thursday July 21, 2016 4:00pm – 5:00pm
Room 9
4:00pm
Top 10 Tips to Up Your Comics Art Game
You're a comics artist or you want to be. So how do you stand above the rest? In Andy Schmidt's 14-year career in comics as an editor (Marvel, IDW, Image title