 Death Sentence London launched on April 19th – but what's it all about? Writer Monty Nero explains the opening chapter of "the best British comic in years" (Buzzfeed):
Death Sentence London is the second graphic novel in the Death Sentence series. The first book sold really well, and reviewed much better than we expected, so the question was "How do you follow that?"
As many a musician has found, you get a lifetime to write your first album but only a few months to make your second. I had loads of ideas and scenes in my head but no-one really talks about how to write ongoing fiction – which is quite different from writing a standalone graphic novel or a great single issue. So I spent some time studying the craft. One thing that drove me on was knowing how lucky I was to be in a position to have an audience waiting to buy the next book. It's a creator owned comic so I had complete freedom – and I didn't want to let our readers down with glib work.
The first thing to do was find a new artist, because as much as co-creator Mike Dowling Death Sentence loves Death Sentence he couldn't draw both this and the brilliant 'Unfollow' for Vertigo at the same time. Page one is actually Martin Simmonds test page, and look how beautiful it is! I couldn't be more impressed with Martin, he's a brilliant collaborator.
The main theme I wanted to weave through this book was the rights of the individual versus the rights of the state. Given the steady erosion of our civil liberties, internet surveillance, police militarisation, Occupy, Anonymous, WikiLeaks, The Arab Spring, and the mass riots and protests in London, Ferguson, Ukraine, and elsewhere this seems to me a pivotal Twenty First Century issue. We used the Reith lectures by Cyril Radcliffe as our touchstone, and explored a number of the key issues using Radcliffe quotes and the G-plus virus as a metaphor.
G-plus, for anyone new to Death Sentence, is a sexually transmitted virus that kills you in six months but enhances your abilities exponentially. So you only have six months to make the best of your new found talents.
This is a brand new story, which means new characters such as the mayor of London who you may well recognize from the headlines. To me, he's a much more entertaining, amusing and sinister villain than someone with 'super powers'. He's a very real and rounded person, which makes his later behavior in quelling the rioting across London all the more unsettling.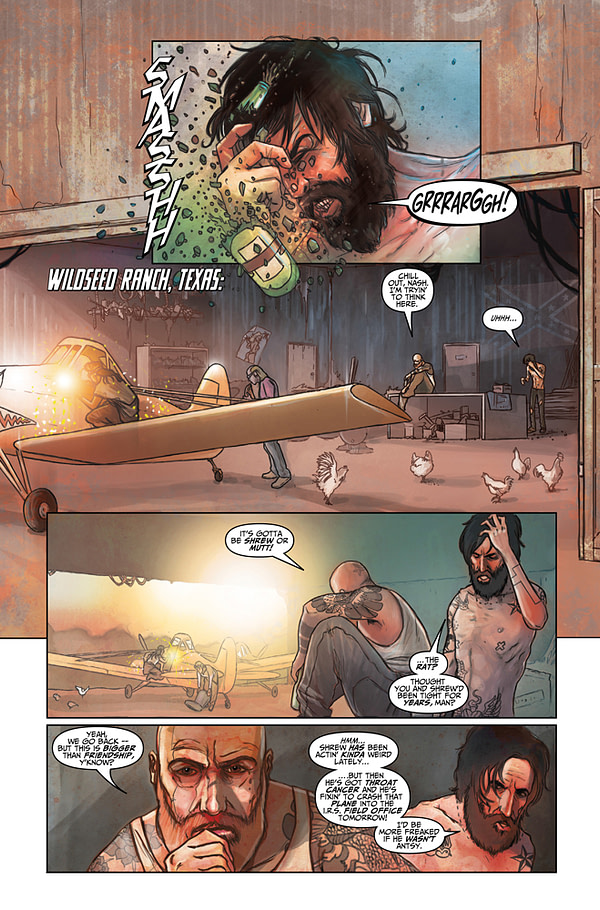 The next new character is Jeb Mulgrew. He's an undercover FBI operative infiltrating a terrorist gang about to fly a plane full of explosives into the IRS tax office in Texas. Like a lot of scenes in Death Sentence this is based on a real incident, illustrating how a lot of terrorism is home grown.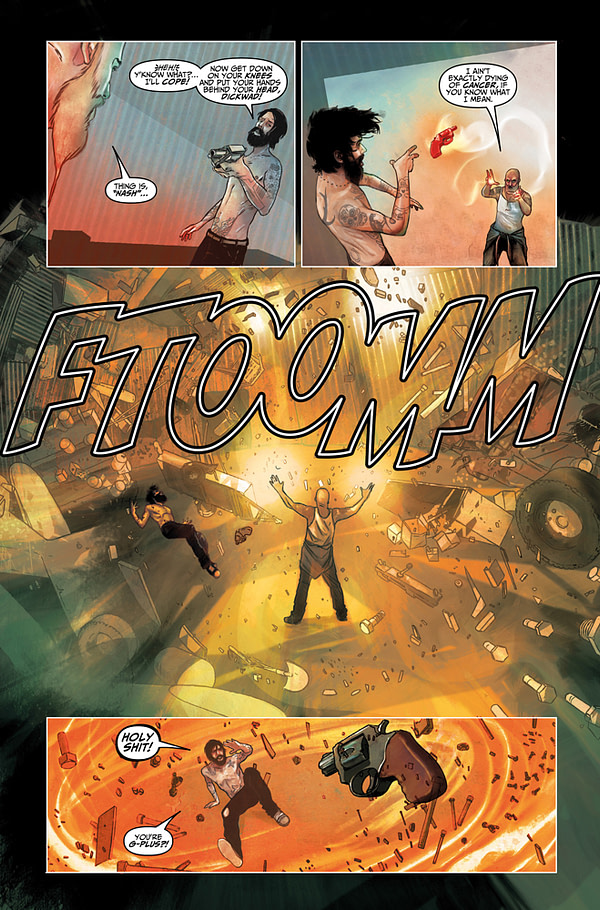 What the hey?!! One of the terrorists is G-plus!!! I didn't see that coming – no wait I did, I wrote the plot. Crazy action and riotous smarts – that's Death Sentence.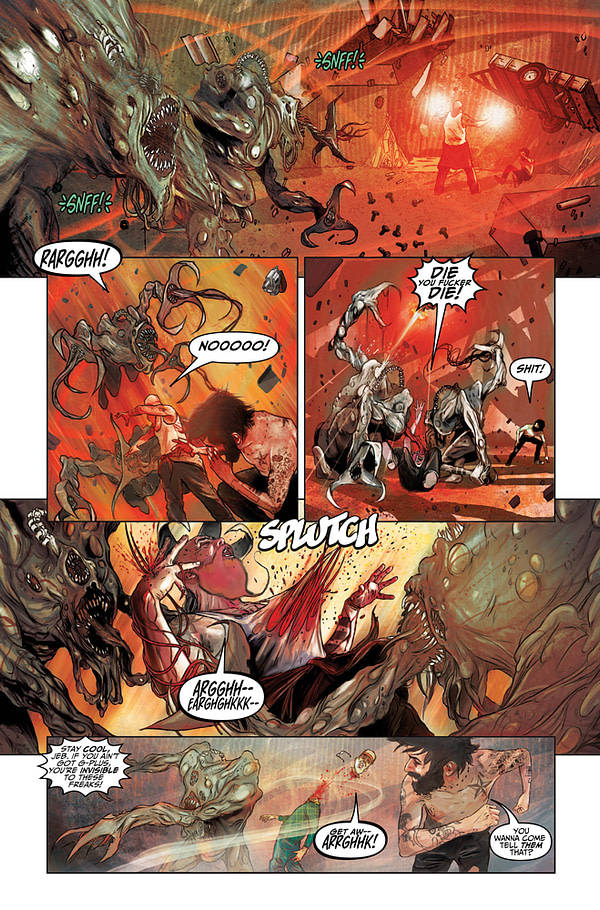 This being Death Sentence the FBI don't just move in and arrest everyone. No – instead they've developed this insane dart that turns criminals into mutated monsters called Goelem's, genetically predisposed to attack those with G-plus. And when they've killed them, The Goelem's explode! It's an idea as brilliant as it is practical, and I expect to see it introduced on our streets by British police any day now.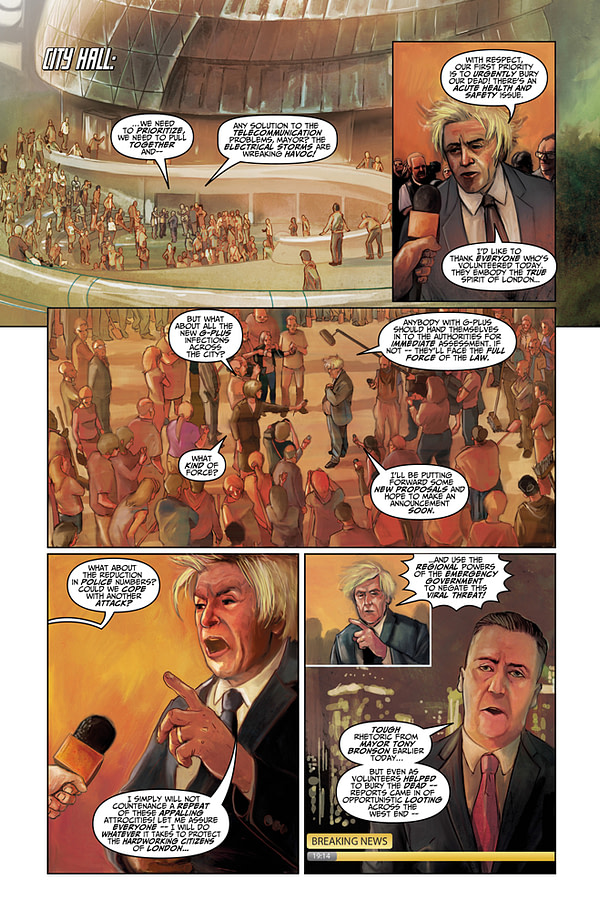 Now Mayor Tony Bronson is back at work cleaning up the streets and using emergency powers to 'protect the hardworking citizens of London'. You see this kind of rhetoric a lot whenever those in power want to pick on someone. In this case it's G-plus sufferers, rather than the disabled or people on benefits.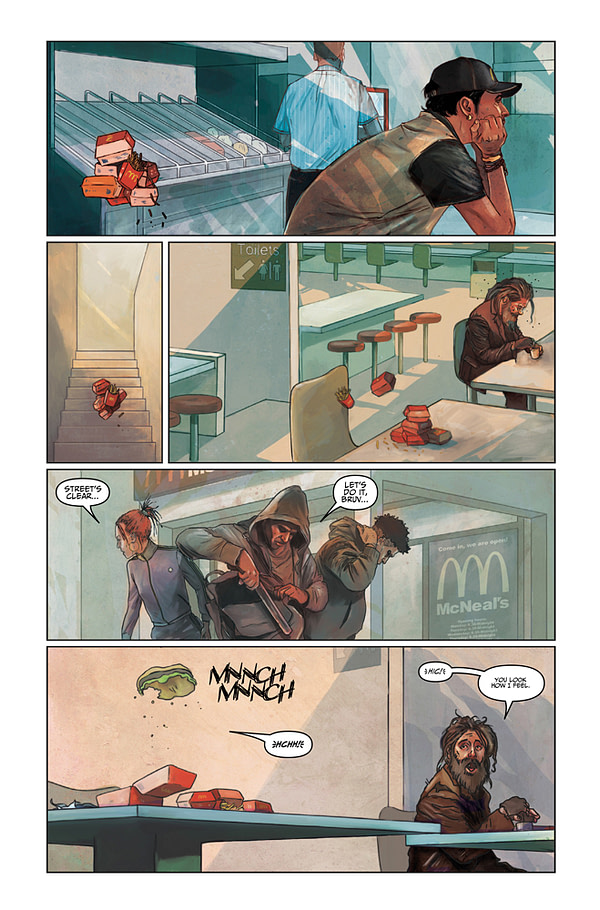 Meanwhile Verity has staggered off dazed and confused following the SPOILERS that ended the first book. She's invisible at this point, and hungry, so she helps herself to a burger and fries. That final line from the homeless guy to invisible Verity is my favourite so far: "You look how I feel".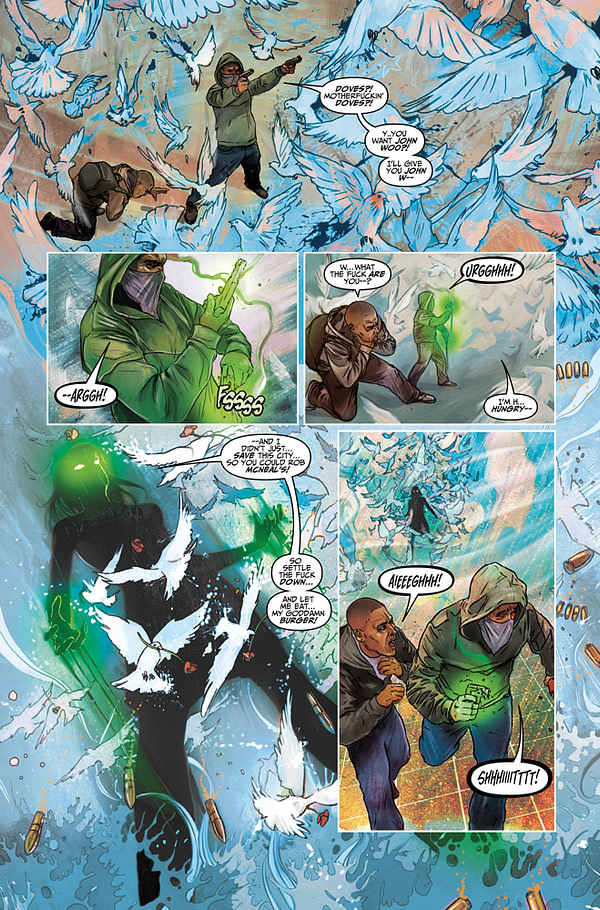 Lawlessness abounds across London, so naturally three cockwombles decide to rob a burger chain on the basis they can get some lunch while they're at it. Again, this actually happened. Unfortunately for them, Verity is eating there – and she's not impressed.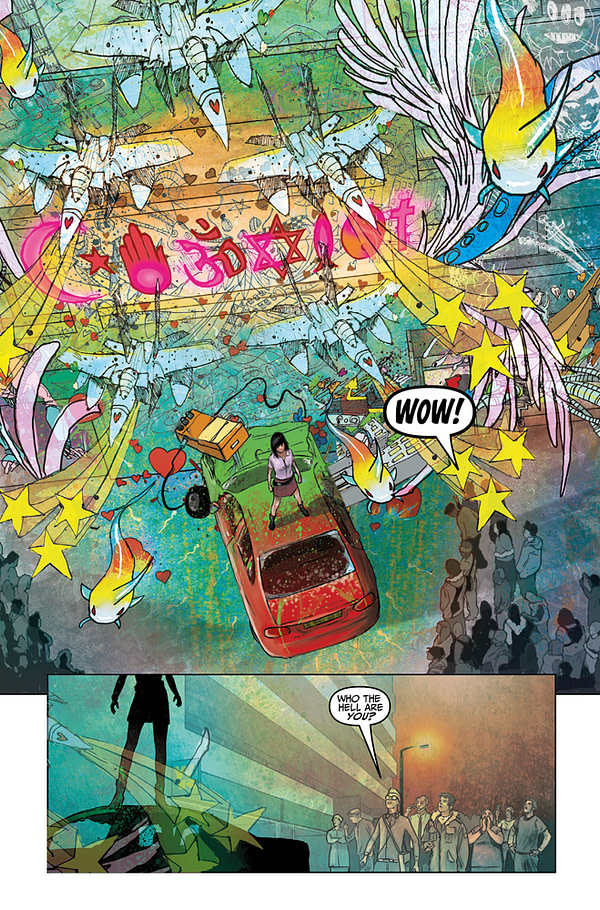 Verity's someone who just wants to get on with her life – but there's a line and these guys crossed it. So she runs makes an example of them with her astounding artwork and animated illusions.
Verity's the book's beating heart and the art she creates is unconscious and reflects her mood as the story develops. She's not in full control yet and she's prone to drink heavily and sleep around. I guess undercutting her big moment like this shows a very British approach to grandstanding. We like to ensure people don't get too big for their boots in the UK – which has pros and cons. Our innate ability to take the p-ss means people like Donald Trump could never gain traction here, which is no bad thing.
Finally, Mayor Bronson brings the military in to quell the rioting on the streets. "Can a free people restrain crime without sacrificing fundamental liberties" asked Gerald Ford in 1975. The jury's still out but I bloody well hope so. Given the way the world's going it's up to all of us to stay vigilant and make sure our democratic freedoms and human rights remain entrenched in law.
So that sets up the story – with five more chapters to go. From here the action takes off as we've done all the tricky worldbuilding and established our characters and themes.
I was heartened to read reviews and hear from readers saying London is better than the first book, citing the character development, art, and expansion of our central premise. I'm not sure it IS better, but I'll settle for 'as good as'. And it says something about the world today, which is important.
But do judge for yourself in your local comic/book shop.
Death Sentence London is published by Titan comics, 160 pages, £14.99UK, $19.99 US.