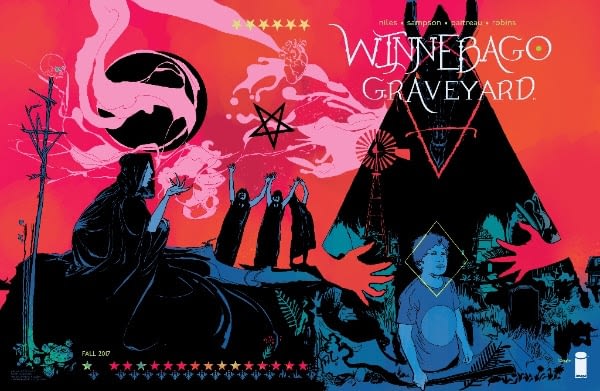 Alison Sampson has announced a new series from Image Comics with writer Steve Niles at Image Expo.
Winnebago Graveyard is a horror comic about Satanism and a family whose winnebago is stolen and who get stuck in a town full of satanists.. And then what happens next.
Also, lots of nudity. Just saying. And contributions from Sampson's 13 year old nephew…
UPDATE:
WINNEBAGO GRAVEYARD by Steve Niles & Alison Sampson
Writer Steve Niles teams up with artist Alison Sampson, colorist Stéphane Paitreau, and letterer Clem Robins in WINNEBAGO GRAVEYARD.
Sampson used 1970s horror films for inspiration on the artwork and described the book's overall look as: "about 70% Americana, slightly heightened, like True Blood, and about 30% ripping off of heads."
A horror-adventure story, WINNEBAGO GRAVEYARD follows a family with a teenage son and what happens when their road-trip goes wrong and they find themselves stuck in a town full of satanists.
WINNEBAGO GRAVEYARD is set to launch in Fall 2017.
Enjoyed this article? Share it!