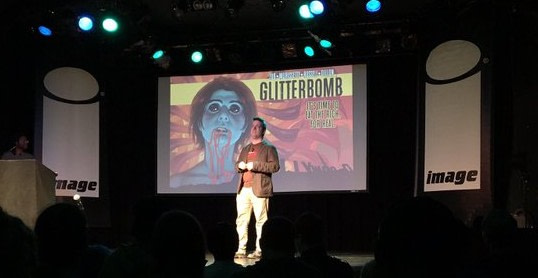 Announced by writer Jim Zub at Image Expo right now, is a "Hollywood horror" comic book drawn by an intense artist Djibril  Morrissette called Glitterbomb.
"It's time to eat the rich, for real."
Lovely. About an actress who can't get the roles any more, so tears it all down. The comic will be an intense look at being famous and those who aren't
GLITTERBOMB by Jim Zub & Djibril Morissette-Phan & K. Michael Russell & Marshall Dillon
Fan-favorite writer Jim Zub and newcomer Djibril Morissette-Phan come together with colorist K. Michael Russell and letterer Marshall Dillon for GLITTERBOMB.
"Probably the only thing I love more than comics is cinema," said Morissette-Phan. "Which makes Glitterbomb a dream project since it's a perfect blend of both."
Set in Hollywood, GLITTERBOMB is a horror story about failed fame and blood-soaked revenge.
"The entertainment industry feeds on our insecurities, desires, and fears," said Zub. "You can't toy with those kinds of primal emotions without them biting back."
GLITTERBOMB is set to launch in late Summer 2016.