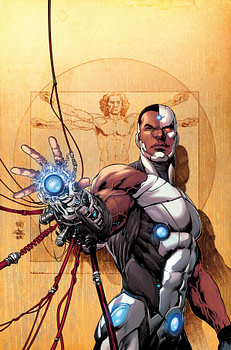 The solicitations for DC Comics revealed that Cyborg co-creator Marv Wolfman was returning to the title for issue 12 in May – expected to be the book's last issue before the DC Comics Rebirth relaunch in June.
See the rest of our DC Comics Rebirth coverage here.
But what of the series writer David Walker, who recreated the look and power set of the character, ahead of an expected movie treatment?
He's gone even sooner than that, tweeting,
To avoid any confusion: CYBORG #9 is my last issue on the book. It's been fun. Thanks for all the love and support.

— David F Walker NYCC Artist Alley G-29 (@DavidWalker1201) February 17, 2016
@Dragonpiece Just time to move on.

— David F Walker NYCC Artist Alley G-29 (@DavidWalker1201) February 17, 2016
Well he may be busy elsewhere. As with the New 52m creators seem to be dropping off the preceding issues… they may have bi-weekly books to get caught up on, they may be off to other opportunities…
@OriginalMigs and his wife at the #PMIF Signing with @DavidWalker1201 pic.twitter.com/IhXh6zj1By

— TFAW.com (@TFAW) February 18, 2016
And while we're looking at tweets…
I just want to say what an honor it has been working with @IAmBradWalker on SINESTRO. He's one of the best in the business!

— Cullen Bunn (@cullenbunn) February 18, 2016