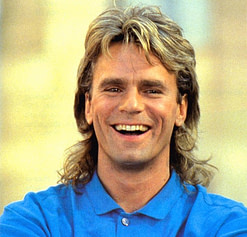 Variety reports a feature film version of the ABC television series MacGyver is in the works. The film is being developed by Lionsgate at the same time CBS is working on a new MacGyver update.
The original series starred Richard Dean Anderson as a special agent known for getting out of a fix using his wits and unlikely items.
The film project will be produced by the series' creator, Lee David Zlotoff, and Fast & Furious producer Neal H. Moritz. All other details about the film are unknown.
Meanwhile, Furious 7 director James Wan is part of the team bringing the series back to television. As reported back in October, Wan and original series producer Henry Winkler will help shepherd the story of a twentysomething MacGyver as he saves people with his special talents, a rusty coffee can and a piece of string.
Neither project is currently scheduled for release.