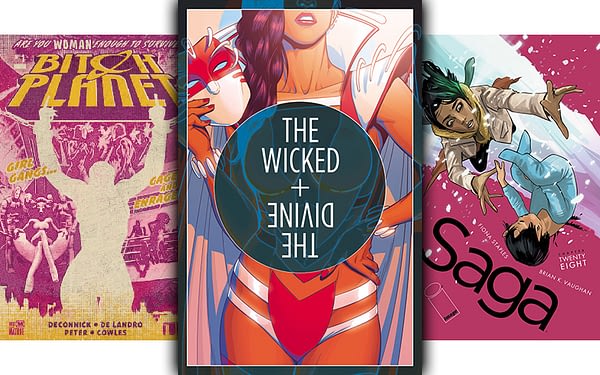 Bleeding Cool ran its own Top 11 Lists of 2015. It also collected everyone's lists of the year to make a kind of List of Lists, as we did last year. We thought it was interesting.
Heavy Metal Magazine did the same and found it disgusting. After slating Vice (before slating Slate) with an article titled "The 22 Worst Lists of 10 Best Comics of 2015", they say,
We looked through other lists, to see whether they were any better. Most were (although Slate's is dreadful). But as lists trying to cover all bases, all audiences, and often trying to prove just what Vice was shooting for—that comics aren't just about superheroes, sci-fi, and fantasy—they all have moments of sucking. They all have a couple titles you know you'll never buy, thus making you question the list-maker's credibility.
And give us some pointers
You can tell us 'til you're blue in the face that Archie is a great comic, we're still not gonna buy it.

Comics is a marriage of words and pictures—the writing might be ace, but if the art looks like rough Adventure Time sketches, we'll pass.

We love that the graphic storytelling medium allows a few creators with no budget to tell a grand, gripping visual story. That's what the medium is for.

We don't understand the appeal of comics in which nothing—or nothing remarkable—happens.

We're skeptical of comics that rely heavily on irony.

We don't believe in the concept of "so bad it's good."

Artists and writers who rose to fame in the '80s and '90s are still doing great work, though you wouldn't know it from your average online best-of list.

The quality of comics is actually very good these days. The writers are good writers, the artwork is often dazzling. The best creators have learned from the visionaries, not rejected them.
And when they say "It's telling that Alan Moore's Providence, which may be his best work since Watchmen, hardly registers in all the listmania" I think that's more likely to indicate that people are waiting for the trade…
So much to argue with but maybe that Moore-love they show may apply to the first one – "You can tell us 'til you're blue in the face that Archie is a great comic, we're still not gonna buy it. You could have said that about a certain fifties comic book called Marvelman. And yet…
When Archie is by Mark Waid and Fiona Staples, you at least flick open the cover before you totally dismiss it entirely.
A lot of comic book criticism is not about reflecting what is read but reflecting what should be read. Dismissing certain art style as "rough Adventure Time sketches" dismisses other people's taste and a wider idea of what can be accomplished in comics. I've said one of my favourite comics of all time is Longshot Comics – and I challenge anyone at Heavy Metal to read it and dismiss it in a similar fashion despite being "art"-less. Marvel Comics' most confident, bold and brassy launch in recent months was Patsy Walker AKA Hellcat and I'd fight anyone who dismisses it similar fashion.
Comics can be everything. Certain lists can reflect certain tastes, sure, and that's fine. If you have a problem, make your own list and add it into the general melting pot….
Anyway, we look forward to reading real-bloodied comic books in Heavy Metal Magazine. And see exactly how much of this its new editor-in-chief Grant Morrison agrees with.
And if they see such a disconnect between what they see as critically acclaimed and what actually is sold and read by people, here's the Top 100 actual sales from Gosh Comics for all of 2015… oh look Alan Moore *and* The Wicked & The Divine in the top three. And Joan Cornellà's Zonzo in the top spot, which looks like this…
…run away, Heavy Metal, run away!
| | |
| --- | --- |
| Ranking | Title |
| 1 | ZONZO HC |
| 2 | LOEG NEMO RIVER OF GHOSTS HC |
| 3 | WICKED & DIVINE VOL 1 SC |
| 4 | THIS ONE SUMMER SC |
| 5 | SAGA VOL 4 SC |
| 6 | WYTCHES TP VOL 01 |
| 7 | SAGA TP VOL 1 |
| 8 | SOPPY HC |
| 9 | SCULPTOR HC |
| 10 | SAGA TP VOL 05 |
| 11 | POO BUM PB |
| 12 | LOVELACE AND BABBAGE HC |
| 13 | CIVIL WAR TP |
| 14 | STEP ASIDE POPS SC |
| 15 | PAPERTOY MONSTERS SC |
| 16 | SUPERMUTANT MAGIC ACADEMY SC |
| 17 | SAGA VOL 3 TP |
| 18 | I WANT MY HAT BACK PB |
| 19 | MS MARVEL TP VOL 01 NO NORMAL |
| 20 | HERE HC |
| 21 | Y THE LAST MAN TP BOOK 01 |
| 22 | SAGA TP VOL 2 |
| 23 | ADVENTURE TIME VOL 1 TP |
| 24 | WICKED & DIVINE TP VOL 02 |
| 25 | MY FRIEND DAHMER GN |
| 26 | COMPLETE MAUS SC |
| 27 | DARTH VADER & SON HC |
| 28 | FUN HOME SC |
| 29 | ONE YEAR WISER HC |
| 30 | BLACKSAD HC VOL 01 |
| 31 | HIP HOP FAMILY TREE VOL 01 SC |
| 32 | YOU'RE ALL JEALOUS JETPACK HC |
| 33 | LOST PROPERTY SC |
| 34 | LAIKA SC |
| 35 | V FOR VENDETTA SC |
| 36 | SUPERCRASH SC |
| 37 | SEX CRIMINALS TP VOL 01 |
| 38 | ODY-C TP VOL 1 |
| 39 | ANYAS GHOST GN |
| 40 | RELISH GN |
| 41 | BATMAN THE BLACK MIRROR TP |
| 42 | TREES TP VOL 01 |
| 43 | FILMISH SC |
| 44 | NEUROCOMIC HC |
| 45 | BLACK SCIENCE TP VOL 01 |
| 46 | LOVE SICK HC |
| 47 | JERUSALEM HC |
| 48 | COMPLETE PERSEPOLIS GN |
| 49 | KILLING AND DYING HC |
| 50 | RAT QUEENS TP VOL 01 |
| 51 | PASSPORT SC |
| 52 | PALESTINE SC |
| 53 | PYONGYANG SC |
| 54 | FEYNMAN SC |
| 55 | SANDMAN TP VOL 01 |
| 56 | GARDENS OF GLASS SC |
| 57 | BLACKSAD AMARILLO HC |
| 58 | HARK! A VAGRANT SC |
| 59 | SECONDS HC |
| 60 | PIRATES OF PANGAEA VOL 1 |
| 61 | SUICIDE SQUAD TP VOL 1 (N52) |
| 62 | LUMBERJANES TP VOL 01 |
| 63 | PRINCESS & THE PONY SC |
| 64 | BOLLAND STRIPS HC |
| 65 | KING IN YELLOW GN |
| 66 | HILDA & THE TROLL SC |
| 67 | SEX CRIMINALS TP VOL 02 |
| 68 | WALKING DEAD TP VOL 01 |
| 69 | THE INCAL HC |
| 70 | ASTERIX VOL 36 HC SCROLL |
| 71 | DEADLY CLASS TP VOL 01 |
| 72 | BUNNY VS MONKEY VOL 1 SC |
| 73 | SCIENCE TALES HC |
| 74 | PRETTY DEADLY TP VOL 01 |
| 75 | THROUGH THE WOODS SC |
| 76 | HUNTER SC |
| 77 | MAPS HC |
| 78 | MICHAEL JORDAN HC BULL ON PARADE |
| 79 | BATMAN KILLING JOKE HC |
| 80 | GIANT DAYS TP VOL 01 |
| 81 | REMARKABLE ANIMALS HC |
| 82 | SATOSHI KON OPUS TP |
| 83 | VINCENT SC |
| 84 | EX MACHINA TP BOOK ONE |
| 85 | DEADPOOL TP VOL 01 PRESIDENTS |
| 86 | STAR WARS DARTH VADER TP VOL 1 |
| 87 | AMULET VOL 1 SC STONEKEEPER |
| 88 | GOODNIGHT DARTH VADER HC |
| 89 | VACANCY SC |
| 90 | HIP HOP FAMILY TREE GN VOL 02 |
| 91 | BLACKSAD SILENT HELL HC |
| 92 | THE WRENCHIES SC |
| 93 | STORM SC |
| 94 | STICKY MONSTERS HC |
| 95 | SILVER SURFER TP VOL 01 |
| 96 | WALKING DEAD TP VOL 22 |
| 97 | FABLES TP VOL 01 |
| 98 | STAR CAT BOOK 1 SC |
| 99 | WATCHMEN TP |
| 100 | SAM ZABEL & THE MAGIC PEN SC |