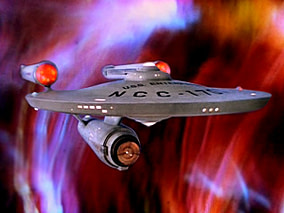 In the late 1960s and early 70s, Star Trek creator Gene Roddenberry tolerated fan fiction and the Kirk/Spock "slash-zines." They circulated in such low numbers that they posed no threat to any of the trademarks or diluted the brand in any significant way. As William Shatner wrote in Star Trek Memories and Star Trek Movie Memories, Roddenberry himself was engaged in the sale of dubious Star Trek merchandise and as the copyright holder, Desilu Productions, was ignoring the property entirely, fans (and creator) were free to do what they wished the concept.
By the 1990s and the proliferation of the internet, it was too late to stop the fan fic. That decade also saw the rise of the fan film. They were often crudely made and expressed more of a fan desire to be part of Star Trek than a level of professional acumen. Desilu had folded into Paramount Pictures by this time and the company, also seeing the limited access people would have to the films, continued the undeclared toleration of fan projects as long as the producers do not profit from their endeavors.
And like the advancement of a distribution network for the fanzines, technology gave fan producers greater reach and greater ability to craft Star Trek that is nearly indistinguishable from an official Paramount product. One such project is Star Trek: Axanar, a crowd-sourced fan film which generated over $1 million during its Kickstarter and Indiegogo campaigns. Set prior to the events of the original series, it features talent associated with Star Trek on both sides of the camera.
It has also become enough of an effort that the current holders of the Star Trek intellectual property, Paramount and CBS, have filed suit against the project.
According to the complaint (via The Hollywood Reporter), "The Axanar Works infringe Plaintiffs' works by using innumerable copyrighted elements of Star Trek, including its settings, characters, species, and themes." The companies are demanding an injunction against the production and damages for "vicious copyright infringement."
So what's changed? If one takes a look at Star Trek: New Voyages on YouTube, it also looks like a professional work using innumerable copyrighted elements — if the performances are a bit wobbly from time to time — but it has enjoyed tolerance from Paramount and CBS for years. In 2012, CBS requested the production cease the use of previously unproduced Star Trek scripts and published novels as the basis for new episodes, but that situation never led to litigation.
Axanar features actors like Richard Hatch and Kate Vernon of Battlestar Galactica fame and Star Trek vet Gary Graham, who reprises his Star Trek: Enterprise role as Vulcan Ambassador Soval. But even this isn't new as George Takei and Nichelle Nichols have also reprised their roles in fan productions.
Axanar Productions, the company formed to make the film, is well aware it can never profit from the project. On their website, they state, "we can never charge for anything featuring their marks or intellectual property and we will never sell the movie, DVD/Blu-ray copies, T-shirts, or anything which uses CBS owned marks or intellectual property." They are not a rogue entity and are playing within the unofficial rules of a fan production.
But a rights holder certainly has the power to change those unofficial rules.
CBS is developing a new series based on Star Trek. It is possible that has changed what it considers permissible as a fan production. A tightening of that tolerance could lead to more zealous IP protection on the parts of Paramount and CBS and could bring about the end of Star Trek fan productions.
Axanar Productions has yet to reply to request for comment.