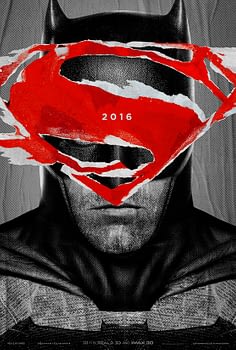 Speaking with French film magazine Studio Cine Live (via Batman-news), Batman v Superman: Dawn of Justice stars Ben Affleck and Henry Cavill offered a few interesting insights into their famous lead characters.
Affleck, inhabiting a role played by six others on screen (and famously voiced by Kevin Conroy), noted that this time, he's playing a Batman at the end of the journey. "He believes destroying [the alien] will be his legacy," he said. While Bruce Wayne "courts many women, owns many cars, and parties a lot" to fill a vacuum in his life, the actor said the Batman is "clouded by frustration, bitterness and anger."
Cavill, meanwhile, addressed the legacy of the bumbling Clark Kent as played by Christopher Reeve. The actor explained his Clark is more interested in being small and invisible. "If you're awkward and spilling things constantly, people are going to notice you, and that's not the best way to go unseen," he said. The actor also admitted that a pair of glasses is not a great disguise.
Batman v Superman: Dawn of Justice arrives in theaters on March 25th, 2016.
Enjoyed this article? Share it!