Agnes Garbowska, an artist on one of the stories in Dynamite's new Grumpy Cat & Pokey #1, on sale in February, sat down with Byron Brewer to discuss the internet's cutest curmudgeon and her new miniseries.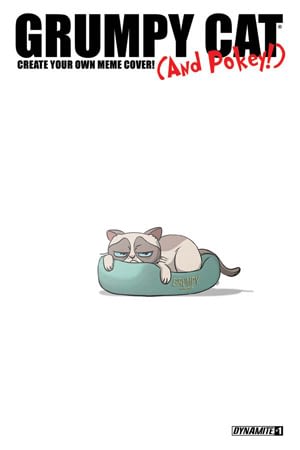 BYRON BREWER: Agnes, how did you get involved with this new Grumpy Cat & Pokey book from Dynamite?
AGNES GARBOWSKA: I was contacted by Rich Young and asked if I wanted to be a part of Grumpy Cat & Pokey. I have worked with Rich before at Dynamite and I really enjoyed working for him and Dynamite on various titles so of course I wanted to be a part of this one!
BB: You are much renowned for your work on My Little Pony. This may seem a simple question, but as an artist how is rendering Grumpy Cat's world different?
AG: Grumpy Cat and her world is a different style model to follow, but since it falls into the cartoony and cute category it was very easy for me to adjust to it. I am very familiar with adjusting my style to different projects and different model sheets. My ability to draw in my own style and be able to draw in already established character styles opens up more work opportunities for me. I really enjoy drawing Grumpy and Pokey since they are very adorable characters to draw.
BB: Did you enjoy working with writer Ben Fisher on "A Grump in the Grass" from issue #1?
AG: Yes, very much! From the moment I read the script I was very excited to work on it. I really love how he wrote Grumpy and Pokey. They are such different personalities that drawing them interacting is a ton of fun.
BB: OK, opinion time: Which one is best: Grumpy or Pokey, and why?
AG: I really love them both since they are very different personalities, but if I had to pick, I pick Grumpy. She is so funny and so cranky! I love drawing all her many grumpy expressions. So a cat that is always upset there is still so much you can do with her. I really enjoy drawing her (and Pokey) and I really hope I continue to have more opportunities to draw them!
For more on Grumpy Cat and Pokey #1, click here.
Enjoyed this article? Share it!