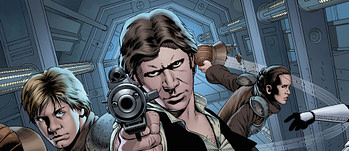 Pick your favorite Han Solo: Aaron Taylor-Johnson, Ansel Elgort or Dave Franco? According to The Hollywood Reporter, the search is on for an actor to embody a young Han Solo in the 2018 untitled "Han Solo Begins" Star Wars spin-off. "More than 2,500 actors have met on the project or put themselves on tape," they write.
Other actors reportedly auditioning including The Walking Dead's Chandler Riggs and Mr. Robot star Rami Malek as it appears the production will entertain any actor between the ages of Riggs at 16 and Malek at 34 with at least a passing resemblance to original Han Solo Harrison Ford.
Meanwhile, Daisy Ridley and John Boyega appeared on Good Morning American yesterday. Revealing that they have seen the film, Ridley admitted it moved her to tears. "I came out and was like, 'Yeah, I'm cool,'" she said. Once in a car on her way to the airport, she said she cried "the whole way, and then the whole way home — a 10-hour journey."
Boyega played it cool, saying the film is "full of action, full of passion, and it's quite emotional."
It was also emotional for J.J. Abrams when he first screened an early cut of the film for Disney executives. "We screened the movie, and it was horrifying," Abrams admitted during a recent appearance on Howard Stern's radio show, according to Variety. "I'm nervous beyond words, I'm showing this movie that I know is so far from finished, there's not an effect in it…"
Receiving a positive response, Abrams dismissed it. "All I could think was 'What do they know? They spent four billion dollars, they have to love it!'" he said. "I'm so critical about it, and their response was so kind. I'm like, 'they're just being nice.'"
Of course, we'll all know if the execs were just being nice in a mere sixteen days.
Enjoyed this article? Share it!