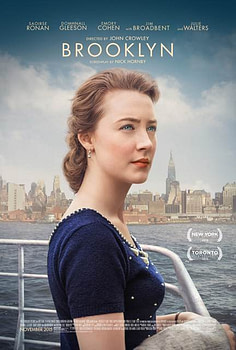 Brooklyn is charming coming of age drama filled with big emotions — even if they are restrained. Set in the early 1950s, Saoirse Ronan stars as Eilis, an Irish immigrant to Brooklyn who comes into her own after her sister arranges for her to find a better life in America. Though happy to escape her seemingly gray and bitter Irish town, she must confront obstacles like sea sickness, eventual homesickness and a feeling of isolation that inevitably comes with being what feels like millions of miles from home.
In the care of family friend Father Flood, played by Jim Broadbent, the shy Eilis rooms at the boarding house of Mrs. Kehoe and faces down the snide remarks and titters of the more "sophisticated" ladies also renting rooms there. Also set up with work at a department store, where breaking her shy demeanor becomes a priority, she eventually starts taking a night class in bookkeeping.
Ronan is a delight to watch as Eilis. Initially shy and understandably terrified of her new surroundings, her transformation is subtle over the course of the film. When we see her in the final moments, it is astonishing to look back on how far the character came and it is a credit to Ronan and director John Crowley that it seems to happen imperceptibly.
Eilis, like the rest of the ladies at Kehoe's boarding house, is encouraged to go to the supervised weekly dance at Flood's parish. There, she meets Tony, an Italian man from the area with an eye for Irish girls. They begin a relationship and the film transitions into a sweet, but honest romance between Eilis and Tony. Ronan and actor Emory Cohen have exceptional chemistry playing out familiar relationship beats; the two make it seem new.
At the same time, Eilis finding a man is not presented as the end-all-be-all of her life. Back at the department store, her shyness fades away, impressing her supervisor played by Jessica Paré. She continues to have a mind for bookkeeping and aims to eventually leave the department store for a career out of retail. Mrs. Kehoe comes to trust her enough to offer her the room with a separate entrance. Though the film focuses on her romance with Tony, it's as much about Eilis falling in love with her own life.
But that romance is put to the test when tragedy forces her to return to Ireland and circumstances extended her visit. The gray, bitter town no longer seems so cold and Eilis finds her home town as magical as Brooklyn itself.
Interestingly, none of these things are played for the melodramatic content. Though the viewer will certainly feel every bit of joy and sadness Eilis faces on her journey to discover herself, it never comes off as outlandish or theatrical. The emotions are seemingly contained, but hit the rights notes. Even the introduction of romantic rival Domhnall Gleeson — played up in the trailer — remains restrained and is as much a function of Ireland becoming an attractive option in Eilis's eyes as it is the character's charms.
The film is also gently funny, from Eilis's mother offering a quiet negative comment about a local shop owner to Mrs. Kehoe's tutting of the other girls in the boarding house. The broadest moments come when Eilis meets Tony's family and his youngest brother flat out says they hate the Irish. It's in the trailer, but the entire scene lands its jokes.
While the actors keep that restrained, but realistic tone, the film itself looks like a fairy tale. Crowley and cinematographer Yves Bélanger make Brooklyn warm and inviting even in the dead of winter. Though they start the film with a drab feel for Ireland, the locale also gets that warmth upon Eilis's return; highlighting her own change of perception.
Besides Ronan and Cohen, the film is packed with many fine performances from Julie Walters as Mrs. Kehoe to Jenn Murray's brief appearance as Dolores, another lady at the boarding house who can best be described as "a drip." Arrow's Emily Bett Rickards also appears as one of the more sophisticated boarders, but plays the childish qualities of the character to the hilt. In fact, as an Arrow fan, she was nearly unrecognizable.
Brooklyn is a fine, gentle film of rich complexity and restrained performances. It is also a very human story about finding yourself shot with grace and care.