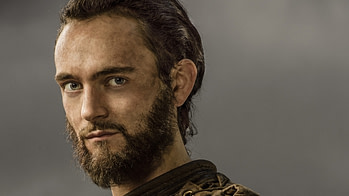 For three season of the historical drama Vikings, George Blagden played Athelstan, a monk taken as a slave by Viking raider Ragnar who, eventually, assimilates to his new surroundings. Divided in loyalties to gods and men, Athelstan became one of the series most compelling characters on the show, but as Blagden told Bleeding Cool recently, he was never intended to carry on. "We were under the impression that Athelstan wasn't going to survive the course of that first season," he explained.
Over the course of the first year, the creative team, including creator Michael Hirst, discovered the character was a "very useful plot device." He also became a viewpoint character for the audience. "Once we discovered we needed to keep him alive, he had to grow," Blagden said. "The arc he goes on is just crazy and such a gift for an actor to be given."
In his time on the series, Athelstan becomes a trusted adviser to Ragnar as he ascends to the throne and King Ecbert as his intentions for England solidified. "It was something Michael wanted to play on with the character," Blagden said. "[Athelstan] had a lot of internal conflict. He discovered that it created a lot of curiosity in other characters. They wondered why he was so conflicted and why he maybe didn't have the strength of his own convictions, like these powerful characters did. It made him become a counterpoint for other characters to spin around." This became doubly true when Ragnar and Ecbert came into direct conflict.
The conflict between those men also reflected the struggle in Athelstan's soul between the gods of the two countries. "The beauty in the character was to try to extend that conflict as long as possible," Blagden said. Athelstan see-saws between the two beliefs and the actor thought "it was brave of Michael to have him almost completely convert into viking and then, half-way through Season Two, to throw him right back into a Christian environment and let him simmer in his internal workings."
Blagden believes the most interesting characters on screen are the ones with deep internal conflict and "the more difficult Athelstan finds it, the more we the viewer enjoy it."
Despite the conflicts in his heart, Athelstan was willing to help Ragnar raid Paris in Season Three. Blagden suggested that whatever else may boil in the character's mind, his friendship with Ragnar is clear. "He's a man who's experienced so much … but he's most interested in seeing Ragnar advance. That's really behind his drive and enthusiasm for the raid on Paris," he explained.
And though the character entered the story via one of Ragnar's raids, Blagden thought the character had acclimatized to the viking society and, having taken part in raids himself, viewed Ragnar's ambitions in a different light. His willingness to help his friend, despite knowing the toll such adventures take on its victims also reflects an underlying theme in the character: his survival instinct.
"I think the interesting thing about Athelstan is that he was put into this monastery at a very young age and this was something that was given to him. He had this faith presented to him rather than actively engaging in the Christian faith. We rationalized it as he was more of a survivalist than a Christian," he explained. "He was a devout religious figure, but his survival instincts took over when he arrived in Scandinavia. His actions through Season One are very much 'how do I get through the next day.' I think that drives him through the season. I don't think even in Season Two, he felt he was in a place of safety in that community."
Blagden said he and Hirst talked about that transition at length as the character was initially extremely devoted to his faith. "Were we belittling his faith with these changes?" asked Blagden. Hirst told him it was part of what made the character interesting. Blagden ultimately agreed. "It's true to events in his life. He's had his world turned around several times. It's great to play that."
While his survival instincts eventually earned him the trust of Ragnar, it never earned him ease with Floki, played by Gustaf Skarsgård. Asked if Floki's misgivings and eventual fury toward Athelstan was a product of their disparate gods or simple jealousy, Blagden joked, "The only person who knows is Gustaf."
"It's a combination of things," he continued. Though Floki is Athelstan's equal in his devotions to the gods, with the implication that he may be descended from them, Blagden suggested the source of Floki's negative feelings actually comes from a place of love and devotion to Ragnar. "But we get to a point in Season Two where Athelstan is the only person that Ragnar really trusts," he explained. "Floki's aware of that and from where his relationship [with Ragnar] started, he feels betrayed."
Speculating as a fan of the show, Blagden imagines this will come into play as Ragnar more or less knows Floki's role in Athelstan's death.
Prior to his demise, Athelstan recommitted to the Christian faith. That decision was something Blagden and Hirst also discussed at length. "We talked a lot about what this rebirth really meant to him. I suggested that it was a point in his life when he felt safest," Blagden said. "Michael wanted to argue that he was aware of his demise." While both notions come across on screen, Blagden felt his rebirth was "spiritually authentic" for the character. "It's amazing watching it back how much that transformation came across. I tried to play it, but wasn't sure if it worked [while filming]. His whole face lights up and he looks confident. All that conflict just disappears. It's that confidence that allows him to be okay with the fact that his days were numbered. It was an interesting way for Michael to end his arc."
Next for Blagden is another historical drama called Versailles, in which plays King Louis XIV of France.  "[It's about] how he built this monstrosity of a palace and how he used it to centralize his government and take absolute control of his country," he explained. The ten-part series is expected to come to BBC 2 next year.
Vikings: The Complete Third Season is out on Blu-ray and DVD in the UK today.