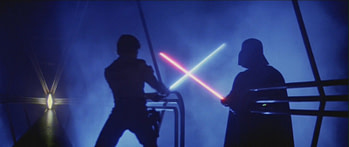 While going to films opening night decked out in character costumes has become more popular in recent years, it was a major feature of opening weekends during the Star Wars prequel era … well, at least in Southern California. Aware of this, certain American theater chains in California are making their policies in regards to the premiere of Star Wars: The Force Awakens clear.
According to CBS TV in Los Angeles, the Cinemark and AMC chains are letting fans know to leave their masks and lightsabers at home. Posters at Cinemark theaters feature a disclaimer stating, "no face coverings, face paint, or simulated weapons — including light sabers — will be allowed in the buildings."
Meanwhile, AMC will be more permissive with the simulated laser swords, but also discouraging masks and blasters. Their warning reads, "Guests are welcome to come dressed in costume, but we do not permit masks. In short, bring your light saber, turn it off during the movie, and leave the blaster and Darth Vader mask at home."
It is suggested that the bans are to aid safety efforts after a rash of theater shootings in the last several years. At the same time, it is probably ill-advised to watch the new movie through the small visor of a Boba Fett mask.
Star Wars: The Force Awakens, opens on December 18th.