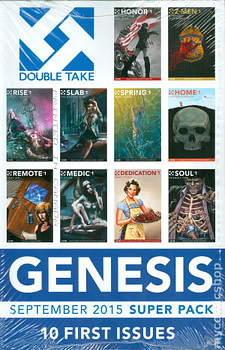 Double Take are the comic spinoff publisher from Take2 Games. They launched recently with ten ongoing zombie comics, spinning out of Night Of The Living Dead with the yet unannounced idea of using them to stealth launch a superhero universe built on a zombie apocalypse.
They also sold a discount set of all ten first issues as a Super Pack and promised innovative distribution plans to get them into the hands of mainstream audiences.
Well it looks like they are taking some other publishers with them.
From the Double Take job postings…
Double Take seeks a temporary Project Manager with 3-5 years experience in product management and packaged goods.
Ideal candidate will be responsible for building out multipacks with 2T products in combination with products from other independent labels.

Responsibilities include

Contacting independent labels to acquire products for multipacks
Packaging and selling multipacks to retailers

Candidate must be available full-time for 2-3 weeks  followed by part time (1-2 days per week) through project launch.
Contacting independent labels to acquire products for multipacks? It's not just their own comics that Double Take will be putting in future Superpacks but comics from other companies as well…