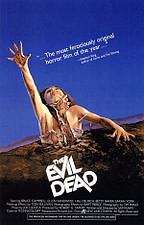 On Friday October 30th, Starz will air all three Evil Dead movies in anticipation of the premiere of Ash vs. The Evil Dead the next night. It all begins with The Evil Dead at 8pm Eastern and Pacific with a special preview of the first episode of Ash vs. The Evil Dead at 12:15am.
The new series sees star Bruce Campbell return to the part of Ash Williams, stockboy and survivor of Deadite invasions across time. We catch up with him 30 years on as he avoids responsibility, maturity and the terrors of the Evil Dead.
A new Deadite plague threatens to force Ash to face up to the reality of his life while Lucy Lawless arrives on the scene as Ruby, a mysterious figure who believes Ash is the cause of the Evil outbreaks.
Ash vs. The Evil Dead premieres on October 31st at 9pm Eastern and Pacific.