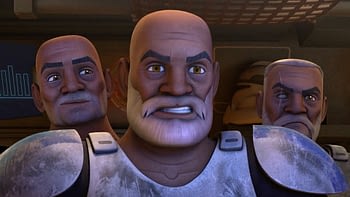 Tonight's episode of Star Wars Rebels note only sees the return of the series, but the familiar faces of clonetroopers from the 501st led by Captain Rex. Voice actor Dee Bradley Baker brought Rex the clones to life in the previous Star Wars series, Star Wars: The Clone Wars, and returns to voice them once more.
It is something he told Bleeding Cool that he never expected to happen. Clone Wars ended abruptly, as Baker recalled. "Originally, Dave [Filoni] wanted to plan out a finale and then say we'll finish it and be done [with the story,]" he said. But Filoni, the supervising director on both Clone Wars and Rebels, was convinced by creator George Lucas to continue to extend the story. Then, as the story took them closer to Jedi Padawan Ahsoka Tano's exile, Lucas sold Star Wars and the rest of his company Lucasfilm to Disney.
"Then all of a sudden, it was just 'stop,'" said Baker. "So we have episodes that are half-way done, like the Bad Batch arc that you can see on starwars.com." Though only half-complete, Baker called it "one of the best arcs" of the series. "It's only half-way finished, but it's there." There are also episodes he recorded lines for that never got much further than those voice tracks and some storyboards. "We went a good bit longer and more than anyboby ever saw."
"It definitely felt like the end of our stories together," added Ashley Eckstein, the voice of Ahsoka, who already made a reappearance of her own at the end of Rebels' first season. "I think with Ahsoka and Rex, [ending Clone Wars] left us on such a cliffhanger. We knew that they were out there, we heard they were still alive. I hoped we would get more of their stories."
Baker assumed that the sale to Disney would leave Clone Wars in the "Legends" status of the original Extended Universe. "I thought that was the end of an era with Lucas stepping back from his empire and the cancellation of our show," he said. "It felt like the end of my childhood in way; it definitely felt like the end of an era." Though he was relieved not to intone the voices of anymore dying clones, he held out hope Rex might somehow survive.
And survive he did. Which surprised Baker and Eckstein as much as it surprised fans at Star Wars Celebration who first saw a clip of tonight's episode back in April. "The fact that we would get more of their stories together, it's not something that I anticipated," Eckstein said. "So, the the fact we're back in the studio together, it feels like such a gift."
"That was a great day," added Baker. "That was a really great day. To be back in the studio and [she's] going to be Ahsoka and I'm going to be Rex. It was is great!]
"We worked together for so many years, and I think — not that we ever took it for granted — but you get into a routine, and then you're like 'okay, next season, what's next?' and then it just ended," said Eckstein. "I felt to a certain extent that we never got closure, either. So, to have the opportunity to come back and now explore these characters together is just … I don't take it for granted. Every single minute of the studio, I just try to cherish it as much as possible."
Both were also surprised the way their characters ultimately became fan favorites over the course of the series. Eckstein recalled that people hated Ahsoka in the beginning. "To see [her] go on such an arc and become so beloved …  It was a special experience."
Where Ahsoka was positioned to become a marquee character, Baker's clones grew from nothing. "The clones weren't even established [as distinct characters] in the feature films and they all kind of looked the same," he said. He never would have guessed a few troopers, like Rex and Gregor, who also reappears in the upcoming episodes, would become recurring or favorite characters. "It's a credit to the writers and Dave and George, of course, that it all went that way."
Now that the characters are firmly re-established in the current Star Wars history, Eckstein hopes to see them branch out into the various media platforms Disney is now exploring. "I hope we get more of Ahsoka and Rex than maybe we would've even gotten before," she said.
"I would love that," added Baker. "I want to go back and find out what happened to them after the Clone War while Episode III is playing out. I want to see what happened!"
Star Wars Rebels returns tonight on Disney XD.
Enjoyed this article? Share it!