By Derek Trum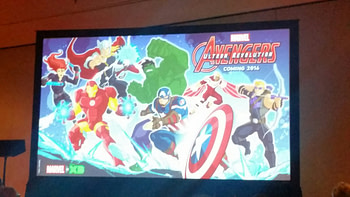 The Marvel Animation panel took place Friday afternoon in the Pepsi Perfect theater at the New York Comic Con. The panel was hosted by Joe Quesada and Dan Buckley. The show started off with the duo showing graphics for the new season of Avengers; entitled Avengers: Ultron Revolution. The team line-up looked the same as the previous season, but Quesada went on to say that appearances by Black Panther, Vision, and Captain Marvel would be taking place in upcoming episodes. It appears that like Ultimate Spider-Man, Avengers will now be getting a new title each season. The new season will start sometime in 2016.
Next it was time to talk about the next season of Spider-Man, titled Ultimate Spider-Man vs the Sinister Six. With a name like that, it's almost like they were expecting to have a movie to tie it into (opps). Expect to see a lot of the "Web Warriors" from last season. Specifically Miles Morales, Scarlet Spider, Iron Spider and Spider-Man Noir. They went on to add that the Web Warriors was the highest rated season Spider-Man has had on Disney XD. The promo image for the new season featured familiar Spidey foes like Doc Ock, Rhino, Scorpion, Vulture, and Kraven the Hunter. Buckley said that actually line-up of the Sinister Six may vary as the season goes on.
The big announcement was for Guardians of the Galaxy. A second season of the animated series has already been ordered. Fans of the music being featured on the show will also be excited that a soundtrack will be released on October 16th. The crowd was then treated to an early viewing of this week's new episode. The final announcement was that of a Marvel Super-Hero Adventures Christmas special. The special is titled "Frost Fright" and will feature not only Avengers but will also have appearances by Groot and Rocket. The story will feature Loki and Ymir trying to steal the holiday while our heroes seek Santa Claus. A picture of Santa Claus decked out in own super-hero costume was shown.