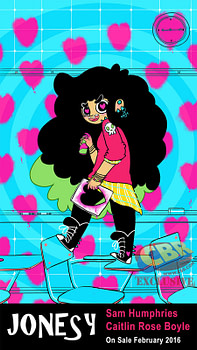 As well as announcing the new mini-series Jonesy, Boom! Studios took a different tack to Action Lab Comics at Baltimore Diamond Retailer Summit yesterday.
While Action Lab boasted of a 6000% increase in sales over five years, Boom was promising a 15% decrease in product for 2016. Though din't mistake that for a fall in sales… instead Boom believes that by focusing their line, they will increase overall sales.
It does match some concern from retailers that publishers have been cannibalising their own sales, selling more titles to the same amount of fans, or not increasing overall  customers as much as they do titles.
Boom seems to be addressing that concern. Let's see if it works…
Read more Baltimore Summit coverage right here.
UPDATE: Boom have also issued this proclamation on the relaunch of their retailer "Innovator" program.
Award-winning publisher BOOM! Studios is pleased to announce that the BOOM! Innovator program is relaunching with a focus on rewarding the retail partners who have supported the company for the last 10 years.

The goal of the program is to help push the industry forward by offering retailers a risk-free opportunity to provide new BOOM! Studios material to their customers. By stocking through single issues at the beginning of various series, stores are seen as consistent one-stop shops for a plethora of series. Of course, this also leads to trade sales down the road. In addition, retailers have risk-free trade-in value on all in-stock BOOM! items in their warehouse.

BOOM! wants to reward retail partners that are willing to take a strong position with the company as a publisher and stock BOOM!'s newest single issues. In exchange for stocking all single issues #1-4 each quarter (at a quantity based on the amount of locations a retailer has), retailers will qualify to return all unsold copies up to four times a year and redeem those books for free shipments of replacement BOOM! stock. Additionally, qualifying retailers will be featured in a monthly BOOM! Innovators ad and on the BOOM! website, as well as have a dedicated point of contact at BOOM! to coordinate signings, events, and promotional material.

How will this benefit BOOM! as a publisher? It's pretty simple: BOOM! will have a list of retailers the company can point out to fans and say with confidence, "Shop at this store, they carry everything we publish." The company will also be able to build a more direct and personal relationship with their biggest supporters through this program. In the long run, BOOM! believes it will strengthen their customers and fan base as well and incrementally increase overall sales.

"There is more amazing comic content available to fans now than ever before, but that makes the job of a retailer to curate that content in their store even more challenging than before," said BOOM! President of Publishing and Marketing Filip Sablik. "At BOOM! we believe strongly that part of our partnership with retailers is maximizing their sales at a reduced risk and the BOOM! Innovator program is a great way to do that."

Currently there are 74 retailers across the country signed up for the BOOM! Innovators program, and the publisher is excited to work hand-in-hand with those who have championed such titles as Lumberjanes, The Woods, Adventure Time, Mouse Guard, and more over the last decade. For inquiries about the Innovators program, feel free to reach out to Direct Market Representative Sam Kusek at skusek@boom-studios.com.