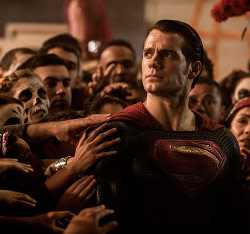 While talking with Canoe, Batman v Superman: Dawn of Justice director Zack Snyder said the film is "in a way" Man of Steel 2. It is unclear what that actually means, though the film certainly takes the place of a sequel in Man of Steel star Henry Cavill's contract.
The director went on to say "Justice League is kind of the transcendent, knights-of-the-round-table of the story. It'd be interesting to think about what a standalone Superman movie might be."
Feel free to provide punchlines for that set up.
Snyder also addresses Steven Spielberg's prediction that superhero films will wind down, just as the westerns did before it, saying "The pressure's on us, the filmmakers, to make the movies better … It's about human stories; it's not just about big explosions and stuff. What are these people feeling?"
Maybe those human stories make it hard to think about further Superman stand alone adventures, what with him being an alien raised by a man with no empathy. But Batman, we know, is often sad.
With a heavy slate of DC Comics-inspired films in the future and Snyder signed on for at least two more — the two-part Justice League –maybe they'll find an approach to Superman that will satisfy filmmaker and fan alike.