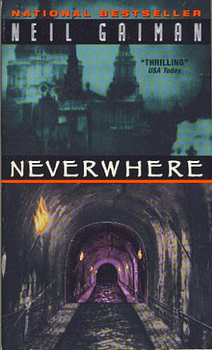 Deadline reports director Francis Lawrence, of the later three Hunger Games films has signed on to direct and produce a new television series based on Neil Gaiman's BBC miniseries and novel Neverwhere. He will also serve in the same capacity on an adaption Charles Belfoure's House Of Thieves.
Deadline describes Neverwhere as centering on Richard Mayhew, who helps a girl named Door on the street one night. While helping her, "he ceases to exist on Earth and becomes real only to the denizens of 'London Below,' whose inhabitants are generally invisible and non-existent to the people of 'London Above.' He loses his house, his job and nearly his mind as he travels London Below in an attempt to make sense out of it all, find a way back and help Door survive as she is hunted down by hired assassins."
I tried reading the novel when it was first released and could not get into it. Maybe I should give it another shot.
It is unclear how soon either project will make its way to television or streaming. Gaiman's American Gods has been on a long odyssey to television. Once intended for HBO, that series is now being developed for Starz by Bryan Fuller and Michael Green.