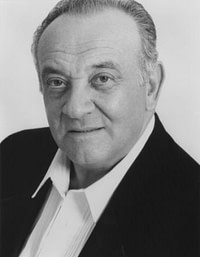 Continuing today's theme of returning talent, Twin Peaks composer Angelo Baladamenti will provide new music for the 2016 revival according to TVLine. "I'm told the Grammy winner is already hard at work on new Peaks music," writes TVLine's Michael Ausiello, citing "multiple sources." Baladamenti wrote the themes used in the original series and the 1992 feature film, Twin Peaks: Fire Walk With Me.
The new series caused great excitement in Fall 2014 when creators David Lynch and Mark Frost first teased "it is happening again" in the form of a nine episode season on Showtime. Further excitement occurred earlier this year when it appeared Lynch was leaving the project over a disagreement with the cable channel, but this was resolved with the series doubling in size. Showtime also announced Lynch would direct every episode.
With scripts by Lynch and Frost, production begins in a matter of weeks with Kyle MacLachlan reprising his role as Special Agent Dale Cooper and actors Sheryl Lee, Dana Ashbrook and Sherilyn Fenn expected to return.