Its' time for another fun release! Over the past few months Funko has been making announcements about Star Wars POP! Vinyl's being re-released from the Funko vault. So far we've gotten second chances to grab, Slave Leia, Greedo, and Han Solo. In celebration of the new Star Wars movie, the releases continue with the Gamorrean Guard Pop!
As a side note, I wanted to talk a little bit about the Vault. I've known about it for a little while, but the specifics are as follows: The Vault is now showcased on the Funko site and contains figures that are no longer manufactured and out of circulation. However, figures in The Vault are eligible to be taken out and deemed From The Vault. In case you were worried, the figures come in special edition packaging, so there won't be any confusion. I think it's really smart for the company to do something like that. Anyway, back to Star Wars. This is definitely one of the more unique releases that's coming out. Be sure to keep your eyes peeled for the Gamorrean Guard Pop. Jabba the Hut's savage henchman will be released this August.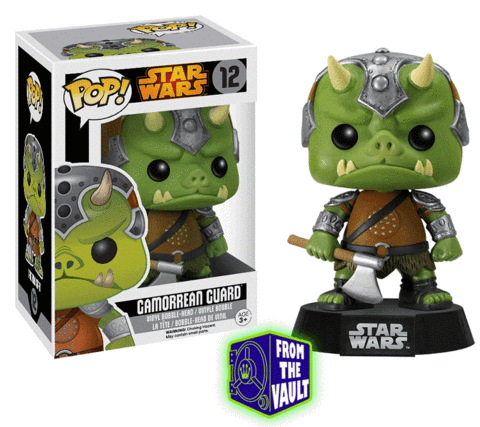 Christine Marie is a Staff Writer at Bleeding Cool, and bibliomaniac with a love for all things creative. She hopes to one day be a Superhero/Disney Princess/Novelist. You can find her on Twitter and Instagram @AWritersWay or on her blog writerchristinemarie.wordpress.com.