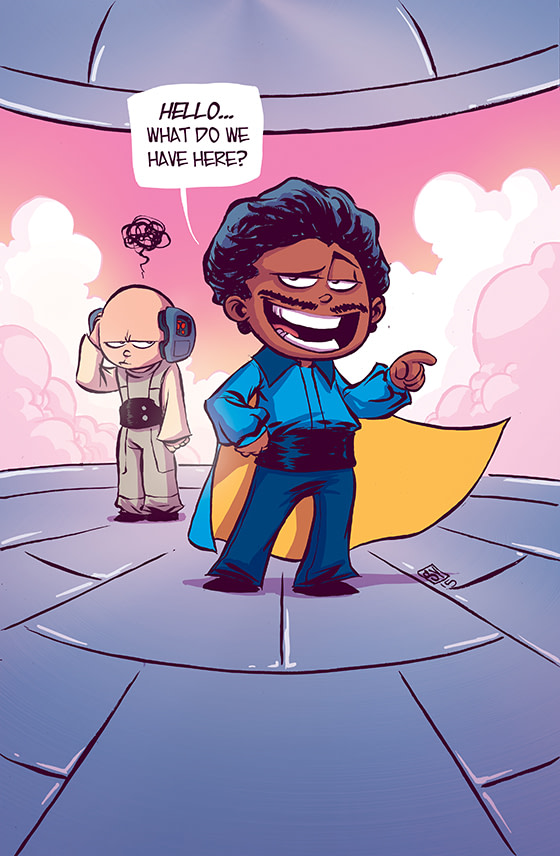 Greetings from the coal face of the direct comics market. Where retailers try to increase their orders of certain comics ahead of sale. Where supply and demand and most accurately reflected, where you can see which books are hot, where new orders are coming in and how retailers are reacting to new, unanticipated desire!
There used to be a battle between Marvel and DC for dominance of the advance reorder chart. These days it seems like a war between Star Wars and Secret Wars. And this week, Star Wars: Lando #1 topped the charts, with Civil War #1 close behind.
But aside from the usual, there are also strong performances from Mad Max, The Walking Dead… and Invader Zim!
TOP 25 ADVANCE REORDER COMICS/GRAPHIC NOVELS/TPs
| | | |
| --- | --- | --- |
| Publication | Price | Publisher |
| STAR WARS LANDO #1 (OF 5) | $3.99 | MAR |
| CIVIL WAR #1 SWA | $4.99 | MAR |
| STAR WARS #1 CASSADAY 6TH PTG VAR | $4.99 | MAR |
| DARTH VADER #1 GRANOV 4TH PTG VAR | $4.99 | MAR |
| SECRET WARS #1 (OF 8) ROSS 2ND PTG VAR | $4.99 | MAR |
| MAD MAX FURY ROAD MAD MAX #1 (OF 2) (MR) | $4.99 | DC |
| JUSTICE LEAGUE #41 2ND PTG | $4.99 | DC |
| WALKING DEAD #144 (MR) | $2.99 | IMA |
| 1872 #1 SWA | $3.99 | MAR |
| BATMAN #42 | $3.99 | DC |
| STAR WARS #6 CASSADAY 2ND PTG VAR (PP #1183) | $3.99 | MAR |
| INVADER ZIM #1 | $3.99 | ONI |
| INVADER ZIM #1 INCV VAR VASQUEZ (C: 1-0-0) | $3.99 | ONI |
| AGE OF APOCALYPSE #1 SWA | $4.99 | MAR |
| STAR WARS LANDO #1 (OF 5) CHISTOPHER ACTION FIGURE VAR | $3.99 | MAR |
| STAR WARS LANDO #1 (OF 5) YOUNG VAR | $3.99 | MAR |
| CIVIL WAR #1 YOUNG VAR SWA | $4.99 | MAR |
| SPIDER-ISLAND #1 (OF 5) SWA | $4.99 | MAR |
| SAGA #30 (MR) | $2.99 | IMA |
| NOWHERE MEN TP VOL 01 FATES WORSE THAN DEATH (RED SHIRT) | $9.99 | IMA |
| CIVIL WAR #1 BLANK VAR SWA | $4.99 | MAR |
| IMAGE EXPO PREVIEW BOOK 2015 | $1.00 | IMA |
| AGE OF APOCALYPSE #1 YOUNG VAR SWA | $4.99 | MAR |
| JEM & THE HOLOGRAMS #1 PLUGGED IN ED 3RD PTG (PP #1183) | $3.99 | IDW |
| EAST OF WEST THE APOCALYPSE YEAR ONE HC | $49.99 | IMA |
TOP 25 REORDER COMICS/GRAPHIC NOVELS/TPs
| | | |
| --- | --- | --- |
| Publication | Price | Publisher |
| SECRET WARS #3 (OF 8) | $3.99 | MAR |
| STAR WARS #6 | $3.99 | MAR |
| CIVIL WAR TP | $24.99 | MAR |
| SAGA TP VOL 04 (MR) | $14.99 | IMA |
| SAGA TP VOL 02 (MR) | $14.99 | IMA |
| FIGHT CLUB 2 #1 MACK MAIN CVR | $3.99 | DAR |
| INFINITY GAUNTLET TP | $24.99 | MAR |
| MARVEL SH SECRET WARS BATTLEWORLD BOX SET SLIPCASE HC | $500.00 | MAR |
| THE VALIANT TP | $9.99 | VAL |
| SAGA TP VOL 03 (MR) | $14.99 | IMA |
| WOLVERINE OLD MAN LOGAN TP | $29.99 | MAR |
| YEARS OF FUTURE PAST #1 SWA | $4.99 | MAR |
| AMAZING SPIDER-MAN RENEW YOUR VOWS #1 SWA | $3.99 | MAR |
| JUSTICE LEAGUE TP VOL 01 ORIGIN (N52) | $16.99 | DC |
| WALKING DEAD TP VOL 23 WHISPERS INTO SCREAMS | $14.99 | IMA |
| ANNIHILATION CONQUEST OMNIBUS HC | $125.00 | MAR |
| DARTH VADER #6 | $3.99 | MAR |
| BLACK WIDOW TP VOL 01 FINELY WOVEN THREAD | $17.99 | MAR |
| JUSTICE LEAGUE #41 (NOTE PRICE) | $4.99 | DC |
| BONE ONE VOL ED SC | $39.95 | PUB |
| NARUTO GN BOX SET VOLS 1-27 (CURR PTG) (C: 1-1-2) | $214.99 | VIZ |
| BATMAN TP VOL 01 THE COURT OF OWLS (N52) | $16.99 | DC |
| RAT QUEENS TP VOL 02 FAR REACHING TENTACLES OF N RYGOTH (MR) | $14.99 | IMA |
| MS MARVEL TP VOL 01 NO NORMAL | $15.99 | MAR |
| SAGA TP VOL 01 (MR) | $9.99 | IMA |